---
COMMENT
---
As England strolled to a straightforward, if rather dull, 2-0 victory over minnows Malta in World Cup qualifying, one thing became quickly apparent: Wayne Rooney has absolutely no right to be playing for England.
Of course, a game against Malta is something of a lose-lose situation for the Three Lions; win well and it is merely expected, win by a goal or two and you're pilloried in the national press.
However, it can be argued that players can play their way out of favour in a game like this; a wretched performance will surely lead to conclusions that games against the likes of France and Spain will be too taxing.
IN STATS: Was Rooney really that awful?
Rooney turned in one such performance, the national team captain struggling against a team ranked 176th in the world. For context, teams such as Kuwait, Afghanistan and Ethiopia are officially better than this Maltese side.
Despite their lowly standing, new, interim, manager Gareth Southgate was hardly bold in his team selection. There was no Marcus Rashford, the player whose name was cheered the loudest when it was read out prior to kick-off, and there was no Michail Antonio, so electric for West Ham United. While Jesse Lingard was handed his debut, the goodwill dissipated upon seeing Rooney in midfield, captain's armband wrapped around his sleeve.
Ridiculous how Rooney is still in the team. Take the armband off him so we have a reason to drop him. There are better midfielders out there

— Paul (@TheKloppMeister) October 8, 2016
What does Wayne Rooney actually do? What is the point of him?

— Jordan MacGeever (@jords_mac) October 8, 2016
Rooney has to take every single dead ball. Utter garbage.

— Mark James (@Mark_J69) October 8, 2016
Fans on Twitter had a field day, savaging Rooney for a display so inept it remains an absolute mystery what so many managers see in him. Even the normally mild-mannered Wembley crowd booed Rooney after yet another miss late on.
It was Jordan Henderson, not Rooney, that provided the sole shining light for England early on. Though Dele Alli and Jesse Lingard grew into the contest, the Liverpool man took the game by the scruff of the neck. Regularly maligned for his performances, and his apparently permanent desire to pass the ball sideways, Henderson has matured into an exceptional central midfielder.
Partnered by Rooney in the middle, the former Sunderland midfielder did very little wrong throughout the 90 minutes, and also provided the spark that led to England's first and second goals as he first assisted Daniel Sturridge before again setting up Alli to finish at the second time of asking.
While Henderson glided in midfield, Rooney attempted to wade through treacle, his continued efforts hampered by his inability to execute his actions effectively. Henderson was quick on the ball, taking one, maybe two, touches, while Rooney regularly took five or six.
Many column inches have been devoted to England's problem with Rooney, and the situation remains as it always has; his continued inclusion in the starting XI actively hampers his country.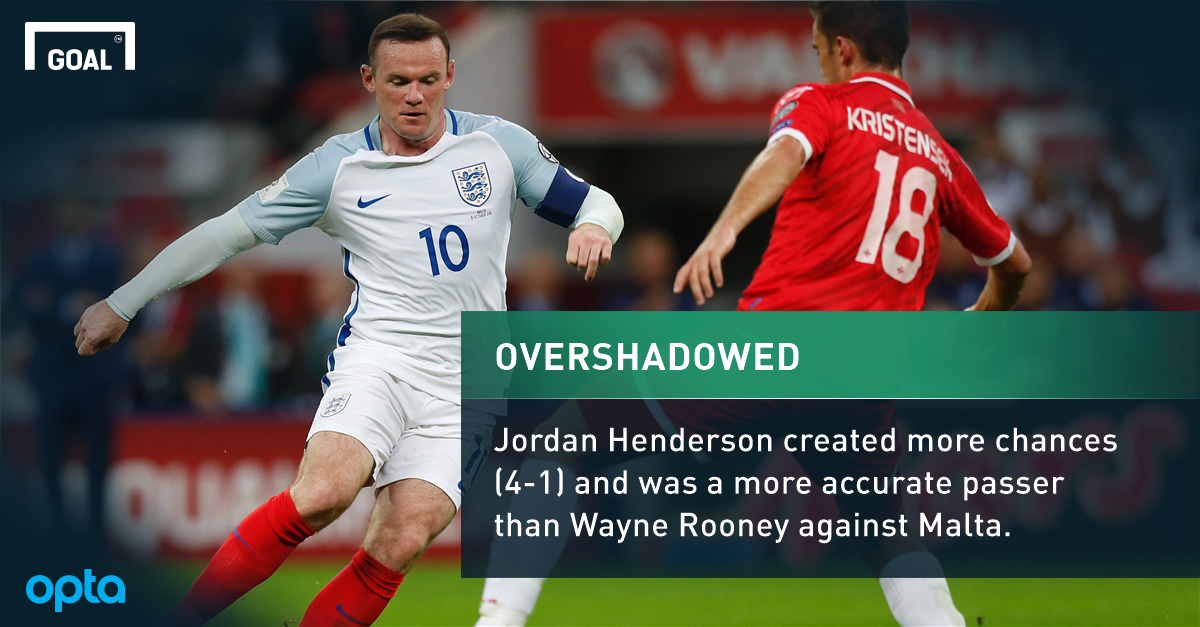 The ball is always funnelled through the Manchester United 'star', but the reason remains unclear; he is unable to keep possession effectively, and he no longer has the pace to beat players from deep and make room for a shot.
He constantly calls for the ball, and his team-mates appear afraid of what might happen if they choose against giving it to him, despite repeated evidence that they would be well served to completely ignore his pleas for a pass.
During the entire 90 minutes he had one shot that troubled Malta's goal; Hogg reacted quickly to save, and from then on he gave the ball away, mistimed challenges and barked orders at his team-mates.
England fans slam Rooney for Malta display
Southgate's decision to keep faith with Rooney cannot be a footballing one; he is only interim manager, and he surely did not want to rock the boat by leaving him out. Such is Rooney's standing amongst managers Southgate may have feared that it would do him more harm than good to bench him.
Rooney, though, is no longer good enough for the national team. He is neither an all-action midfielder nor a considered metronome, he is merely a disruption, and a distraction.
If England truly want to make significant progress on the pitch, the fawning over the side's captain must stop. Sentiment gets you nowhere in football, and Rooney can no longer hold on to his reputation as one of the most decorated players this country has produced.
His crown has long since slipped, and he must be quietly ushered away. Wayne Rooney can no longer be given license to be England's main man.