Goal.com is publishing exclusive extracts from Luca Caioli's new book, Ronaldo: The Obsession for Perfection, which charts the Portuguese forward's spectacular rise from a poor childhood in Madeira to superstardom with Sporting Lisbon, Manchester United and Real Madrid

Two footballers are sitting on a sofa, chatting. "God sent me down to Earth to teach people how to play football," says Cristiano Ronaldo. "Don't be daft, I didn't send anyone down to Earth," replies Messi.
It's a joke which has done the rounds online and perfectly illustrates how the fans view the rivalry between the Portuguese and the Argentine. Aged 27 and 24 respectively, the two superstars share a similar career trajectory and desire to win, but their style both on and off the pitch could not be more different.
"Cristiano Ronaldo subscribes to Euclid's theory: the shortest distance between two points is a straight line. Not only that, you have to blast down that line at warp speed until you reach the goal," muses award-winning Spanish writer Manuel Vicent in
El Pais
.
"Leo Messi prefers Einstein: the shortest distance between two points is always a curve, and the only way to arrive is if you zigzag unpredictably like a careering swine trying to dodge the axe. Ronaldo inspires passion – Messi, admiration." And that's why they are considered the gods of the modern footballing world.
It is true to an extent that Cristiano likes to compete with himself. When prompted to reflect on the comparisons made with Messi, he replies: "It doesn't bother me in the slightest. My personality and my style of football are completely different from his. I'm only interested in my football and winning with Real Madrid." He insists he is not jealous of Messi, but there is no doubt that Leo is like the kryptonite to his Superman. The Argentine represents an obsession for him, his Achilles' heel. It's not a coincidence that from Spain, to Cyprus, to Bosnia, rival fans chant "Messi, Messi, Messi!" at him. They know it will touch a nerve.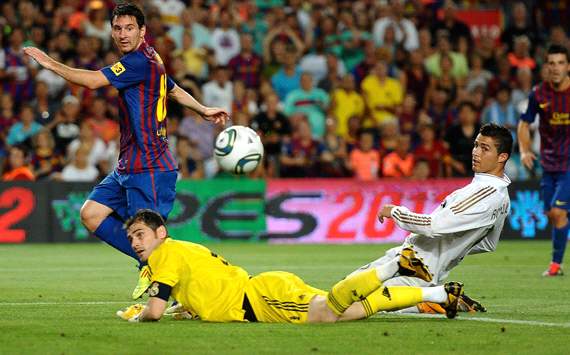 A classic rivalry |
Messi has come out on top in most of the Clasico meetings
Leo has been compared with Cristiano for years. He is seen as his direct rival in the race to become the best in the world. And if the Portuguese publicly scoffs at the idea that he should feel any jealousy towards Messi and denies that privately he tries to break him down bit by bit, it is widely claimed that there has been an atmosphere of extreme tension between Cristiano and the 'little one', as he is known, ever since he toppled the former Ballon d'Or off the number one spot.

Real Madrid insiders say that seeing Cristiano Ronaldo in front of the TV watching Messi play is priceless. When his agent Jorge Mendes is watching with him, he tries to calm him down by saying that people don't understand anything about football, that the Barça No. 10 doesn't deserve to be the best in the world.

The comparisons between Ronaldo and Messi have been made constantly ever since the two started to shine at Manchester United and Barcelona. It began as a football rivalry but has since transferred to all aspects of their lives. There are university courses which analyse and compare their exposure in the media, and there is even a brand war. Cristiano endorses Nike, Messi Adidas; Cristiano wears Armani, Messi wears Dolce & Gabbana; Cristiano has a Time Force watch while Messi's is Audemars Piguet; when it comes to what they put in their cars, the Portuguese uses Castrol while the Argentine prefers Repsol; and finally, the Blancos No. 7 drinks Soccerade, while the Blaugrana No. 10 drinks Gatorade.

According to Sports Illustrated Messi wins in the financial stakes, making €31 million a year to Ronaldo's €27.5m. But Cristiano is ahead on social media, with more than three million Twitter followers and 30 million Facebook fans, just a bit behind some of the biggest popstars like Lady Gaga. Messi only created his Facebook page in the spring of 2011, and as a result he is lagging behind with 'only' seven million fans.
| | |
| --- | --- |
| All these comparisons bring us back to the same question: who is the best? It's a question asked thousands of times ... And everyone has their opinion | |
But all these comparisons bring us back to the same question: who is the best? It's a question asked thousands of times in the newspapers, on the radio, on TV and on blogs, and everyone from coaches, footballers, pundits and plain old fans have been swept up in the debate. Everyone has their own opinion.

Ronaldo versus Messi has earned its place as a classic derby. Sport is fuelled by rivalries between athletes, teams and countries, as well as by comparisons between different periods in each of their histories. Memory is a fundamental element of the game and pitting one person against another is a favourite pastime which has always divided world media opinion.

Boxers Ali and Foreman, racing drivers Prost and Senna, Italian cyclists Bartali and Coppi, tennis stars Borg and McEnroe, basketball players Magic Johnson and Larry Bird, motorcycle racers Valentino Rossi and Jorge Lorenzo, athletes Carl Lewis and Ben Johnson …

But in football it is rare to find a player considered to be a 'great' who can also be overshadowed by a contemporary. Pele, Cruyff, Maradona and Di Stefano never overlapped in terms of their time at the top. But now there is a personal duel between two stars which has become one of the greatest one-on-ones ever.
www.corinthianbooks.net
Follow Luca Caioli on

With every extract published, Goal.com will be giving away one copy of Luca Caoili's new book. To have a chance of winning an ebook or hard copy of Ronaldo: The Obsession for Perfection, answer the following question: When did Cristiano Ronaldo score his first goal against Barcelona? Send answers to competitions@goal.com - the winner will be announced in next Friday's extract.
Last week's winner: Trevor Gwaka