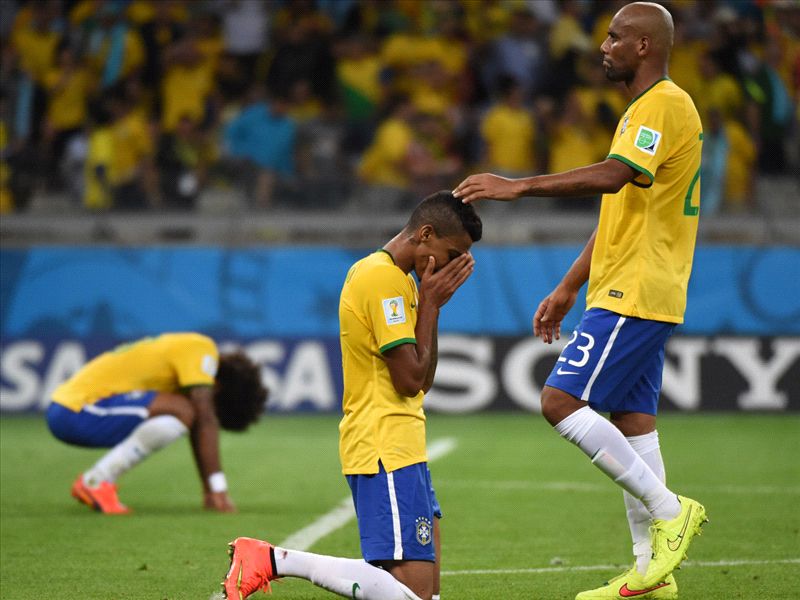 Ronaldo has acknowledged it will be a while before Brazil come to terms with the impact of their 7-1 semi-final thrashing by Germany.
The Selecao crashed out of the World Cup on Tuesday by the biggest margin of defeat of any semi-finalists in the tournament's history, and now face the Netherlands in the third-place play off on Saturday.
Ronaldo, who was a World Cup winner with Brazil in 2002, conceded the humbling defeat would leave a deep scar and, though they could be proud with how they hosted the competition, Brazilians will struggle to find any solace.
"No, and I can speak for a lot of people in Brazil," the 37-year-old told the Times of India when asked if he had recovered from the shock of the loss.
"This will take a lot of time for us to digest. I was in the commentary box and couldn't believe what was happening on the pitch that night. Unbelievable!
"It is too early to discuss [what Brazil can take from this]. We need to look into everything and come up with solutions for a better future."
The former Real Madrid and Inter forward did, however, express his great pride at how his country have hosted tournament, though acknowledging the socioeconomic problems that sparked protests before the World Cup still need to be addressed.
"Everyone who has come from around the world celebrated football and the culture of Brazil," he said.
"Further, we saw a lot of good football, great games. We Brazilians are very happy then, as we had our difficulties before the tournament.

"The problems remain. And we as a nation need to solve them but again important for us was that we were good hosts and no untoward incidents happened as feared by many before the tournament."
Finally, Ronaldo also passed on his congratulations to Miroslav Klose, who broke his record to become the World Cup's all-time top scorer with his strike against Brazil on Tuesday, adding that he bears no grudge after losing the accolade.
"First of all, congratulations to Miroslav Klose!" he declared.
"He deserves all the credit for having it for having scored 16 World Cup goals. When he had equalled my record against Ghana, I had congratulated him through Twitter. I really don't have a problem with someone breaking my record."