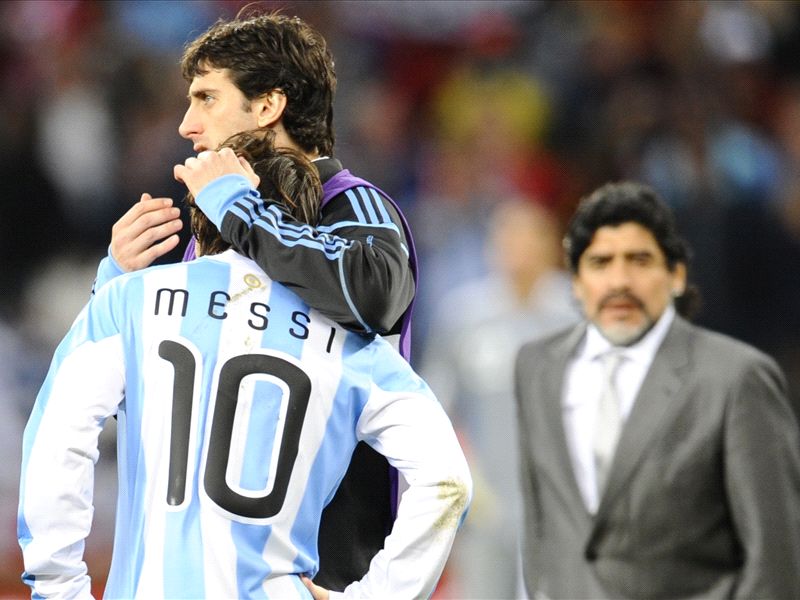 Argentina
legend Diego Maradona believes his nation's World Cup fate rests entirely on the shoulders of
Lionel Messi
ahead of their semi-final against the
Netherlands
.
The
Albiceleste
have made it to the final four for the first time since 1990 and Maradona feels they have the Barcelona star to thank for their successful tournament so far.
Messi has scored four times in five appearances and faces yet more pressure to perform following an injury to Angel Di Maria, but Maradona is confident he will produce the goods.
"It's because of Messi that we have reached the last four for the first time since 1990 and one more will take us a step closer to our goal. But it won't be easy," Maradona told
Times of India.
"A lot will obviously depend on Messi, who will remain the world's best player irrespective of the result.
"Is the pressure of carrying the hopes of a nation overpowering? International sport is all about that. When you lose a match of such magnitude, the country mourns. When you win, it erupts in joy. They dance, laugh, sing and cry. All for a mere win in a football match. South Americans are crazy about football and their footballers.
"No one knows it better than Messi. Because he doesn't play club football at home, watching him is a TV experience in Argentina.
"After failing to get past the quarter-finals in 2006 and 2010 with him in the side, his deeds this time have raised expectations."
Argentina last won the World Cup in 1986, when they beat West Germany 3-2 in the final.