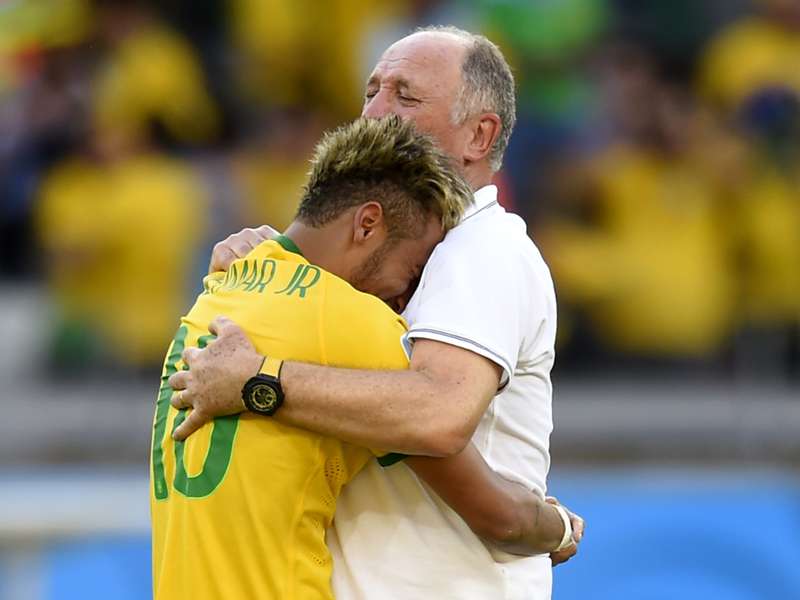 Luiz Felipe Scolari has revealed that Neymar was scared he had been paralysed when he suffered his spinal injury in Brazil's clash with Colombia.
The 22-year-old forward was caught with a knee in the back in a challenge by Juan Zuniga late on in the Selecao's 2-1 quarter-final win Fortaleza on Friday and was ruled out of the rest of the tournament with a fractured vertebra.
However, Scolari has shed light on the genuine worry for the Barcelona striker's condition in the immediate aftermath of the clash and suggested that the seriousness of the injury was initially thought to be much greater.
"He said 'I can't feel my legs'," the 65-year-old told Marca, uncovering the details of Neymar's conversation with Marcelo on the pitch.
"Marcelo was scared and called the doctor on but the doctor couldn't get on in the confusion.
"It was a big shock, the image of Neymar being stretchered off to the helicopter, in difficulty, crying.
"Neymar was our benchmark, one of our references, because he is a player who makes a difference in any team. We're in a situation where we've lost something we don't want to miss, especially for the semi-final and final."
Scolari also said that Neymar, who had scored four times in the tournament prior to his injury, has requested to be in the stadium in Belo Horizonte for Tuesday's encounter with Germany and, should Brazil make it, the final too.
"He'll be with us if he can be, on the bench or in the stands," the former Chelsea boss continued.
"We've asked this. It all depends on his state in the coming days. By his will, I've certainly felt that he will be."