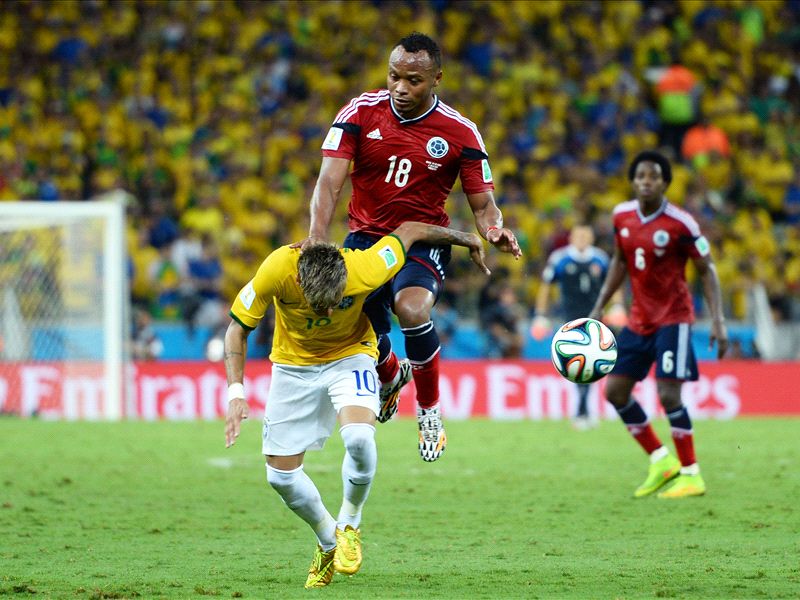 Juan Camilo Zuniga
insists he did not mean to hurt
Neymar
after his challenge ended the Brazil star's World Cup.
In the closing stages of Friday's quarter-final clash, the Napoli defender crashed into the back of Neymar on the edge of the Brazil area, forcing the Barcelona ace to be stretchered off.
Hospital tests later confirmed the 22-year-old suffered a broken vertebra and will therefore be unable to compete in the semi-final against Germany, but Zuniga maintains his challenge was not an aggressive one.
"I didn't mean to hurt him. On the pitch, you have to make tough challenges, but it was not my intention to injure him," Zuniga said after the match.
"Brazil were going strong and so were we. It was a normal challenge, I just wanted to defend my country.
"I hope it's nothing too serious, he's a talent for Brazil and the world of football."
On Saturday, the Napoli defender posted a message of apology to Neymar on Instagram. "I deeply lament the sad injury suffered by Neymar in the match between Brazil and Colombia," it read. "I feel bad about this situation, which came about from a normal action which had no bad intention, no nastiness or imprudence on my part."
And he added: "I want to send you a special greeting, Neymar. I consider you one of the best players in the world. I hope you recover quickly and that you're back soon to excite us with your football - a sport full of virtues and qualities that I have put into practice during my 12 years as a professional."
Zuniga, who has received death threats from some radical fans on social media, also addressed Brazilian supporters, saying: "To the Brazilian fans who have seen one of their players, an exemplary human being, ruled out of the World Cup, I want to send a special message and also say thank you for all the support you gave Colombia in each of their games [at this World Cup]."