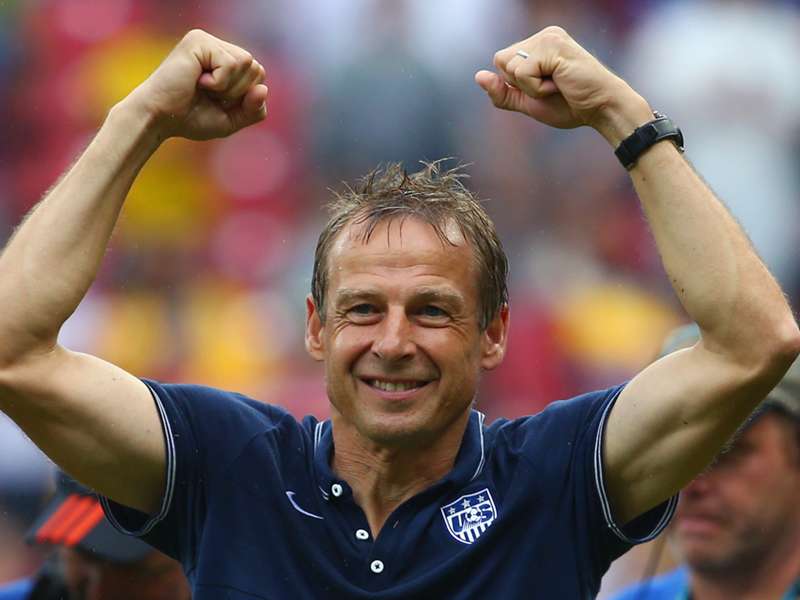 Jurgen Klinsmann claims that the United States can dump Belgium out of the World Cup when the two sides meet in the last 16 in Salvador.
The US have upset the odds in the tournament so far, coming through Group G ahead of Ghana and Portugal after a 2-1 win and 2-2 draw against the two sides respectively.
Klinsmann was branded "un-American" by the US media before the World Cup for saying that winning the tournament was "just not realistic" for his side but has now talked up his team's chances against Marc Wilmots' outfit.
"We have enough confidence now going into this game – a very special one, a knockout game – to say we are able to beat them," the 49-year-old told a press conference.
"Belgium are one of the secret favourites in this World Cup because of the players, individual players, that they have," he said.
"We have absolutely no fear at all. We feel like we are in a position now to challenge. We believe we have built a foundation in our team that we are able to beat them.
"I was definitely not as happy as with the first two games with the performance they had against Germany Now, going into knockout games, everyone has to call up his 100 per cent for the team.
"I believe that in our team so far, nobody can claim that he reached his 100% yet.
"This is a very important message to the players, is that now [they must] prove it."
The former Germany striker, a World Cup winner in 1990, also spoke about the fitness of Jozy Altidore, who suffered a hamstring strain in the opening match with Ghana, and is hopeful the forward will be fit to play against Belgium.
"We are very optimistic [about Altidore's fitness]," he continued.
"Every day is a big step forward. Eleven days now and he's looking better every day."