| | |
| --- | --- |
| THE NORTH | NATAL, RECIFE, FORTALEZA, SALVADOR |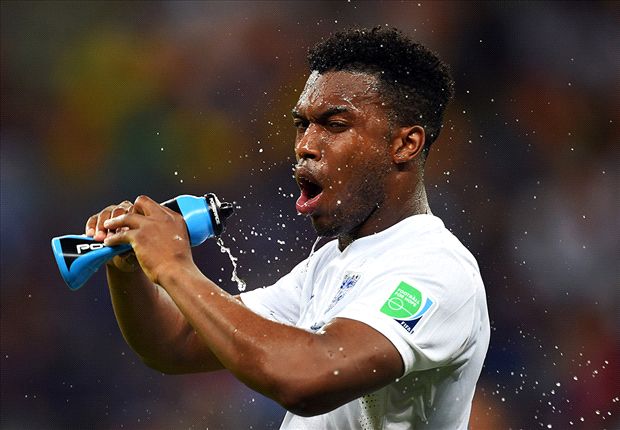 MARK DOYLE, SALVADOR:
The weather really hasn't been an issue in Salvador. Temperatures have risen to over 30º during the day and never drop below 20º at night. But, Salvador being a coastal city, there's always a strong breeze, while the tropical climate ensures regular downpours.

So, neither the heat nor the humidity have been a talking point. Talk of conditions was raised once during the Swiss press conference as the Schweizer Nati were coming from Brasilia, but they finished very strongly against France. We were surprised there were no water breaks during the 1300 kick-off between Portugal and Germany but the former's exhaustion at the end of that game was down to Pepe's first-half dismissal - not the weather.

LUIS HERRERA, NATAL


Natal can be very hot in the day, but that hasn't been an issue in the games played at Arena das Dunas so far. We had a 50-hour period of intense rain last weekend, which was noticable during the Mexico-Cameroon game.
Ghana-USA and Japan-Greece actually enjoyed decent playing conditions thanks to the
1900
start; hot and humid, but not to extreme levels, with slight rain before the latter. Italy-Uruguay
next Tuesday, at 1300,
will probably a different story.
ROBIN BAIRNER, FORTALEZA:
The weather in Fortaleza is invariably hot and humid, barely dropping below 25º since I arrived. The official temperature at kick off today was 29º, with 70% humidity, which made it feel a good deal hotter. This was a pretty typical day here.
O
n Thursday
a taxi I was in showed a temperature of 41º in the sun. Sensibly, the games here have kicked off in the evenings so far, although the last 16 game here will be played at
1 o'clock
, which has the potential to be unplayable.
Germany complained of feeling fatigued after the Ghana game, although a journalist I spoke to on the bus back reckoned it was no worse than playing in Salvador at midday.
| | |
| --- | --- |
| CENTRAL BRAZIL | BELO HORIZONTE, BRASILIA, CUIABA |
BEN HAYWARD, BELO HORIZONTE:
Belo Horizonte is hot in the day, but pretty cool in the evenings. All of the games so far have taken place at 1300 and the next group game and the second round match will be played at that time. That's the hottest time of the day and some players have visibly tired, while the pitch has also looked quite dry.
To preserve it, Fifa ordered Argentina and Iran to train elsewhere on the day before their match. Fernando Gago said today: "The pitch was dry and very hard. It was also really hot out there." Peak temperatures are between 24º and 27º with humidity around 63 to 68 per cent.
STEFAN COERTS, BRASILIA:
Brasilia is probably one of the few cities where the weather hasn't played much of a role yet. It's been warm here, with temperatures ranging from around 25º to 30º, but humidity doesn't seem to be much of a problem here. The climate doesn't seem to have been much of an issue in the two games that were played here.
It was a comfortable 25 degrees for the game between Ecuador and Switzerland and I didn't hear any of the players complain. It was slightly warmer for the match between Colombia and Cote d'Ivoire, but I reckon both sides were used to higher temperatures because the heat has not really been a subject.
PETER STAUNTON, CUAIBA:
It's been generally hot and humid for the matches in Cuiaba with all games so far kicking off in the latest available time slot with good reason. There is a stickiness in the air and the temperatures have been high, at around 33º, for kick-off for all the games.
Things were probably worst in the Russia-South Korea game when the players took a couple of 'unofficial' water breaks when some others went down injured. That said, it's not been so hot as to affect the flow of the games.
| | |
| --- | --- |
| THE SOUTH | RIO DE JANEIRO, SAO PAULO, CURITIBA, PORTO ALEGRE |
LIAM TWOMEY, RIO DE JANEIRO:
The temperature in Rio never goes below 20º, even at night, and most of the days have been hot regardless of whether it is sunny or cloudy. Humidity has not been a huge factor in either match at the Maracana. Argentina were sluggish in the first half against Bosnia (1900 kick-off local time) but that was more an issue of tactics than anything physical, and Chile (1600 kick-off local time) produced one of the most dynamic performances of the tournament so far to beat Spain.
KRIS VOAKES, SAO PAULO:

Sao Paulo has served up reasonably modest temperatures so far, and with the climate here resembling mainland Europe and parts of the Southern Hemisphere further removed from the equator, it has even become cold during the second week of the tournament.

There was sunshine and a pleasant evening air to greet the tournament's opening fixture between Brazil and Croatia, but when Uruguay and England faced off seven days later, the mercury had dropped a significant amount. Increased temperatures are due to return, but the stickiness being experienced in the north is highly unlikely to become an issue in the country's biggest city.
PILAR SUAREZ, CURITIBA:
Weather in Curitiba is extremely unstable - my flu can confirm that!. When I arrived to the city, it was hot (25ºC) and the next day was covered by fog, and was very humid. Some days are nice with (18º) and other days we only reach 10º.

I don't think the weather has had a direct impact on the teams that have played here. I also remember Jordi Alba saying at press conference that Spain, who are based here, felt comfortable with this cold weather and it has not been a problem in their performances.

MATHEUS HARB, PORTO ALEGRE:

After some mild temperatures, winter has finally got to Porto Alegre, with temperatures hardly going over 18º during the day, and as low as 10º at night. As is common around here, some dense fog in the mornings lasts until about 1200.

It rained when the World Cup commenced but that had passed when Beira-Rio had its debut for France-Honduras last Sunday. Should the weather remain as dry as it is right now, tourists and teams can count themselves lucky, because rain can last as long as a week here.


SAM LEE, MANAUS:
I'm not sure if people are overplaying the heat in Manaus a little. Maybe I've just got used to it, but I think people were expecting it to be this big, crazy heat and are playing up to that. Paulo Bento just illustrated the point: "It would be difficult to ignore it with so many people talking about it! Even if it was slightly less humid we would still be thinking it was very humid."
When I spoke to Croatia's Ivan Rakitic after the game the other night, though, he said he couldn't breathe properly and described how hard it is. That was on probably the 'coldest' night since I've been here.
Prandelli and Chiellini also said that they should have had drinks breaks. I think that's basic sports science; they will sweat more so they do need to keep hydrated. So from that point of view it will definitely affect players, but I don't think the quality has suffered too much.
I've spoken to people about the heat here and some have suggested that since Roy Hodgson brought it up in December everybody has overplayed it, and the idea of playing in the jungle in general. The guy who is in charge of one of the official Fifa training pitches here (which have never been used and probably won't be - more on that to come) says Italy could've spent four or five days here to acclimatise, and not lost to Costa Rica in the heat yesterday afternoon, but they were scared off by the idea of this monster heat.