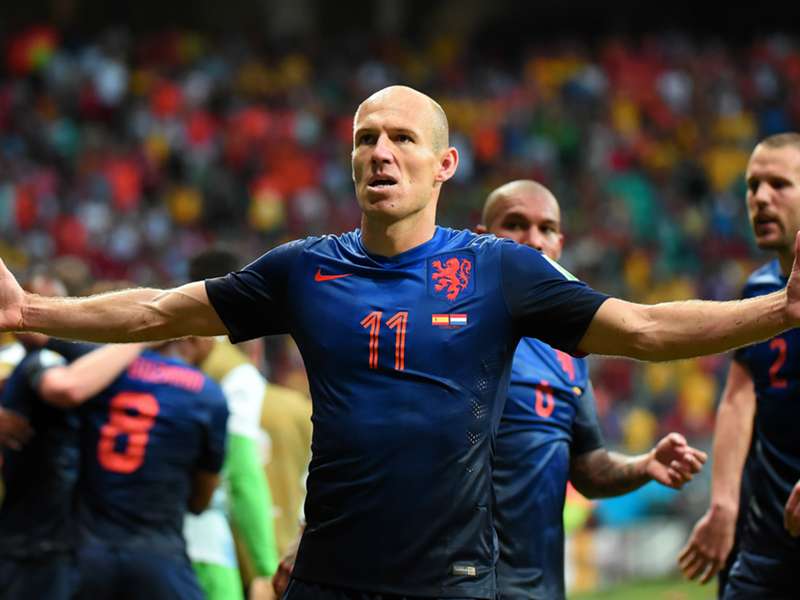 By Peter McVitie
If revenge is a dish best served cold, then what Netherlands brought to the table and sat in front of Vicente del Bosque and his Spain side must have been at absolute zero.
The world title eluded them four years ago in Soccer City as Arjen Robben scuppered a golden opportunity which could have secured victory against the Spaniards, but the record was set straight by the Bayern Munich man along with his fellow stars Robin van Persie and Wesley Sneijder.
The absence of Kevin Strootman following his injury in March saw many write the Dutch off completely before a ball had even been kicked. There was, said the nation's natives, media and fans, simply no hope without the Roma star. However, a tactical masterstroke from Louis van Gaal has not only covered for the loss, but made them an incredible machine.
The Oranje boss' switch to a 5-3-2 formation and turn his team into a more counterattacking unit was deemed to be an acknowledgement that they simply weren't good enough this time to battle with the elite. Instead, it was simply perfect.
Van Persie, Robben and Sneijder, operating as a front three and completely separate from the rest of the team, were simply remarkable against the Spaniards.
Robben gained a reputation after that miss four years ago as a bottler, but he has confirmed that he is one of the most decisive and influential players in the world. With his blistering pace, shooting ability and magnificent first touch, he played the Spain defence for fools.
His first goal was exceptional, but as he devoured up the ground to beat Sergio Ramos to the ball with a burst of pace even Usain Bolt would be impressed by, he then teased La Roja's defence, before picking the right moment to smash it home and confirm the humiliation of the European and world champions.
The qualities of the 30-year-old along with the creativity and passing range of Sneijder and the movement and finishing of Van Persie makes them a world class forward three and Spain felt the full extent of their wrath.
Another impressive display came from Daley Blind; he had a brilliant 90 minutes and his cross for Van Persie's equaliser will go down in history, but the striker's header made it iconic. While the Oranje were sloppy and wasteful in the World Cup final in South Africa, they were anything but on Friday night.
Efficient, brutal, remarkable. Robben, Sneijder and Van Persie aren't bottlers. They are machines. And Van Gaal is the genius with the controls.
Follow Peter McVitie on