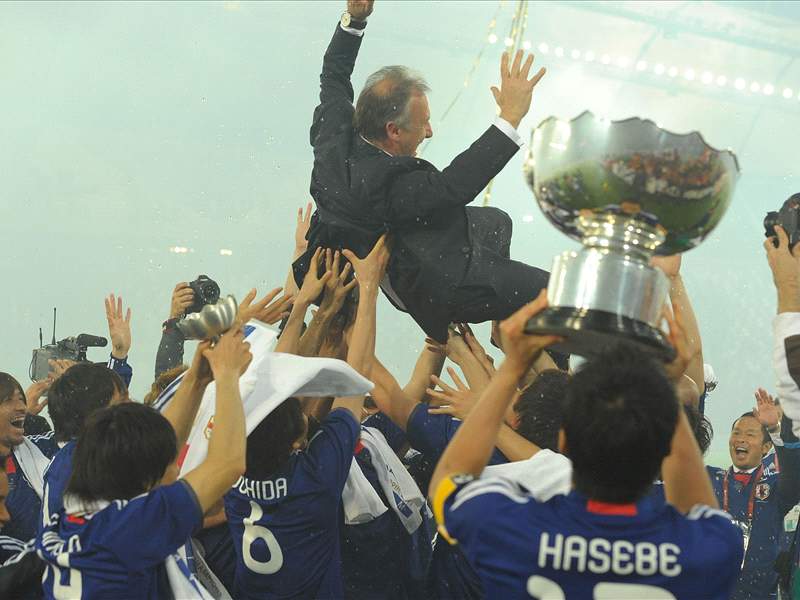 The Japanese national team had a great 2010, coming out as one of the revelations of the World Cup in South Africa and then winning a historical friendly match a full-strength Argentina.
But since football fans and media live in the present, it would have meant nothing if the team didn't perform well at the Asian Cup in Qatar.
Most might think the Samurai Blue triumph was to be expected but I assume few have spent time mulling over the difficulties that Alberto Zaccheroni and his boys had to face.
Speaking of the Italian coach, he has added a new dimension to the team. Not only does he maniacally care for every detail but his tactics and the way he reads the game were at the core of Japan's success: consider that the last three matches of the tournament were won with goals scored by substitutes.
However, the coming of 'Zac' has comported a total change in training style and customs, that had to be imparted in a few months and with two games before the Asian Cup.
Besides the two friendlies in October, the Italian coach and his staff never had the team for another pre-tournament match and they actually had to wait for quite a few of their players to finish the Emperor's Cup, which ran until January 1.
Well before the tournament started, Zaccheroni was informed he'd have to travel to Qatar without Tulio Tanaka and Yuji Nakazawa, considered by many the best pair of centre-backs in South Africa.
As the Asian Cup drew closer, it was the turn of Goto Sakai and Tomoaki Makino to wave a white flag and once in Doha, Japan lost Daisuke Matsui after two games and Shinji Kagawa for the final.
There was no luck on the pitch either.
Despite being given a very generous penalty against South Korea, in the same game as in others, they had to face what most neutral observers would have deemed a hostile referee.
It's important to remember the two harsh red cards against Syria and Qatar, an incorrectly disallowed goal against Jordan, a soft penalty to South Korea and the countless unpunished fouls on Shinji Kagawa and Shinji Okazaki.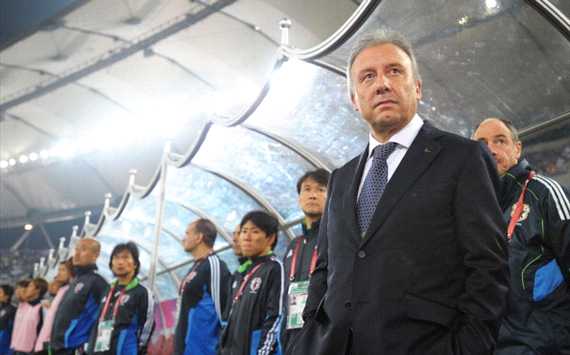 Alberto Zaccheroni's subs
usually had an impact.
Yet the Samurai Blue rose above these misadventures and deservedly topped rivals South Korea and Australia.
Keisuke Honda was crowned Most Valuable Player at the tournament. In all honesty, it seems more an apology for his not winning AFC Player of the Year for 2010 after he failed to attend the ceremony and was thus denied the chance to win.
This time Japan's success was built on the work of three other players.
First of all, Yuto Nagatomo. Some were chuckling when before the tournament his name was linked with Juventus and AC Milan. If they had the chance to watch the diminutive full back tirelessly dart up and down the field, biting his opponents' ankles and creating goals, they would change their mind.
Eiji Kawashima, who after the game with Australia candidly announced this was his first ever victory in a tournament, has made a difference when it mattered most and his bravery embodied the 'Samurai Spirit' that was the hallmark of former players Kazu Miura, Masashi Nakayama, Tsuneyasu Miyamoto and Yoshikatsu Kawaguchi.
Finally Shinji Okazaki, who helped Japan's offensive play with perpetual movement, might not yet be clinical but showed why his transfer to Stuttgart is not just the result of Kagawa's success in Germany.
There are many images of this tournament that will remain impressed in the memory of Japan's supporters but there is one that stands out.
It happened when Keisuke Honda took his abominable penalty during the game against South
Okazaki wasn't prolific but
made a huge difference.
Korea. Hajime Hosogai, brought on minutes earlier, set himself ready to dash into the penalty area as soon as his team-mate had kicked the ball. His impressive sprint saw him reach the ball first.
Still, as Hosogai got to the ball in a fraction of a second that decided he future of Japan in the tournament, he was was cool enough to finish.
The moment brought together will power, physical exuberance and skill and ultimately changed history.
And speaking of history, it is hard to predict this team's future but the next big challenge is three-and-a-half years away in Brazil, when the younger players will have matured.
If Japan's manager again announces that a top-four finish is the expectation at the World Cup, perhaps people should think twice before laughing it off.
Follow Cesare Polenghi on

.
Keep up to date with the 2011 Asian Cup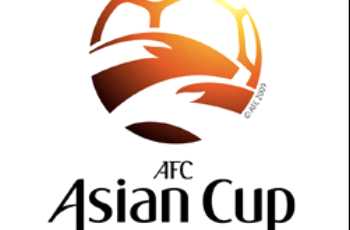 on our Asian Cup Homepage!