Name:
Younis Mahmoud
Age:
27
Country:
Iraq
Club:
Al Gharafa (Qatar)
Position:
Striker
Strengths:
Aerial Ability, Leadership
The man who famously inspired a war torn country to a historic victory three years ago, Younis Mahmoud has already conquered Asia at 27 years of age and will lead Iraq in the defence of their Asian Cup crown in January.
Prolific at club level, the combined sum of his goals for Al Gharafa, Al Khor and Al Wahda pales in comparison to the importance of that famous header against Saudi Arabia on July 29, 2007.
Having scored the winner for his team in the final, he etched his name into Asian Cup folklore and will need to harness every ounce of his leadership ability and influence if his side are to get out of a difficult group that includes Iran, North Korea and the UAE.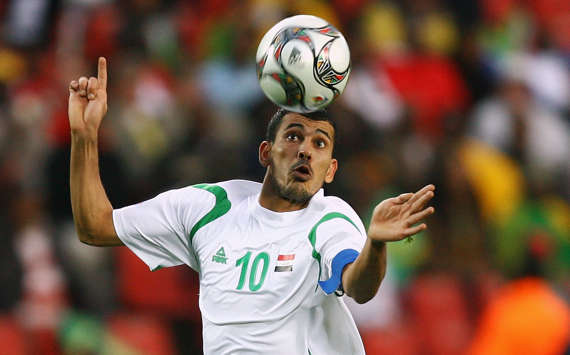 A former nominee for the Asian Youth Player of the Year, he has been prolific in front of goal for both club and country, bursting onto the international scene as he struck the back of the net four times in a 5-1 win over Bahrain en route to the 2004 Asian Cup.
Mahmoud's strength is undoubtedly his aerial prowess, making him lethal if given the right service inside the penalty area. It enables him also to be the focal point of his team's attacks and act as the fulcrum of their forward movements if need be.
DID YOU KNOW?

Mahmoud was a basketball player until he was spotted by Iraqi giants Al Talaba at the age of 17.

Inclined to fight for every ball, don't allow his aforementioned heading ability to paint the picture of a one-dimensional target man; Mahmoud is accomplished technically and is capable of rasping shots from range and contrastingly deft efforts from dead ball situations.
A tall and languid figure, his movements on the ball are easy on the eye and he also has in his repertoire an invaluable ability to beat opponents, whilst he is uncompromising from close range.
How he links up with crafty midfielder Nashat Akram could prove crucial to Iraq's chances, particularly from set pieces, where the two combined so effectively at the last Asian Cup; it was then that Mahmoud was named Player of the Tournament and if he were to replicate his haul of four goals in Qatar, Iraq fans might be able to start dreaming the impossible yet again.