In a new weekly series, Goal.com will be compiling the statistical data, expert analysis, and progressive season records on two of the best players in the world, Lionel Messi and Cristiano Ronaldo.

This week, we pose the question to Goal.com readers: should key players like Messi and Ronaldo be risked for the team when they are not fully fit? And are the two superstars now finally feeling the effects of a long, arduous season?

How They Played This Week
Who came out on top in the recent round of La Liga action?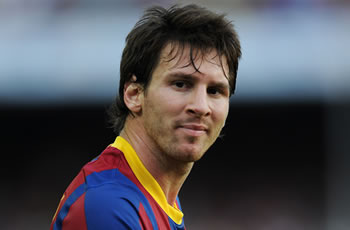 Lionel Messi (Barcelona 2-1 Getafe)
Messi failed to score for the third league game in a row.
The Argentine had an early chance when he chested down Xavi's diagonal cross and attempted an acrobatic overhead kick which was smothered by Jordi Codina.
Shortly after, he tried an audacious chip from a David Villa cutback which looped just wide of the left post. Leo had another great chance to score on 20 minutes when he rounded the goalkeeper onto the bye-line but his shot from a tight angle was cleared off the line.
Despite the missed opportunities, Messi did play a part in Barcelona's second goal, when he teed up Bojan Krkic on the egde of the box. It was his 16th assist of the season in La Liga.
Goal.com Player Ratings Comment:
A good, solid performance, but maybe should have capped it with a goal, after plenty of chances came his way. He was marked heavily throughout, and Codina denied him on several occasions, but he contributed well to Barcelona's passing and created numerous chances for his team-mates.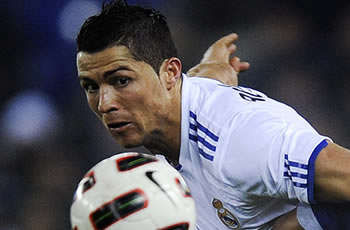 Cristiano Ronaldo (Atletico Madrid 1-2 Real Madrid)
Ronaldo returned to the starting line-up after being rested for the last two league matches to recover from his hamstring injury.
CR7 struggled against Atletico in the derby clash as his lack of fitness was evident. He was unable to make significant runs past defenders with the ball and looked off the pace when latching onto passes from his team-mates.
The Portuguese did test opposition goalkeeper David De Gea with a searing shot from the edge of the box after cutting in from the left flank, and he also sent a header over the bar from close range.
Ronaldo was eventually substituted on 72 minutes and it has since been confirmed that he will be out for between two and three weeks with a recurring hamstring problem.
Goal.com Player Ratings Comment:
Posted missing for large spells of the game - no wonder, considering that he's not match fit. Why he started was a mystery: Ronaldo needs to recover.
Lionel Messi
(vs Getafe)

Cristiano Ronaldo
(vs Atletico Madrid)
Goals
0
0
Shots (On Target)
4 (2)
9 (2)

Assists
1
0
Passes (Completed)
71 (58)
32 (25)

Balls Lost
10
12
Balls Recovered
1
3
Fouls Suffered
1
4
Goal.com Rating
7.0
5.0
Injury Debate
Cristiano Ronaldo's recent injury lay-off and Lionel Messi's sudden goal drought have raised an interesting question: has the long season finally taken its toll on two of the best players in the world, two players who even at the midway point of the campaign looked invincible while others were struggling?
Ronaldo went into the Champions League game against Lyon in midweek looking distinctly short of fitness and, after just two days of recovery, the Portuguese was
thrown into action again in a highly-charged derby clash on Saturday.
"Cristiano would be better if it [the game] was played on a Sunday. He played a lot against Lyon without much training and it is normal that he won't be in good condition." - Mourinho
Real Madrid coach Jose Mourinho admitted that CR7 was not 100% fit to face Atletico Madrid, but felt compelled to select his star No. 7 anyway. Was Jose right to play Ronaldo for over 70 minutes again after doing likewise against Lyon?
Messi himself was recovering from a bruised knee prior to Saturday's win over Getafe and missed the team's training sessions until Friday. Even though the Argentine, compared to Ronaldo, was passed fully fit for the game, he has not looked as sharp in front of goal as he has been throughout the term. Should Pep Guardiola have given Leo an extra week's rest?
We would like to know from you if star/key players such as Ronaldo and Messi should be risked for their team if they are carrying an injury.
Story of a Season
Who's had the best campaign so far in La Liga?

Season Stats








Minutes Played
2440
2532
Goals


Penalties
Free kicks
First goals

27

27

*



Total Shots (On target)

127 (70)

206 (78)
Assists

16

8

*



Passes

1914
(team total: 22,915)
1215
(team total: 15,827)
Passes Completed

1596
(team total: 20,077)

868
(team total: 12,847)

Fouls Suffered
44
74
Fouls Committed
16
19
Goal.com's Season Average Player Ratings
7.66
7.26
*
Marca, who awards the Trofeo Pichichi, has credited Ronaldo with 28 goals (and 7 assists)
Goal Counter


Keep track of Messi and Ronaldo's goal haul in all competitive club matches what is expected to be a record-shattering 2010-11 season...
| | | |
| --- | --- | --- |
| | APPS | GOALS |
| LIONEL MESSI | 42 | 45 |
| CRISTIANO RONALDO | 42 | 37 |
Follow Goal.com on

. Get the latest football news direct... Check out Goal.com's

page; be part of the best football fan community in the world!