If anyone wants to air their theories of tiredness affecting top players at the
World Cup
, don't bother taking them to Alexandre Lacazette - you'll just make him laugh. You might expect at least a day or two of rest and reflection after an epochal moment like scoring the winner for your country in the European Under-19 Championship final. Not Lyon striker Lacazette. He featured in both Emirates Cup matches this weekend to make it an astonishing three games in three days.
The 19-year-old had quite a weekend. It started at Caen's Stade Michel d'Ornano on Friday, where France came back from a goal down against tournament favourites Spain to snatch the trophy. Lacazette's clever back-post header, from an exquisite cross by Chelsea's Gael Kakuta, was a dramatic denouement to the showpiece with just five minutes left.
There was little cause for pause, with the striker - along with team-mates Yannis Tafer, Timothee Kolodziejczak, Clement Grenier and Enzo Reale - all called up by Lyon coach Claude Puel for the London tournament, also featuring Arsenal, AC Milan and Celtic.
"We knew we had to join the squad in London after the match, no matter what the result," said Lacazette, speaking after the tournament opener against Neil Lennon's side. Astonishingly, the party arrived at the Emirates ten minutes before the warm-up, and Lacazette and Grenier started the match.
"We had to get up pretty early to get here," said the former with considerable understatement after recounting a journey that began with a 6 am train. "And no, I didn't sleep much! We celebrated with our friends and family and the rest of the squad, but stayed in."
Sleepy-eyed and gently grinning, Lacazette admitted the weekend's events would take a while to sink in, with his big moment for the national team being so closely followed by his debut involvement with the first-team. "It's true, it's not easy, and being part of the first-team group isn't something I'm used to," he said. "But it feels great, it's a real pleasure. It's a great pitch here (at the Emirates). The group welcomed us warmly, and congratulated all of us, so it was nice."
Clearly Puel's decision to include five of Lyon's six-strong France Under-19 contingent took the Emirates Cup organisers by surprise. None of the famous five received as much as a mention, let alone a pen picture, in the official programme. Yet they caught the eye in North London, and the second goal against Celtic had 'Made In Tola Vologe' (Lyon's training centre) stamped all over it, as one journalist said.
Grenier's incisive through pass found Lacazette on the right, and he cut back intelligently for fellow youth-team product Harry Novillo to bludgeon past Lukasz Zaluska. It was a great moment, said Lacazette, "especially as we've worked together for many years now. It's normal, really."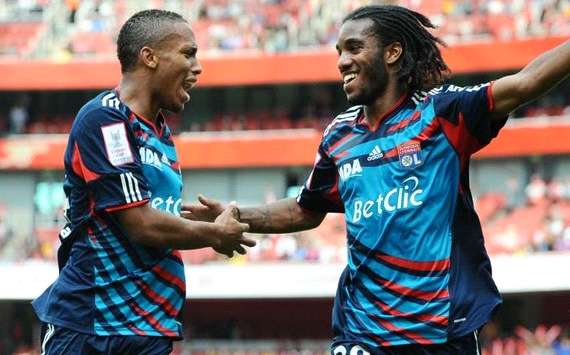 Bright future: Lacazette (right) and Novillo celebrate at the Emirates Cup
What isn't so normal is the ability to get through so much work in so short a space of time, especially in an increasingly physical game where so much is said and written about players being overworked. Lacazette puts his stamina down to a punishing pre-season. "Since June 15, we've gone through three stages of preparation, starting with physical conditioning work and now we're at the games. We feel ready."
He certainly looked ready. After his eye-catching performance against Celtic, Lacazette performed another bright cameo turn as substitute against Milan on the Sunday, though perhaps less surprisingly he came off towards the end with a hamstring twinge. Nevertheless, he impressed.
With his pacy stride and dreadlocks and ability to attack from central or wide positions, he recalls a young Loic Remy - a fellow Tola Vologe product - though Lacazette is more filled out than his wiry predecessor at the same age. Lyon are still considering the possibility of bringing the now £14 million-rated Remy back to the Stade Gerland, with strong Premier League interest also in the shape of Liverpool and West Ham. The growing feeling in France is that Lyon could potentially save themselves a fortune having unearthed a gem.
No assessment of this amazing three days would be complete without looking back at the goal on Friday that started it all off. Lacazette was on the bench for the final, before coming on in the second period for Arsenal's Gilles Sunu, who had scored the equaliser after being set up by Tafer. Did Lacazette feel ready to seize his moment?
"Yes, like I always am." France coach Francis Smerecki told Lacazette he was counting on him to complete the comeback. "The coach said to me that my entrance into the match could be decisive for the team. I just tried to help, and I succeeded, so all the better," he shrugged modestly. Had Lacazette ever experienced anything like that before? "Never. I hope to do it again." If his work ethic is anything to go by, he should have plenty more to celebrate in the future.