COMMENT
By Ed Malyon
If you'd asked anyone a fortnight ago if Carlos Tevez would be starting the season with Manchester City they'd have probably said no.
But that is how it looks set to pan out. For Roberto Mancini this is both an unexpected blessing and a 5ft 8in Argentine elephant in the room.
There can be little denying Tevez's quality. His goalscoring record is impressive but the way that he has staggered from club to club is reminiscent of a bar crawl and arguably says much about his personality.
Carlos Tevez to still be at Man City after transfer window odds
Yes @ 1.71
No @ 1.61
There are several questionable examples of his behaviour that make you wonder about the player's mindset. Former Argentine manager Sergio Batista didn't want him in his squad regardless of his electric form with City last season and told the press in advance of the Copa America: "I'm not being stubborn with the Tevez issue.
"I considered many things to make the decision. For example the group. The national team is never closed to Tevez. But for Copa America one has other players."
So when the now ex-coach eventually picked the City superstar for the South American showpiece, it seemed fairly obvious that pressure had been applied from above to include 'the people's player'.
Tevez's rags-to-riches story twinned with years of success at the country's best-supported club – Boca Juniors - have seen him become a working-class idol and national hero. Argentina hasn't witnessed anything like it since the the days of 'El Diego' himself.
What was particularly interesting from Batista was his comment about 'the group' suggesting that Tevez isn't a particularly popular player in the dressing room despite his standing with the man in the street back in his homeland.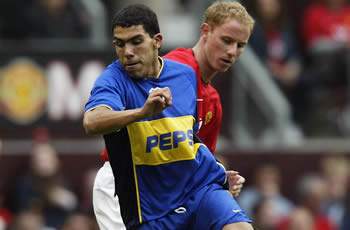 Boca Dream | Tevez would love a return home to his first club
After declaring his (latest) desire to leave Manchester City, there was an attempt to buy the striker by ex-club Corinthians of Brazil. This would make sense as the reasons Tevez puts forward for his departure are that he wishes to be closer to his young daughters – who are now back living in Buenos Aires.
This deal collapsed, though, and now he looks most likely to move to Italian giants Inter. You don't need a map to figure out that Milan is going the wrong way to get to the Argentinian capital.
When Tevez crossed the no man's land that divide the sky blue and red battle lines in Manchester, many accused him of being a mercenary. If he were to move to Inter then it would seemingly reinforce this evaluation of him and bag another hefty payout for his agent, Kia Joorabchian.
There's no doubt Tevez's dream move would be back to the club he supports and represented as he broke through – Boca Juniors – but they are in no financial state to even start putting an offer together. His current club will be looking to get the sort of fee their expensive asset is worth rather than being charitable and sending their wantaway star on loan.
Carlos Tevez club after summer transfer window odds
Inter @ 1.40
Real Madrid @ 3.25
Juventus @ 21.0
Chelsea @ 26.0
Malaga @ 26.0
Milan @ 34.0Ed Malyon is a freelance sports writer focusing on the football betting markets. His personal website Valderramarama.com can be accessed here.

Follow Goal.com Betting on

for the latest tips. Email us on betting@goal.com