Earlier this week we asked
one of football's imponderable questions. Who was the better player - Pele or Diego Maradona and with well over 1,000 comments (and counting) the debate is one that will always split fans.
But what if there was another way of settling this matter once and for all? Critics of stats will say, "lies, damn lies and statistics" as a means of proving things but surely they are worth a look particularly when discussing the matter of perhaps the greatest man to ever kick a football.
For this we consult the
Castrol World Cup Index
. Analysts spent six months logging all 540 World Cup games from 1966 - 2006 to reveal who was the most effective player in every tournament. Every pass, tackle, header etc was monitored so we know once and for all who were the stars of each World Cup.
For convenience sake we are going to look at two tournaments where both Pele and Diego Maradona excelled - 1970 and 1986 respectively.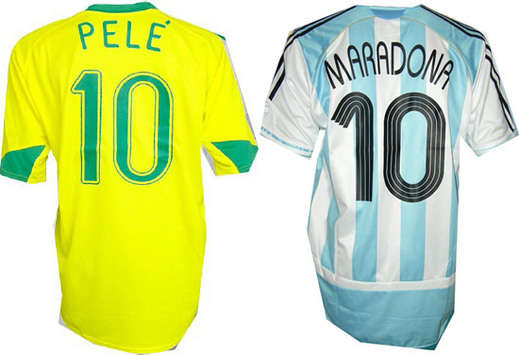 Pele 1970
At the age of 29 Pele arrived in Mexico for what turned out to be his last World Cup. He had a point to prove after being kicked out of World Cup '66 and missed the majority of Brazil's 1962 triumph through injury.
Memories of the precocious 17-year old who thrilled Sweden in 1958 were starting to fade. Brazil were overwhelming favourites to beat Czechoslovakia but the Europeans stunned the Selecao by taking an early lead.
Pele was involved in the fightback, earning the free-kick which led to Rivelino's equaliser and scoring a superb second as Brazil ran out 4-1 winners. The master was back.
England provided much sterner opposition for Brazil next time out. In a tight match Pele was involved in the crucial moment as his inch perfect lay off set up Jairzinho's winner.
Romania were dispatched 3-2 in Brazil's final group game. Once again Pele earned the free-kick which led to the opening goal which came courtesy of a bending right foot free-kick from the number 10. He added a second later on when he slid into the box proving he'd lost none of his predatory instincts.
South American opponents stood in Brazil's way of reaching the final. A thrilling six goal match was duked out with Peru in the quarter-finals where Pele provided the assist for Tostao's second.
In the semi-final Brazil once again had to come from behind to beat Uruguay. Pele was on hand to tee up Rivelino for the Selecao's late goal to make it 3-1.
Brazil were in their third World Cup final in four attempts. Appropriately enough it was Pele who opened the scoring with a header against Italy where he appeared to hang in the air for an age. It was Brazil's 100th World Cup goal but Pele was only just getting started.
The 29-year old set up Jairzinho's goal to make it 3-1 and it was his deft pass which provided the penultimate part of Carlos Alberto's memorable fourth. One goal, two assists and the perfect way to retire from World Cup football for the number 10.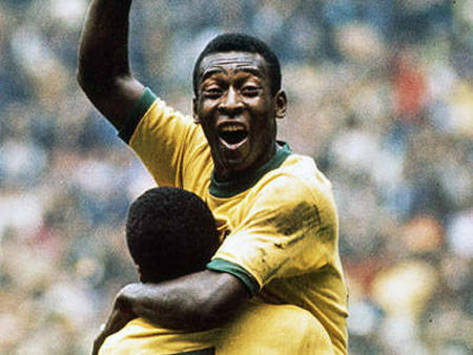 Overall
Pele's contribution to Brazil's success in 1970 was immense. Overall he was the third most effective player in the tournament according to the
Castrol Index
. Along with his goals and assists, Pele is also remembered for the chances he failed to convert including Gordon Banks' wonder save from his header against England and the dummy which just failed to come off against Uruguay. He maintained his record of never being booked in a World Cup in his final appearance in Mexico.
Only team-mate Jairzinho, who scored in every game, and top goalscorer Gerd Muller ranked higher. It was quite a way to bow out from football's greatest stage.
Castrol Index 1970 - Scores Out of 10
1) Gerd Muller (West Germany) - 9.86
2) Jairzinho (Brazil) - 9.74
3) Pele (Brazil) - 9.56

Maradona 1986
Although Diego Armando Maradona played in four World Cup tournaments his 1986 performance will forever be his magnum opus.
Just like the man he's most often compared to Maradona arrived in Mexico like Pele did in 1970 determined to make an impact. A teenage Diego was omitted from Argentina's World Cup winning squad in 1978 and his 1982 tournament ended in disgrace as he was sent off for a dreadful tackle against Brazil.
Maradona demonstrated his influence on La Albiceleste by providing the assists for all three goals in Argentina's first game against South Korea. In the next game against Italy Maradona hooked in the equaliser against the Azzurri with a volley from a difficult angle.
Argentina topped the group with a 2-0 win over Bulgaria where once more Maradona supplied a cross for Jorge Burruchaga to nod home and make it two.
Parallels with Brazil's path to the final in Mexico 16 years earlier were apparent. Argentina had to beat Uruguay and England to go all the way and against the South Americans in the last 16 Maradona was inevitably involved in the build up play which led to their 1-0 over the Copa America holders.
Forests have been felled to accommodate the library of works on the quarter-final against England. The facts are thus - Argentina won 2-1 courtesy of two goals which displayed contrasting character of their number 10.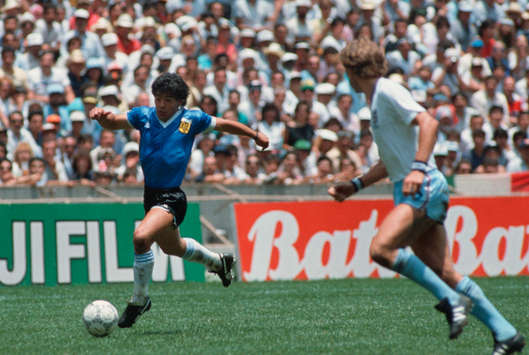 His first, the infamous hand of God, revealed his craftiness and to many was unforgivable, while his second is regarded as the greatest goal of all time. The man himself said it was 'the dream goal.'
Maradona's ultimate dream was to win the World Cup as he revealed in an interview in his youth. In the semi-final against Belgium he was again peerless scoring a typical poacher's goal just after half-time before going on another mazy dribble to score the second which ranked with his feat against England.
El Diego was one step away from achieving his dream and it was his perfect pass which set up Burruchaga's winner to beat West Germany 3-2 in a classic final. He'd won the World Cup for Argentina and for many their captain had won it on his own.

Overall
Maradona dominated Mexico 1986. The
Castrol Index
reveals that the captain scored or assisted 10 of Argentina's 14 goals and attempted or created 52% of all La Albiceleste's shots. In addition he embarked on 90 dribbles some three times more than any other player. Not content with that, El Diego was fouled 53 times winning his country twice as many free-kicks as any player who featured in Mexico '86. He was booked once but waited until the final to commit the offence.
Unsurprisingly, Maradona is well clear in the
Castrol Index
for his feats in Mexico.
Castrol Index 1986 - Scores out of 10
1) Diego Maradona (Argentina) - 9.80
2) Jose Luis Brown (Argentina) - 9.68
3) Gary Lineker (England) - 9.68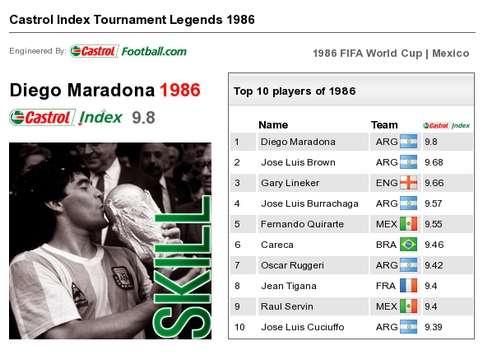 The Verdict
After all the arguments the statistics are clear. Both Pele and Maradona enjoyed superb tournaments in Mexico separated by 16 years but it was Argentina's number 10 who was more influential. It's often been argued that Argentina's World Cup winners of '86 weren't a great team but four of them get into the Castrol Index best XI of the
tournament
which compares with three Brazilians for
1970
.
In the
ultimate Castrol Index World Cup XI
of all time it's Maradona and not Pele who makes it into the team. Pele's ranking of 9.56 is lower by .24 points behind his great rival but both legends are trailing behind another South American great -
Ronaldo
- who claimed an amazing 9.87 in World Cup 2002.
If raw statistics are to be factored into this debate then it's Maradona and not Pele who is the greatest player of all time based on their form in a single World Cup where they were both outstanding.