Tuesday June 26
Another lovely day in Gniewino and another day with my nose firmly against the grindstone. A Reina's work is never done and, with the Portugal match tomorrow, I really had to put in a shift to make sure that everyone is ready.
"Push! Push! Work it, Santi!" I cry as Cazorla furiously attempts sit-up after sit-up at my feet, while I munch contentedly on a double cheeseburger and smile encouragingly. "I couldn't do it without you, Pepe," his eyes seem to say.
Later it's time to practice penalties as Mr Del Bosque is expecting a close game. This could hardly be more important, so when I step up as the crucial 22nd taker I deliberately scuff my 'Panenka' to give Iker a confidence-boosting save. Nailed it. Considered asking the coach about letting me go in goal for a bit but there's no time for jokes and, besides, Andres Iniesta is about to take a photo of the picturesque Polish countryside and I need to make sure that I'm in it.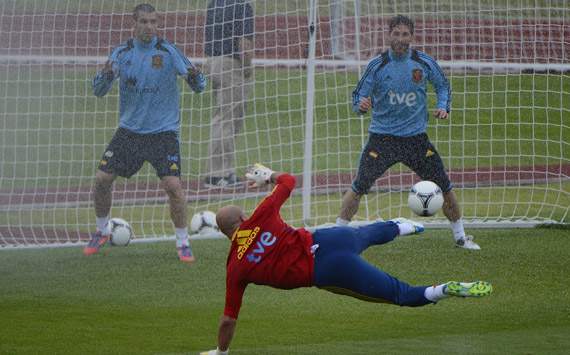 "Here's an easy one for you, Sergio. You can do it!"
Wednesday June 27
Game day. Massive few hours for the Pepster. Happy to report that I really brought my A-game – absolutely smashed Sergio Ramos on Mortal Kombat in the morning before getting some quality training in with my Pokemon on the team bus to Donetsk. I stop only when Jordi Alba falls asleep during his pre-match visualisation exercises to whisper "you have Barcelona blood" into his ear for 40 minutes until he wakes up.
Once the quarter-final has begun I sit in the dugout, still cradling my unused Polish postcards. I had bought them when we first arrived to send to Stewart, Jordan and all my friends from Liverpool as they obviously weren't going to be making the trip, but then they all got called up and I'm left with 24 blank 'I heart Gniewino' cards. I use them to start jotting down downbeat playlist ideas for the flight home in case things go badly instead.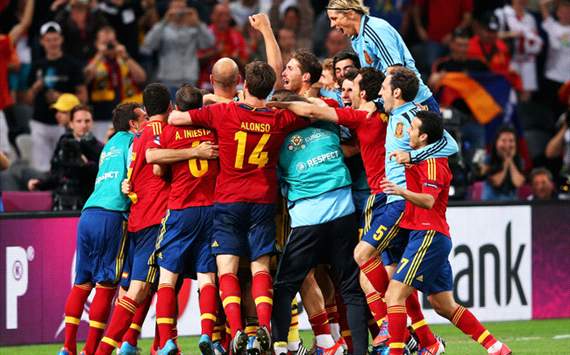 "Middle of the picture yet again. The camera loves me."
I'm called into action in the second half! I shuffle along the bench to extend my arm around the shoulders of the crying Fernando Llorente. "There, there, Pepe's got you now," I coo as the big fella whimpers something about having done really well the last time that he came on against Portugal. It's a good thing I thought to put my goalkeeping gloves on – they seem to make him feel safer. Once the tears have stopped, I do the dinosaur impression that he likes so much and he's back smiling and giggling. What would Mr Del Bosque do without me? I've seen him try to make the velociraptor noise. He sounds like a gibbon with its toe stuck in a door.
Cesc Fabregas scores the winning penalty – photo time! I make sure to jump into the middle of a few celebratory snaps before grabbing hold of the man of the moment and pulling a Barca top over his head. "You've done me already," he squawks from under the material as I fumble with an arm-hole. Whoops. "Sorry, Cesc," I mutter. It's hard to keep track of who's been ticked off the list and who hasn't. I scamper off in search of Jordi.
Thursday June 28
When we get back to the hotel, the lads head off to the tactics room to watch last night's game over again. I take the opportunity to draw up some initial plans for the end-of-tournament party, starting to make some calls to possible venues. I'll need somewhere where I can whip up some cocktails, especially that one with the lime that's lit on fire that Alvaro Arbeloa loves so very much, but also with kiddie seats for Andres and Pedro.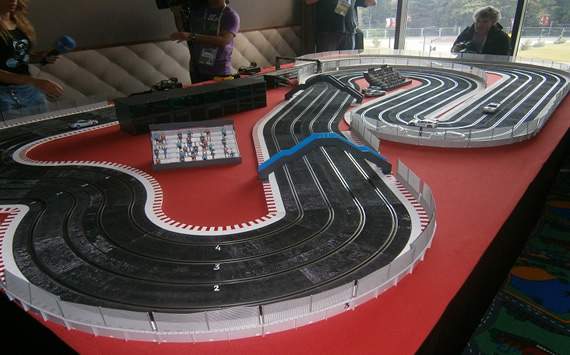 "I don't care how many caps Iker has - he's got nothing on the Pepster here!"
Then there's time to perfect the sick stunts that I've been working on on the hotel's Scalextric track before the boys come back to watch Germany v Italy together. When they eventually start to file into the room, I flip my car 20 metres into the air and land it on Gerard Pique's head before basking in the whoops and applause of my adoring colleagues.
Everyone gathers round the TV and I fetch us all some tea, remembering the little spoonful of honey that David Silva likes in his mug. Jordi comes in late wearing his new Barcelona shirt. I smile and check the calendar. Three days of the tournament left. Should be enough time. Where did Javi Martinez go?
Follow George Ankers on