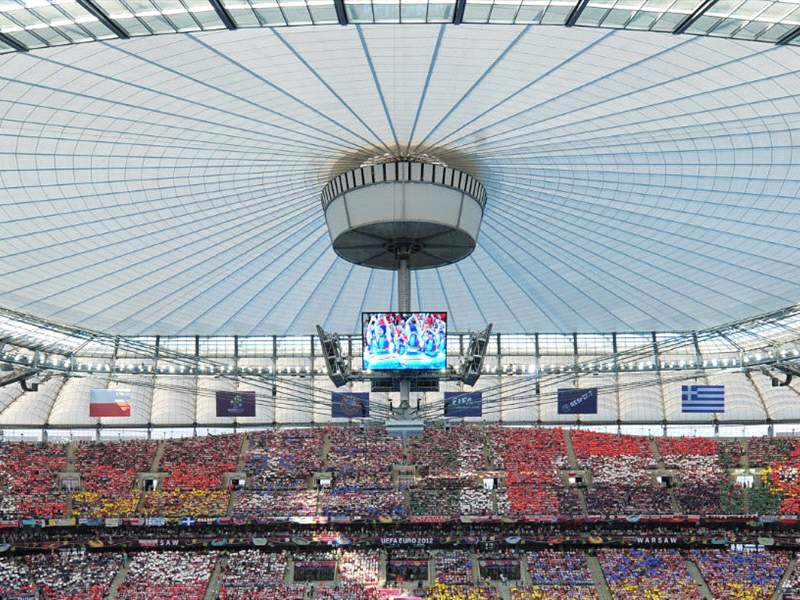 EXCLUSIVE
Former Poland president Lech Walesa has reaffirmed his belief that the country's co-hosting of Euro 2012 will be of a massive benefit off the field as well as on it.
With parts of Poland still suffering from an economic downturn following the collapse of communism, Mr Walesa reiterated in an exclusive interview with Goal.com that the money ploughed into the Polish economy fits in with the free state which he helped to create.
Speaking of his feelings about the European Championships being staged in his home country, the co-founder of the Solidarity Trade Union said: "I was a part of the organisational processes - I always thought that we need to unite different nations.
"Furthermore, Euro has sparked off many investments in this country. New things have been built, others were tidied up. It is this aspect of the tournament that interested me the most."
Further confirming the importance of added investments, Mr Walesa made his feelings clear on how something as politically trivial as a football tournament can benefit a whole nation – also praising the developments in his home town.
"If not for the Euro it would probably take us a century to achieve all those things.
LECH WALESA FACTS
After becoming a trade-union activist, Wałęsa was persecuted by the communist government, placed under surveillance, fired and arrested several times.
He co-founded the Solidarność (Solidarity) Trade Union, in 1980. It became the first non-communist trade union in the Soviet Bloc.

In just a single year, the union attracted over 9.5 million members – one-third of the working-age population of Poland. They regularly recruited members from the coal mines and shipyards, using the football terraces to congregate and display their political messages.

Following the eradication of communism in the country, Lech Wałęsa became the first President of a democratic Poland. His premiership lasted between 1990 and 1995, and his slogan was "I don't want to, but I have no choice".

The success of the Solidarność movement is credited with spreading anti-communist ideas, which eventually led to the downfall of communism in Europe. It is also said to have partly influenced the more recent Arab Spring uprisings in North Africa and the Middle East.
"Gdansk has changed dramatically. I sometimes wonder whether to leave my house or not - changes are such that I sometimes think I might get lost."
Surprisingly, with the buzz around the whole of the country for the footballing side of things, the former leader isn't one of the many millions tuning in to see all the action. Despite the fact that football stadiums were a major recruitment hotspot for the Solidarity movement and the fight against communism, he never really took to the beautiful game.
"I used to play football but my legs are rather short. That affected my running. As a result I usually ended up as a goalkeeper. I could jump very well and had quick reflexes.
"But to be honest I was always amazed that an event which includes 22 people chasing the ball can be perceived as a national festival, as it is the case with many football games. I always thought that there were far more interesting things in the world."
The 69-year old also had strong thoughts on the problem that has surrounded the country since the BBC Panorama programme suggested that racism and anti-Semitism was rife in Poland and Ukraine. When asked how these problems could be solved, Mr Walesa had a clear idea of his ideal solution:
"Of course we need to punish all those people. But it would have been better to build common foundations uniting different nations and religions. From these foundations universal judicature, science and laws could be derived. That did not happen, so we have to focus on other solutions.
"If each state has different cultural foundations, it is difficult to work out universal solutions. The only option left is to punish offenders. It is necessary of course but for those foundations would be of the utmost importance. Only upon creating them would we be able to solve the problem. Punishing will not be enough."
After years of oppression and tension, the 1983 Nobel Peace Prize winner also had very strong views on the violence between Russian and Polish fans before their game in Warsaw on Tuesday. Like many others Mr Walesa believes that the violence seen was not for footballing reasons, but due to the deep underlying history between the two nations.
"Democratic rules allow for such a march. Still, right from the beginning it was meant as a kind of provocation. Probably those people wanted to stir up all the anger which is present between our nations because of our difficult past. The question is: Is it good that we have finally seen it?
"There are still some issues between Poland and Russia that need to be resolved. For example they still did not fully admit that Stalin murdered Polish officers in the forest near Katyn.
"This annoys many people. That is the reason why some people reacted in such a way. As long as such issues remain and Russians don't want to confess, it is difficult to achieve a better atmosphere."