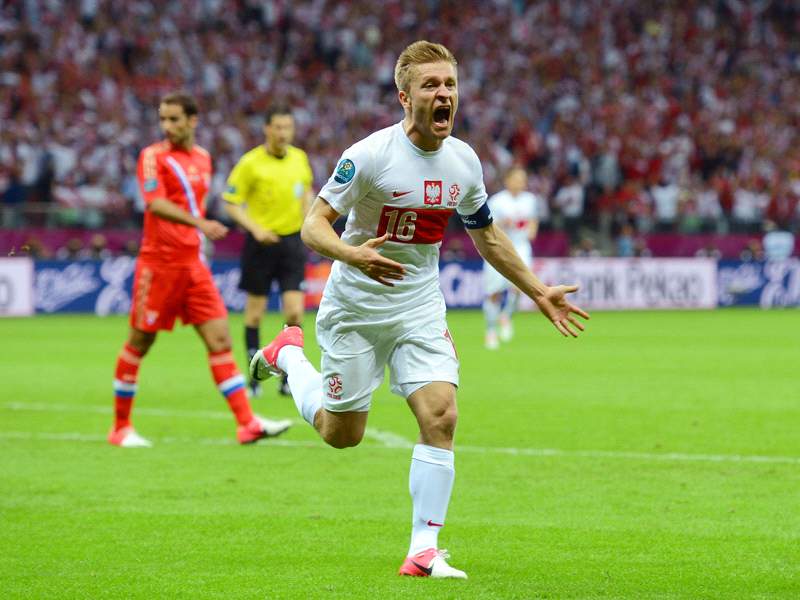 Ryan Hubbard


Poland Expert

Follow on
Receiving the ball on the right from Ludovic Obraniak, one nicely-weighted touch opened up a small amount of space in the Russian defence. His second touch, on his weaker left foot, was simply sublime. Without the need to look up, his thunderbolt shot left Vyashchev Malafeev grasping at thin air; and with the ball safely nestled in the back of the net, an emotional Jakub Blaszczykowski ran off to the corner of the pitch to bask in the glory of a 50,000-strong crowd, to whom he is now a national hero.
But despite all of his talent, the stacks of awards piled up and his obvious likability, the 26-year-old's journey has been far from easy.
Born in the Silesian village of Truskolasy - just half-an-hour's drive from the town of Czestochowa, Jakub began to show promise on the football field very early on. At just eight years of age, he even began to train at his local club Rakow, along with his older brother Dawid.
VIDEO EXCLUSIVE
"Without the Euros it would take Poland a century to achieve this kind of investment"


- Former Poland President Lech Walesa

Showing immense talent - similar to that which helped his uncle Jerzy Brzeczek to captain the Polish national team - Jakub was already heading towards good things. But in September of 1996 the youngster became a victim of a personal tragedy that threatened to not only ruin his potential footballing career, but his life as well; he witnessed the murder of his mother at the hands of his own father.
With Sigmund Blaszczykowski placed into prison for 15 years, the two Blaszczykowski brothers were placed into the care of their grandmother; and following the tragedy, Jakub understandably gave up playing the sport he loved. But after two months away he was encouraged to return to the game by his uncle, and the youngster returned to Rakow's youth setup determined to succeed.
With his concentration now firmly set on honouring his mothers' memory, the midfielder's performances began to attract attention from elsewhere. Eventually in the summer of 2002, a 16-year old Kuba earned a move to the youth team of Polish top-flight side Gornik Zabrze, but unfortunately it wasn't to last. By the end of the year Blaszczykowski had left the Ernesta Pohla Stadion to return back to his home town, signing for fourth-tier KS Czestochowa.
It was whilst playing for KS Czestochowa that Jakub – now 18 – got his first taste of international football, playing for Poland Under-19s. Aided by his 11 goals in 24 games, Blaszczykowski was beginning to make a name for himself; and when his uncle helped to get him a trial at Wisla Krakow during the 2004-05 winter break, the right winger grasped his chance with both hands.
Impressing the club's Czech coach Werner Licka, Jakub earned a 70,000zl transfer (around
€
18,600) and quickly broke into Wisla's starting line-up – scoring on his debut in a 5-0 demolition of Polonia Warsaw. By the end of the season, Jakub had become a key part of the Biala Gwiazda side; lifting the Polish league trophy, while also making his maiden bow for the Under-21s.
When Licka left Wisla in the summer, it started a managerial merry-go-round that could have left Jakub struggling for consistency; but focused as ever, the midfielder again impressed – picking up the 'Football Oscar' for the best midfielder in Poland's top-flight division, the Ekstraklasa.
JAKUB BLASZCZYKOWSKI


RIGHT WINGER | POLAND






2011-12 SEASON CLUB STATS

Appearances
40
Goals
7

Assists
12


INTERNATIONAL FILE

Senior debut
vs. Saudi Arabia, 2006

Caps (goals)
53 (10)

It was this form that led to national-team coach Pawel Janas handing Kuba his first cap, a friendly game against Saudi Arabia. But just before Janas named his 23-man squad for the 2006 World Cup, Blaszczykowski suffered a back injury which kept him out of action for two months.
Upon his return during the 2006-07 season, Blaszczykowski again impressed with his eye-catching performances; but this time it wasn't just Janas who was watching – other clubs were starting to take notice too. And with just a few months remaining on his contract at the Henryk Reyman Stadion, it was announced that German club Borussia Dortmund had signed the midfielder on a four-year deal.
Now, with 'Kuba' adorning the back of his shirt, a whole new challenge awaited the 21-year old. However, his debut showed he was more than ready as a goal and an assist earned a man-of-the-match performance in a pre-season friendly against Roma.
By now Blaszczykowski was also becoming a key member of the national team; his fantastic performances wearing the White Eagle on his chest helping his nation to qualify for the European Championship in Austria and Switzerland. But while he was included in Leo Beenhakker's squad for the competition, Kuba again was forced to watch from the sidelines as a hamstring injury put him out of his second successive international tournament.
Despite the disappointment, Jakub's skills and determination meant that he was already beginning to be considered as a national icon. The voting for the 2008 Polish Player of the Year reflected this well, as he finished comfortably above Michal Zewlakow and Artur Boruc to receive the award. Kuba picked up the award again just two years later, pipping new Dortmund team-mate Robert Lewandowski to the honour.
With his popularity having grown considerably in recent years, the decision by new Poland boss Franciszek Smuda to give Blaszczykowski the captain's armband for a 2010 friendly was met with great joy amongst supporters, as he led his team out against Cote d'Ivoire.
While Jakub's footballing skills are clearly the main reason for his popularity, his successful struggle to overcome his past is undoubtedly the reason why he is considered a hero. The fact that he is still grounded and appreciative of all the support he receives - no doubt one of the characteristics drilled into him by his grandmother - makes it almost impossible to dislike Kuba.
Although he had no contact with his father during both his prison sentence and his eventual release, it was still a shock for Kuba when he heard just before Euro 2012 that he had passed away. Missing the start of the tournament preparations to attend the funeral, the devout Roman Catholic arrived at Smuda's Austrian training camp with an important chapter of his life finally closed.
After Jakub was mobbed by his team-mates following his Warsaw wonder strike, there was a brief moment of reflection as the captain looked to the heavens as a form of tribute to his mother – something he does following every goal he scores.
Acknowledging that he owes all successes to his grandmother; Kuba has both that influence backing him, and the memory of his mother driving him further and further forward. And with an almost unanimous feeling amongst the Polish nation that he has now almost been adopted as their own, it is quite possible that Jakub Blaszczykowski could soon surpass Zbigniew Boniek, Grzegorz Lato and Kazimierz Deyna to become the greatest footballer Poland has ever seen.