Wayne Veysey




England Expert



Trenchant. Opinionated. Controversial. These are all accurate descriptions of
Raymond Verheijen
, the Dutch fitness expert whose no-holds-barred views on Twitter are as entertaining as they are unequivocal.
England, Holland and Germany have all been on the receiving end of his keyboard in recent weeks while he asserts with complete conviction that Russia, who he is advising at Euro 2012, are "without doubt" the best prepared team at the tournament.
So, why does he do it? Why does an in-demand coach and conditioning guru who has more pies than fingers choose to ruffle so many feathers in his profession?
"In football there is a lot of hidden amateurism," explained Verheijen, in an interview with
Goal.com
. "A lot of coaches and staff members know deep inside that they are not good enough which makes them feel insecure. So, they don't like to be questioned.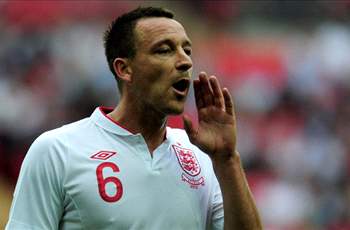 "John Terry should not have played against Belgium. They gambled."
"But if someone questions me, why would I care? I can explain every little detail of what I am doing so I listen to what the guy says and check out whether he is right or not and whether I can learn anything. And then move on. I like people to question me. You can only think like that if you are a secure person. If you are an insecure person you think 'he is after my job'.
Verheijen's Tweets make for compelling reading, but he is unconcerned about upsetting the establishment or those marquee clubs, including Barcelona, Manchester United, Ajax and Arsenal, who have been in his firing line.
"The teams I use are just examples," said Verheijen. "It doesn't matter who because it's nothing personal. I only use practical examples to show patterns to the outside world.
"Remember that I tweeted last September or October, 'What is going on at Barca?' At a very early stage I saw a pattern that it was not going to be a very successful year for Barca.
"They had so many muscle injuries which meant that they hardly ever played their best 11 at the same time. It is all about detecting patterns and making people aware. Hopefully they will be able to recognise patterns themselves at an early stage.
"Not all injuries are preventable. But a lot are. What I disagree with is people saying you can only give your opinions about injuries if you are in the training camp. That is rubbish.
"If the head coach himself says in a press conference it has been a very intensive training week and in this same week one player got a hamstring injury, one got a groin injury and one got a quadriceps injury, you don't need a university degree to understand that something has gone wrong."
A section of the football community who do not know Verheijen are miffed by his blunt 140-character assessments.
He said: "I don't use Twitter for interaction. I use it to drop messages. If Twitter was to do with ego or status or money I would do it differently. My only intention is to improve football.
"One of the ways to improve football is to get the best players on the pitch every week. If all these idiot coaches took it easy in pre-season we would get better football.
"I want better football, better training and less injuries. I'm an idealist and I want the best Euros ever this summer. What I don't want is more than 60 players withdrawn from the Euros, which is the most in Euros history.
"I stick my neck out on purpose because it catches people's attention. As a result, they start to follow a certain process - sometimes for the wrong reason, because they want me to be proven wrong. But I don't blame them because that's human."



"I want better football, better training and less injuries. I want the best Euros ever this summer. What I don't want is more than 60 players withdrawn from the Euros."





- Raymond Verheijen
Verheijen is an advocate of the 'less is more' periodisation philosophy, methods which he has used with great success with Holland, Russia, South Korea, Wales and the Dutch FA, as well as Barcelona, Chelsea, Zenit St Petersburg and Manchester City.
He dubbed England's training methods before Euro 2012 prehistoric for injuring Frank Lampard and Gareth Barry and suffering hamstring scares with John Terry and Ashley Young. "Which amateurs are in charge of the England periodisation?" he wrote on Twitter. "Jurassic Park at international level".
The theory that their injuries, which caused Lampard and Barry to miss the tournament, were due to the demands of the Premier League season is "bulls***", according to Verheijen.
"If you don't overtrain them in the three weeks before they won't break down," he explained. "If you do one session a day and give the players proper rest, John Terry, Frank Lampard and Gareth Barry won't pull their muscles.
"John Terry should not have played against Belgium as Hodgson told the media Terry had some hamstring tightness during the training week before that game. So, they gambled with him in the Belgium game. But in football people allow you to make stupid mistakes like this as long as you win the game.
"These players are already fit. They are tired after a long season. What you have to do in the three weeks before the Euros is maintain fitness and increase the freshness. Let them get rid of the fatigue."
Verheijen insists that football is in need of a more analytical approach to take it to the next level.
He continued: "Successful teams often win trophies despite all kind of mistakes they made during the process. I want to identify these errors to avoid making certain mistakes twice.
"In Holland we had a great example last season with Ajax. In early pre-season based on common sense I already predicted on Twitter that Ajax would get a massive injury crisis. At the end of the day, their injury crisis was even worse than I had expected with 30-plus muscle injuries. But they still won the title.
"So, are we going to copy the Ajax pre-season because they won the title and do we take their muscle injuries for granted? Or will we analyse their process so we only copy the elements that really made them champion and will we just ignore their amateur periodisation?"
As the man tasked with developing and finetuning Russia's training programme this summer, could he not be setting himself up for a fall?
"Obviously, when you speak your mind there will always be people wanting you to fail," observed Verheijen. "Why would I mind about that? If you fail, you fail. I'm confident that we will reach the second round. If we don't then we deserve the criticism we get. I don't mind criticism because I don't take it personal. I am open because I am independent from the football world.
"Also, the approach that I have developed is just common sense. And I have applied it successfully so many times in the past. Every time it works. For the seventh consecutive major international tournament I have prepared a top fit and injury free team. That's no coincidence.
"I know what I am doing and why I am successful. That's why I am so open on Twitter about all the details of the Russian training programme and why I feel free to question things publicly.
"The Russian players will look fit but in reality it is more do with freshness than fitness. When Russia played Italy, the Russians looked so much fitter and sharper. In reality, they were much fresher.
"People tend to make fitness too important in football anyway. Fitness is applied in a football context and it is not the decisive factor. If it was, we would call it athletics."
"In football people allow you to make stupid mistakes like this as long as you win the game."






- Raymond Verheijen

Not that the multi-tasking Verheijen is simply a conditioning expert. The Guus Hiddink protégé was recently appointed the Armenia assistant manager shortly after leaving Wales and has an option to work at the Olympics.
He is also a consultant to teams in Australia, but he says his "main job" is the World Football Academy, which he set up to advise coaches and clubs around the world on training methods.
"My ambition is to be the best ever assistant and to develop the best-ever backroom staff," said Verheijen. "With Wales we were close to perfection. I don't have the ambition to be a head coach. If I had that desire I would do it. If I wanted I could be a head coach somewhere in Europe. For me that is very easy.
"Sometimes I get approaches - from about 10-15 clubs in the last two to three years. For me, it is not about money, ego or status – these s*** things. I don't care about that. If I did, I would profile myself differently. It is the same with Twitter."
The father-of-four added: "What I like is experiencing different cultures and working with different people around the world. You learn more. If you work only with one club you are living in a tunnel."
Verheijen was one of the candidates to replace Gary Speed as Wales manager following his friend's death last November but he said his intentions were "misinterpreted".
He explained: "After Gary's death it was obvious that the players wanted to continue the approach we had developed. They asked me to protect his legacy.
"That's the only reason why I stuck my neck out with Wales. In that emotional period I felt I had to be loyal to the players. So, it was sad to see certain people accusing me. These people were absolutely clueless about what was really going on behind the scenes.
"Ironically, these people called themselves Gary's friends but all they did was activate the process of breaking down Gary's legacy.
"I had a meeting in the Welsh camp with Gary and our operations manager Adrian Davies last October on the Saturday after beating Switzerland 2-0 the night before in Swansea. At the meeting Gary asked me to be his assistant wherever he went after Wales. In a split second I said 'yes'. Normally this is something you have to think about but with Gary it was magic."
Looking back, Verheijen is glad that he was overlooked in favour of Speed's former playing colleague Chris Coleman.
"It would not have worked because of the amateurism in the FAW. It's no coincidence that all the assistants of Gary have disappeared. The people that run the FAW cannot handle strong personalities.
"Before I resigned on the Friday I felt that I had to call Louise Speed to inform her first. She totally understood my decision because she already knew all the details. She personally invited me and my family for the memorial game the Wednesday after. For me, that's much more important than those so-called friends of Gary.
"It was very sad to watch the [recent] Wales-Mexico game. Everything we carefully built in 2011 has been torn apart.
"There is hardly any playing style anymore. You don't have to be Einstein to see that the Welsh World Cup campaign is going to be a disaster. I feel really sorry for the Welsh players because they are extremely talented and they deserve to qualify with the help of a good coaching staff."
Verheijen recognises that his out-spokenness may cost him job opportunities but "only with people I don't want to work with."
He added: "With top quality people they appreciate it. For example, Hiddink always says that one of the things he appreciates when I'm on his staff is I keep people on their toes so he doesn't have to do that himself.
"Gary always said, 'you are the biggest pain in the arse ever but I need you to be successful with Wales'. And that is exactly what it is all about in top sport. Keeping people on their toes and extending the boundaries.
"However, all these insecure people in football are often very nice to each other. They keep each other in their comfort zone. 'If you are nice to me, I will be nice to you so we will both survive'. That's why most backroom staffs are like a bunch of tourists. If you want to be successful, you have to constantly take people out of their comfort zone."