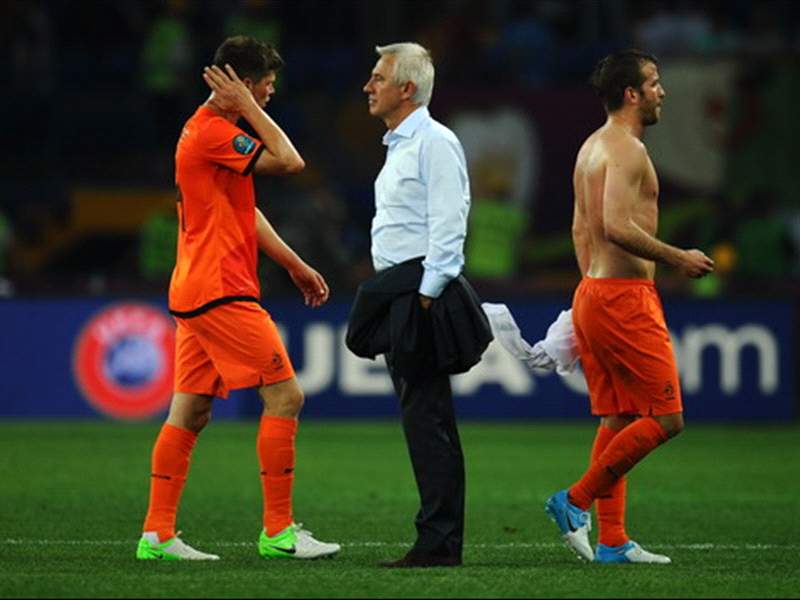 Greg Stobart




In Kharkiv



Compared with some of his predecessors,
Bert van Marwijk
has had an easy time managing the
Netherlands
over the last four years when it comes to crisis management.
The Dutch have been notorious over the years for in-fighting and feuds that can ruin harmony in the squad and destroy their hopes in major tournaments.

Van Marwijk has avoided such issues through intelligent management and, more importantly, strong performances and results during his time in charge. Until now.

The Netherlands' defeat to Denmark in their Euro 2012 opener in Kharkiv on Saturday night has caused cracks to emerge ahead of their remaining two group games, against Germany on Wednesday and Portugal on Sunday.
Rafael van der Vaart, Netherlands' vice-captain, trudged past Van Marwijk at the full-time whistle without even a glance at the coach. At the time, it appeared he was simply too devastated by the result.
But the Tottenham playmaker, an influential figure in the dressing room, is now believed to have lost faith with Van Marwijk after being named as a substitute in the Group B opener, despite expecting to start.

After the game, Van der Vaart planted the seeds of revolt when talking to Dutch journalists, many of which have been calling for him to start instead of Nigel de Jong or Mark van Bommel.
While playing with two defensive midfielders is understandable against the stronger teams, they were superfluous in the Metalist Stadium on Saturday as the Dutch completely controlled possession. Van der Vaart was as affable as ever when I spoke to him after the match, but a flash of anger appeared across his eyes when I asked for his thoughts on his current role as the team's 12th man. It wasn't an issue he wanted to discuss, he had to go and call his wife.
On the scale of the great feuds in the Netherlands national team at major tournaments, it has some way to go to match the falling out between Ruud Gullit and Dick Advocaat in 1994, or Edgar Davids and Guus Hiddink in 1996.
Stefan Coerts




Netherlands Expert



Van Marwijk's nightmare has come true. What all the Dutch journalists have been speculating about for several weeks has become reality.

One of the main reasons why Van Marwijk has been able to keep all the players satisfied are the good results in the past four years.

It seemed inevitable that certain players would eventually become unhappy, though. Van der Vaart, for example, is the most experienced player of the current squad with 97 caps, and a player with his reputation simply wants to play at a big tournament like Euro 2012.

No player has already publicly voiced his dismay with the situation, but that seems to be only a matter of time at this point
But there is enough bubbling under the surface for Van Marwijk to fear the repercussions should his side lose to Germany on Wednesday, a result that would almost certainly bring an end their tournament at the first stage.
De Jong stormed through the mixed zone after the match with a face like thunder, performing the trick familiar to all journalists of pretending to be on his phone.

According to reports in Holland, De Jong is also angry with Van Marwijk about being substituted in the 71st minute against Denmark. The Manchester City midfielder and several team-mates felt that Van Bommel should have made way instead.

In the mix here, of course, is the fact that Van Bommel is Van Marwijk's son-in-law, the team's captain and a definite starter for Oranje. A growing number of players, however, feel his performances for the team mean he no longer deserves that status.

Throw in the debate over whether Klaas-Jan Huntelaar should start instead of Robin van Persie and the Arsenal striker's tense relationship with Wesley Sneijder, and you sense that knives are being sharpened and fingers being pointed.

Nobody has broken ranks to speak publicly, but that could change if the Netherlands suffer defeat on Wednesday. And it could get very uncomfortable for Van Marwijk.