EXCLUSIVE
By Alberto Pinero
The European Championship started in controversial style on Friday as Poland and Greece drew 1-1 in the opening match. More than any of the 22 players, however, referee Carlos Velasco Carballo was the main protagonist.
The Spanish official harshly sent off Greece's Sokratis Papastathopoulos following two soft yellow cards, failed to award a penalty for a handball by Poland's Damien Perquis, and did give a spot kick for a foul by Wojciech Szczesny on Dimitris Salpingidis which led to the dismissal of the goalkeeper. It was a display which frustrated both teams and satisfied neither. Velasco Carballo simply saw the game slip from his grasp at times.
Following the controversy generated by his performance,
Goal.com
spoke to experienced former Spanish referee Raul Garcia de Loza for a professional opinion on his compatriot's disastrous display. And it does not make good reading for the Madrid-born official.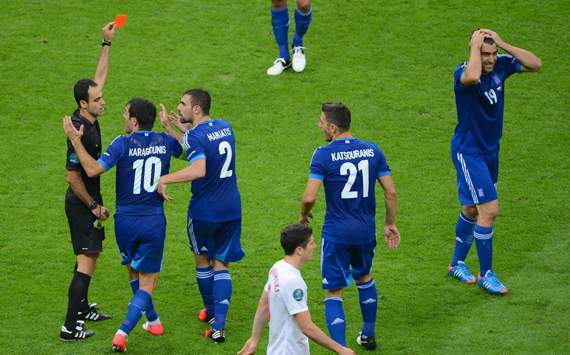 Card-happy | Velasco Carballo sends off Sokratis Papastathopoulos


"Uefa wanted a very meticulous referee, and that is why they chose Velasco Carballo, but I think he made mistakes in the Poland-Greece game," the former official said. "In the dismissal of Papastathopoulos, the second yellow card was never a booking and the first one could also be questioned."
And the former referee, who officiated in La Liga for 14 years and took charge of a number of Clasico clashes between Barcelona and Real Madrid, added: "Szczesny's sending-off is less questionable, but it's still questionable.
"Velasco Carballo looked to be very strict with his refereeing, but he went over the top. At the beginning it looked like he was doing a good job, but overall I would give him a low mark.
"He is a very strict referee, and perhaps that is why they chose him. Uefa will not allow bad behaviour, brawls or protesting, and they wanted the first referee to set a precedent for the rest of the competition, although it is normal they will be more relaxed for the rest of the games.



Uefa will not allow bad behaviour, brawls or protesting, and they wanted the first referee to set a precedent for the rest of the competion





- Raul Garcia de Loza

"Neither of the sides were happy and that says a lot. If you blow for every single foul and give cards out all the time, that's not refereeing. With the ruling in your hands, you have to work with it depending on how the game goes. Not all games are the same. Carballo was very, very strict. He should have shown fewer cards. It is very easy to show a yellow card but the next time you have to send a player off, and one of the objectives of a referee is to maintain 22 players on the pitch.
"Velasco Carballo should have given more warnings and held off more. He looked nervous to me. He started off well, having looked less impressive in his last few Liga matches," concluded Garcia de Loza, who believes Uefa have succeeded in sending out a message to other teams following yesterday's opening match.
However, it seems that message was much too strong.