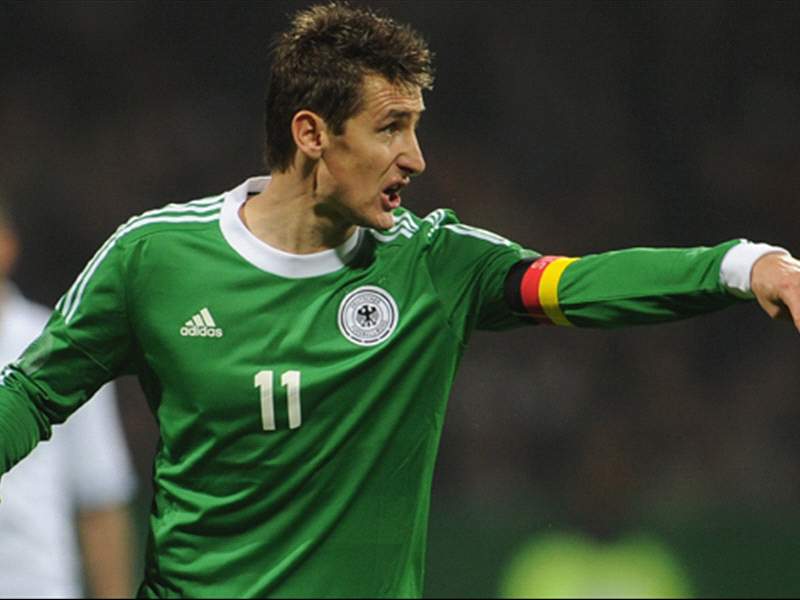 ANALYSIS
By Julian Wohr | Germany Expert
In Gdansk, the Germany squad are preparing intensively for Euro 2012, and despite another high-scoring season for Bayer Munich, Mario Gomez is expected to be usurped by Miroslav Klose for their Group B opener against Portugal - and justifiably so, if you compare their respective die Mannschaft stats.
June 30, 2002 was not a good day for Klose. Back then, the attacker was part of the team that lost to Brazil in the final of the World Cup, after he had scored five goals to get his side to the showpiece. Almost 10 years later, he will be expected to help deliver a long-awaited title for the DFB-squad.
Klose has been first choice in Germany's attack since Japan and South Korea, no matter if the coach was Rudi Voller, Jurgen Klinsmann or Joachim Low. His colleagues back then -Oliver Kahn, Carsten Ramelow and Bernd Schneider
among others
- have long since retired. Klose is still on the pitch and still successful.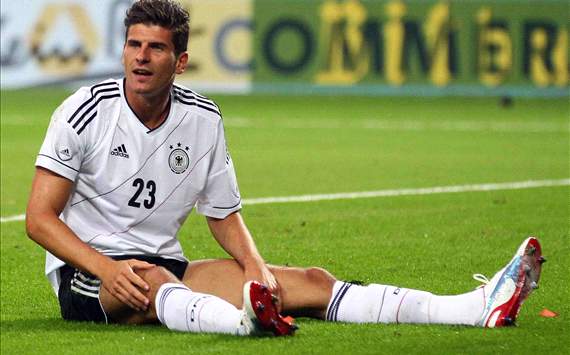 A German mystery | Gomez cannot establish himself internationally despite Bayern form
Klose has an incredible 116 appearances for Germany and has scored a 63 goals, one of the best records in international football over the last decade. On top of that he has won the Bundesliga and DFB-Pokal with Bayern Munich. But he is hungry for international trophies. Mario Gomez had a golden opportunity to win the Champions League in May, but the domestically-impressive striker could not make any impact in the game against Chelsea and missed some golden opportunities.
This is exactly the problem with Gomez. He is not decisive in important games and does not score when it matters most. Last season, Gomez was quietly disappointing when Bayern lost twice to Borussia Moenchengladbach.
GOALS AT MAJOR TOURNAMENTS SINCE 2006

11

Miroslav Klose

8

Lukas Podolski

5

Thomas Muller




4

Bastian Schweinstieger

0

Mario Gomez
He also failed in the decisive game of the Bundesliga season against Borussia Dortmund, when BVB forward Robert Lewandowski stole his thunder with a clever flick late on.
If you were to ask many Germans about Gomez' appearances for die Mannschaft, the first replies would not be positive. At Euro 2008, the forward somehow missed an open goal from two yards out against Austria. From then on, Gomez was regarded as a poor finisher when it comes to games for his country.
His tally stands at 22 goals in 52 games. Not bad, but he's no Klose, who has an outstanding tally of 16 goals in major international competitions. He will be perhaps the most dangerous marksman in this summer's tournament.
And there is another stat that speaks in Klose's favour: Germany have never lost when the Lazio man has scored. In 40 games in which Klose has notched, die Mannschaft have won 36 times, drawing the rest. If he finds the net, Germany team are unbeatable - and, of course, he scores a lot. Together with Gerd Muller, but behind Brazil's Ronaldo, he has scored the most goals at World Cup finals. Since 2006, Klose has always been among the top goalscorers at any big international tournament. Not to mention the five he got in 2002.
Contrastingly, Gomez could not find the net at World Cup 2010 in South Africa or Euro 2008 in Austria and Switzerland, although one has to admit that he never had a starting place at these tournaments and mostly only had short appearances. But he did little to convince in those few showings.
Even at 34 years of age, Klose is as accurate as ever and enjoyed a good season with Lazio, until he got injured towards the end of the campaign. Nevertheless, he will be Joachim Low's first choice when they kick off their campaign against Portugal on Saturday.
But there is good news for Gomez: behind the two forwards, Germany lack a high-class, young prospect to challenge for a starting role. So for Gomez, it is safe to say that his time will come.
Follow Julian Wohr on