ANALYSIS
By Mark Doyle | Italy Expert
Juventus
are an incredibly divisive presence within Italian football. They are as loved as they are loathed, generating adulation and animosity in equal measure. The mere mention of their name never fails to provoke a passionate response. Therefore, the term 'ItalJuve' has a tendency to grate with some Azzurri supporters.
However, there can be no denying that basing the national team around Bianconero has always served the country well. As a result, there is now a very real temptation for current coach Cesare Prandelli to do likewise at Euro 2012.
When the former Fiorentina coach took charge of Italy in 2010, his plan was for his new side to play 4-3-3, but the system was ditched in favour of 4-3-1-2 early on in the qualification campaign. The switch was an unmitigated success but now Prandelli is considering another change in formation ahead of Sunday's tournament opener against Spain in Gdansk.
ITALY'S JUVE CONTINGENT PAST & PRESENT

Player

Balzaretti
Barzagli
Bonucci
Buffon
Chiellini
De Sanctis
Giaccherini
Marchisio
Nocerino
Pirlo
Spell

2005-2007
2010-Present
2011-Present
1997-Present
2005-Present
1997-1999
2011-Present
2006-Present
2007-2008
2011-Present
League Apps

57
35
67
325
205
3
23
145
32
37
After seeing his side torn apart with disturbing ease by fellow finalists Russia in last Friday's friendly in Zurich, the Italy boss began experimenting with 3-5-2 in training last weekend. The conclusion was obvious. As
Gazzetta dello Sport
announced on Sunday morning: "Juve-style Italy".
The system change would undoubtedly represent a gamble given its proximity to a meeting with the reigning European and world champions, but as Prandelli admitted in the aftermath of the Russia debacle: "I am forced to try something, even if I haven't got much time, to give some security at the back."
Besides, the thinking behind the switch is, at least, sound: firstly, because it is a formation familiar to several members of the squad; secondly, because it would enable Italy to get the most out of their sizeable Juventus contingent.
From a defensive perspective, Italy boast several players capable of playing in a three-man backline. Andrea Barzagli's injury has complicated matters no end, as it has removed the possibility of Prandelli fielding the Juventus centre-half alongside his club-mates Leonardo Bonucci and Giorgio Chiellini, who has declared himself fit to face Spain.
However, Angelo Ogbonna, who is just as comfortable at full-back as he is at centre-half, could easily slot in on the left-hand side of Italy's central three, while Daniele De Rossi was utilised at the back to good effect by Roma last season.
An extra centre-half would also go some way towards addressing the rather worrying inability to adequately deal with set-piece deliveries that was so evident against Russia. Furthermore, Federico Balzaretti underlined on the night that he is well-suited to the role of wing-back, and Christian Maggio, who had a shocker against Russia, would certainly benefit from having greater cover behind him given his fondness for bombing forward down the right flank.
Adopting 3-5-2 would mean sacrificing Riccardo Montolivo but then, perhaps sacrifice is the wrong word in this instance, given the Fiorentina man still looks so uncomfortable in the trequartista role. Besides, De Rossi and Claudio Marchisio both demonstrated in Zurich that they are more than adept at getting beyond their front two, meaning Mario Balotelli and Antonio Cassano will never want for support. Even if De Rossi is redeployed, his likely midfield replacement, the industrious Antonio Nocerino, proved during his debut season with AC Milan that he has a keen eye for goal. Furthermore, Nocerino, De Rossi and Juventus duo Marchisio and Andrea Pirlo are all very familiar with lining out in a midfield three.
It is also worth pointing out that both Nocerino and Balzaretti are former Juventus players, meaning that even if Bonucci is dropped, there will be a considerable Bianconero influence within Italy's likely starting line-up against the Spanish. That is certainly no bad thing.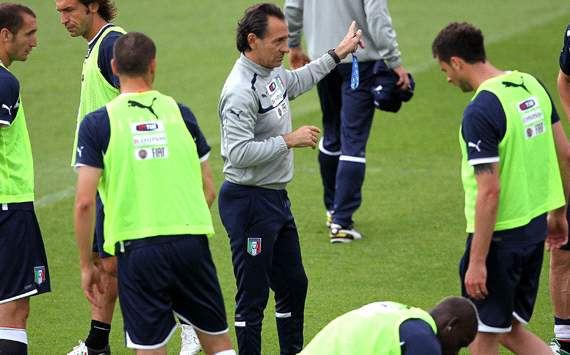 Stick or twist? | Prandelli must decide whether to gamble on a 3-5-2 formation against Spain on Sunday
Firstly, those that are still plying their trade in Turin are coming off the back of a Scudetto-winning campaign in which they went the entire Serie A season undefeated and the way in which Antonio Conte's troops were able to switch so seamlessly between 4-3-3 and 3-5-2 was integral to their title success.
Secondly, there are also several fine examples of the benefits of basing an international line-up on a successful club side, the most recent of which is Italy's opponent in Gdansk on Sunday. Spain triumphed at Euro 2008 and the 2010 World Cup with a team founded upon the produce and ethos of Barcelona's famed La Masia academy.
As already alluded to, Italy have tremendous previous in this regard. Five Juventini, including Buffon, featured in the 2006 World Cup final win over France, while there were six Bianconero - Dino Zoff, Claudio Gentile, Marco Tardelli, Paolo Rossi, Gaetano Scirea, Antonio Cabrini - in the team which defeated West Germany in the tournament decider in Spain in 1982, as well as Franco Causio, who had only left Turin the year before. In addition, Italy's 1934 World Cup-winning squad drew heavily on the Juventus side which dominated the first half of the decade.
Given that Italy's preparations have been overshadowed by a domestic scandal and the fact that they have a total of 10 squad members with ties to Turin, the parallels with 1982 and 2006 are obvious. However, the Azzurri can obviously ill afford to rely solely on history to get them past Spain. This is about the here and now and Prandelli told his players in the dressing room after the loss to Russia: "Let's wipe the slate clean and start from scratch." Sometimes, though, it is necessary to go backwards in order to move forwards.
Follow Mark Doyle on