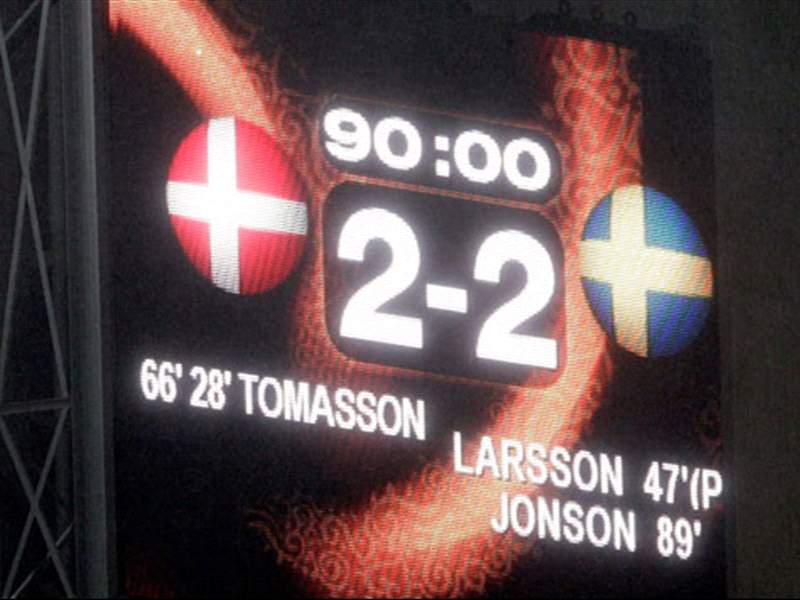 By Mark Doyle
10. THE 'ENGLISH DISEASE'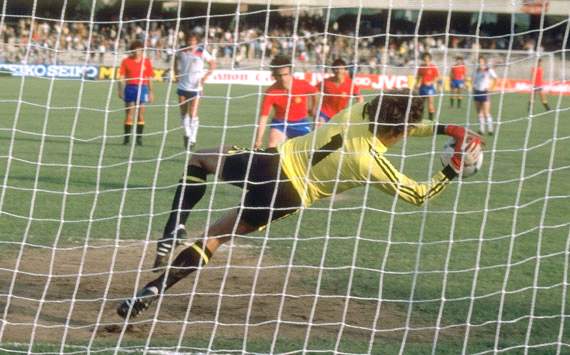 England left the Euro 1980 ashamed not because Ron Greenwood's squad could not reach the knockout stage, but due to their fans. English supporters were involved in several violent clashes with police before their opening match against Belgium. During the game, meanwhile, the awful behaviour of the Three Lions fans forced a five-minute suspension of play.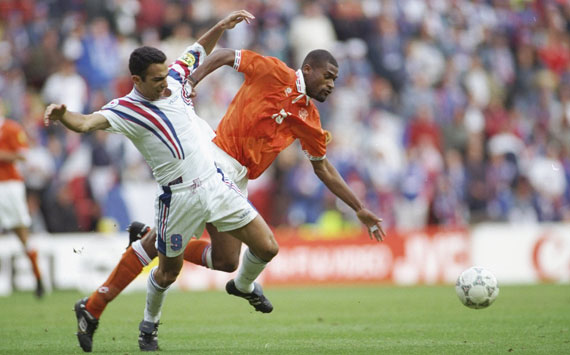 Able to call upon several members of the wonderful Ajax side which had won the Champions League the year before, Netherlands were considered one of the favourites for Euro '96. However, their campaign ended in utter disarray amidst allegations of a racial divide within the camp, with an infamous photograph displaying the black members of Guus Hiddink's squad dining together at their own table appearing to confirm claims of clear segregation. The likes of Youri Mulder have subsequently explained that the internal strife had more to do with rates of pay than ethnicity.
Then there was the fact that Edgar Davids had informed Hiddink after the victory over Switzerland, for which he had been overlooked, that the coach had his head "too deep in the arse of" captain Danny Blind! In that light, the Netherlands' tame exit at the hands of France in the quarters is no longer all that surprising.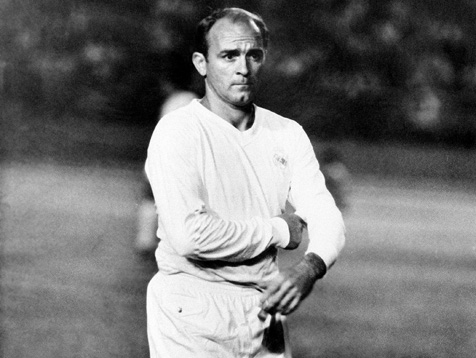 At least the Dutch had turned up. That is more than can be said for Spain in 1960, though it must be quickly pointed out that the players were not to blame in this regard. Back in the days when only the semi-finals and final were played in one country, the Spanish had booked their place in the last eight with a resounding 7-2 aggregate win over Poland.
However, a wonderfully talented squad based around the brilliance of the legendary Alfredo Di Stefano (pictured above) were then cruelly denied the opportunity to progress, with Spain's ruling dictator, General Franco, forbidding the national side from travelling to the Soviet Union on political grounds. That the Soviets went on to lift the trophy in France only heightened the players' sense of frustration.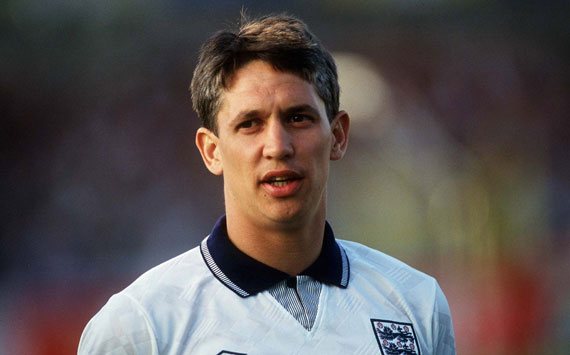 Needing a victory to progress to the knockout stages of Euro '92, England were drawing 1-1 in their final group game, against Sweden, with just over an hour of the game gone. With the hosts only having just equalised, England boss Graham Taylor felt that a change was necessary if he was to swing the game back in his side's favour.
Infamously, he opted to take off Gary Lineker, who was just one goal shy of Bobby Charlton's England record and making his final appearance for his country, with Alan Smith. Lineker, as mild-mannered as they come, was visibly disgusted, refusing to even look at his manager. Taylor, meanwhile, remained stone-faced but he would come to regret his decision - and how. Sweden went on to win the game, while the former Watford coach was infamously branded a "turnip" by the British tabloid press, a label which he would never shake.
Emotions ran high before, during and after Netherlands' semi-final clash with tournament hosts West Germany at Euro '88. The great rivalry which existed between the two nations was not only based on previous meetings in the sporting arena. Consequently, the Dutch celebrated their come-from-behind 2-1 victory in Hamburg, which came courtesy of a late goal from Marco van Basten, with great fervour. However, Ronald Koeman overstepped the line shortly after the full-time whistle.
Having swapped shirts with Olaf Thon, the defender pretended to wipe his backside with the jersey. Understandably, Koeman's actions caused outrage - even his father was disgusted with the 'joke' - but the PSV man was, even more shamefully, pretty unrepentant when interviewed on the issue a few days later. Still, he avoided a potential ban for bringing the game into disrepute - and creating a diplomatic incident - and played his part in the 2-0 win over the Soviets in the final.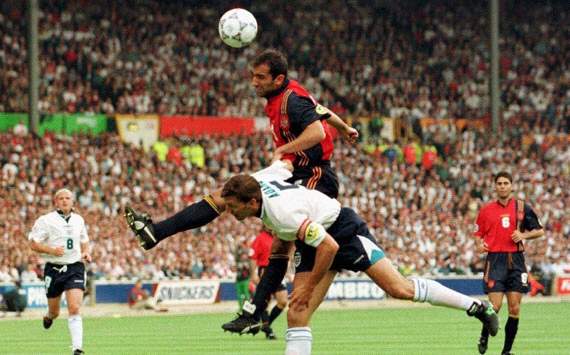 Host nations have often benefited from a contentious call or two but England really pushed their luck during their 'Euro 96 quarter-final meeting with Spain at Wembley. First, Julio Salinas had a goal ruled out even though the forward was clearly onside and then Jose Luis Caminero was bundled over in the area just as he was about to shoot. Kiko also had the ball in the net for the Spanish but again the linesman's flag was raised. At least on that occasion, there had been some doubt as to whether the forward had been offside.
Still, that did nothing to appease the Spanish, who were eventually dumped out on penalties. As Salinas fumed afterwards, "We not only played against 11 players and 70,000 fans but also three officials. It was impossible to win."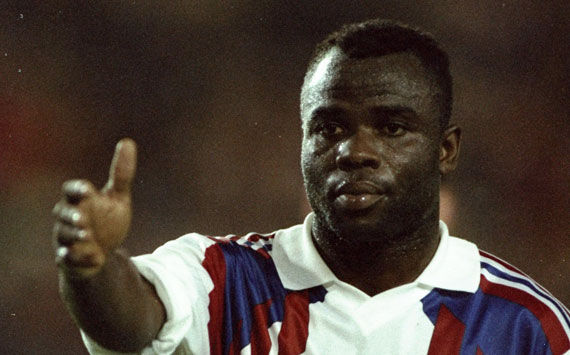 Believe it or not, there was a time when players did not make a meal of the slightest hint of contact, as so memorably underlined by Stuart Pearce at Euro '92. The England full-back was having a frank exchange of words with Jocelyn Angloma when Basile Boli seemingly came out of nowhere and threw his head into Pearce's face before scarpering.
The Nottingham Forest man hit the deck but then promptly picked himself back up, wiped away the blood from his cheekbone and, realising that the assault had gone unnoticed by the match officials, promptly got on with the game. Pearce very nearly decided an otherwise uneventful encounter in England's favour, too, but his thunderbolt of a free-kick came crashing back off the crossbar.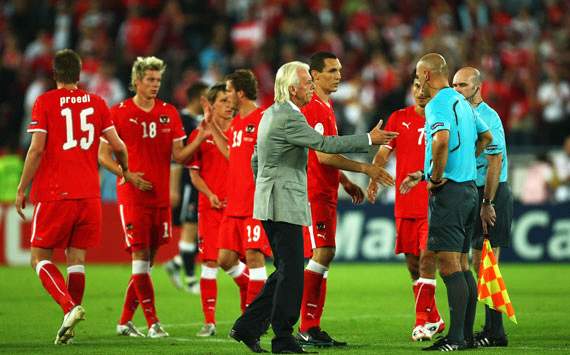 Trailing 1-0 in injury time at the end of their Euro 2008 group stage clash with Poland, co-hosts Austria were staring elimination in the face. However, with just under 93 minutes on the clock, Howard Webb pointed to the spot having deemed Marcin Wasilewski guilty of pulling Sebastian Prodl's shirt. Ivica Vastic converted to secure a draw which kept Austria's hopes alive yet all but eliminated their opponents.
Poland were enraged by the penalty decision, with coach Leo Beenhakker claiming: "I've never had a problem in 43 years of being in football but this is something I cannot understand. It's impossible to accept. Maybe he wants to show he is a big boy and has the guts to do it, I don't know." Polish protests didn't end there, with even the country's president electing to weigh in, but ultimately there was little that even he could do about it after the fact and Beenhakker's frustrated troops bowed out on a low note, losing their final group game against Croatia 1-0.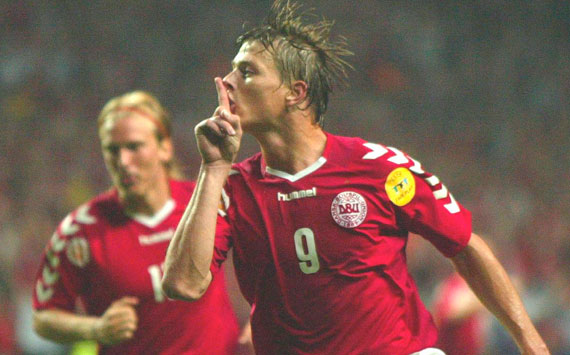 When it comes to crying foul, nobody does it better than the Italians. Indeed, the Azzurri are never slow to put forward a conspiracy theory after elimination from a major international tournament. Still, in fairness to them, their exit at Euro 2004 was so unfortunate that their frustration was wholly understandable.
Going into the final round of games in Group C, Italy knew that a victory over whipping boys Bulgaria would all but guarantee them a place in the knockout stages. That was, of course, unless qualification rivals Denmark and Sweden played out a draw higher than 1-1 ... What happened next? Italy defeated Bulgaria and, well, you guessed it, their Scandinavian adversaries drew 2-2, thus guaranteeing them both a place in the last eight on goal difference.
With Sweden's equaliser from Mattias Jonson having conveniently arrived with just over a minute of normal time to go and bookmakers subsequently revealing that unusually high amounts of money had been placed on a 2-2 scoreline, Italy were apoplectic, with goalkeeper Gianluigi Buffon accusing Denmark and Sweden of match-fixing. However, Uefa ruled that neither Nordic nation had any case to answer.
1. FRANCE GIVEN A HELPING HAND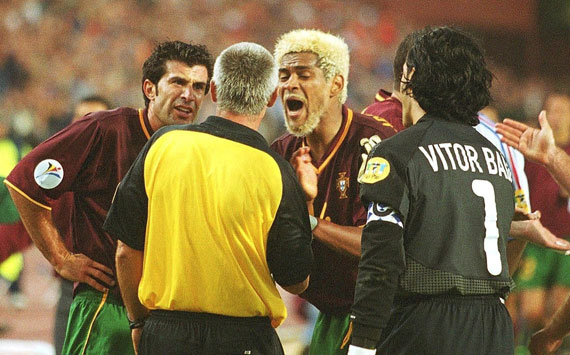 Still, at least the Italians didn't go into meltdown on the field, unlike the Portuguese at the end of their dramatic semi-final clash with France at Euro 2000.
An absorbing encounter in Brussels was three minutes away from going to penalties when the ball presented itself to Sylvain Wiltord after Vitor Baia saved from David Trezeguet. The Arsenal man's goal-bound shot struck the hand Abel Xavier had been using to support himself as he attempted to clear the ball off the line with his feet. Referee Guenter Benko initially appeared to signal for a corner but, on the advice of his assistant, the Austrian official then pointed to the spot, much to the fury of Portugal's players.
Zidane was eventually allowed to take the resulting penalty, which he buried to send the reigning world champions into the final, but the trequartista's Golden Goal only served as the catalyst for more chaos, as Portugal continued to berate the referee to such an extent that Nuno Gomes was shown a red card after the full-time whistle.
The Portuguese were slated for their behaviour but Xavier felt that they had been the victim of a great injustice: "My conscience is clear. If you try to block the ball, you cannot do that without your hand supporting you on the ground. But the linesman decided that I intended to handle the ball. It's unbelievable that he gave a penalty and it decided the game in a bad way because we didn't deserve to lose."