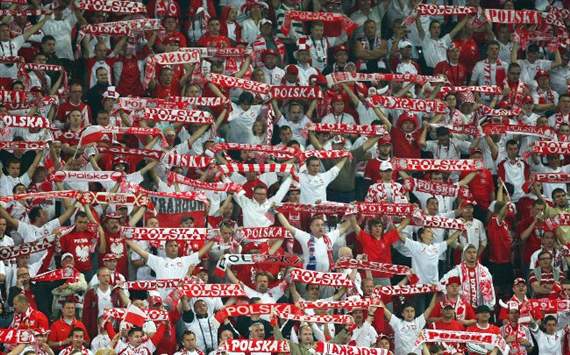 SPECIAL REPORT

By Oliver Platt & Ashish Sharma
Aside from the vile images of violence, racism and anti-Semitism, perhaps the most disturbing scene of the BBC's recent 'Panorama' documentary on hooliganism in Poland and Ukraine was the one in which a Kharkiv Police colonel attempted to brush any ideas of problems in the city's stadiums under the carpet.
"It's not a Nazi salute," Colonel Volodymyr Kovrygin insisted when asked about the behaviour of around 2,000 fans at a Metalist Kharkiv match. "They were pointing in the direction of the opponents."
REFS HAVE THE POWER - PLATINI Uefa president says referees can stop matches if racism occurs

It is a relief, then, to hear that other groups in the two host countries are not approaching the problem so lightly. The Football Against Racism in Europe (FARE) network was officially launched shortly before Euro 2000 in Belgium and Netherlands and has operated since then, in conjunction with Uefa, on the Euro 2004 and 2008 tournaments in Portugal and Austria and Switzerland respectively.
For Euro 2012, FARE has been operating with a Polish partner, the Never Again association, which has directed FARE's Eastern European Development Project ahead of the competition across June and early July.
Rafal Pankowski, head of Never Again, explained to
Goal.com
the organisation's efforts to not only minimise incidents of racist behaviour in Polish and Ukrainian stadiums but also to leave a lasting legacy beyond 2012.
"We have been involved in a huge project which incorporates FARE, their other partner organisations in other countries and, of course, Uefa," Pankowski detailed.
"The project is called 'Respect Diversity – Football Unites'. So this is not work that is at all just being done in isolation.
"For well over two years now we have been focusing on teachers, especially those who are involved in physical education, and also, of course, coaches.
"We have rolled out numerous programmes for them. Most involve making them aware of racism in sport. But we have also been teaching them how football can actually be used as a tool for social acceptance, integration and the promotion of multiculturalism."
He continued: "We don't want to see all this work just for the duration of the tournament. An important part of all that we are doing here is that it will continue.
"We want fans to have that education, to have that awareness as things that will stay with them long after all this over. That is absolutely important for us."
Uefa and its president, Michel Platini, have frequently justified the decision to award the tournament to two nations still experiencing difficulties with a minority of fans by emphasising international tournaments as a potential force for good.
"When you bring [Euro 2012] to Poland and Ukraine you change the life for the people," Platini told
CNN
. "You don't change only the life for one month of football, you change the life for the people because there is a big boost for the country."
It has been argued in response, by the likes of former England defender Sol Campbell, that countries should work to clean up such issues before being rewarded by Uefa and other football associations. FARE, though, are focused only on doing their utmost to prevent racism from rising to the forefront of the action over the course of the month.


"When you bring [Euro 2012] to Poland and Ukraine, you don't change only the life for one month of football, you change the life for the people because there is a big boost for the country"



- Uefa president Michel Platini

Thirty international monitors will work at Euro 2012, with at least two present at each of the 31 matches that will be played. In addition, a hotline has been set up in order for fans to report incidents of racism in stadiums.
"We will be monitoring every single game in this tournament," Pankowski said. "It's vital that any examples of discrimination are reported, and then also dealt with effectively by the organisers.
"We plan to work with all of the stewards and officials who will work here at Euro 2012. We need to make them aware and make sure they know how to recognise and react to any examples of racism in the stadium.
"This is important because we need these people to keep working with Polish clubs long after the tournament is over. This is an important example of how we can begin to build up the legacy we want to."
Racism has been a talking point not only in Polish and Ukrainian football, with England defender John Terry facing a court case on allegations of racial abuse following the tournament and the Croatian Football Federation, to use one example, fined on more than one occasion for the behaviour of its fans in recent years.
FARE and Never Again's proactive approach will not be solely confined to stadiums, therefore. A range of activities aimed at unifying the 16 sets of supporters present in Poland and Ukraine will take place around the host cities.
"One of the great activities that we have is 'Street Kick Football' games," Pankowski enthused.
"These matches will be coordinated by a Sheffield-based British organisation called 'Football Unites, Racism Divides'. They will be held in all of the major cities such as Warsaw, Krakow, Wroclaw, Poznan and Kiev.
"The fan zones are in all of the cities in Poland and Ukraine where we have games. We are using these to help fans from different countries meet up and to interact with each other in a friendly environment."
Paradoxically, the negative press the tournament has received due to the unearthing of evidence such as that revealed by the BBC's investigation could prove to be a force for good. FARE and Never Again's work was well underway before that documentary was broadcast but the publicity it generated will be a further trigger for positive action that will be projected Europe-wide on the continent's biggest footballing stage.
Platini told a news conference on Wednesday that referees would have the power to stop matches in the event of racist abuse being directed towards players after Italy striker Mario Balotelli had promised that he would leave the field of play if he was targeted.
FARE and Never Again will be desperate to make sure that option is not exercised and Pankowski knows that their work has the capacity to make a remarkable impact in Poland, Ukraine and across Europe.
"If we can get our legacy right then we can make important advances for the future."