By Mark Doyle | Italy Expert

At 6.25 on Monday morning, police entered Italy's training base at Coverciano with a warrant to search Domenico Criscito's room as part of their ongoing investigation into Scommessopoli, the latest match-fixing scandal to hit Italian football. Shortly before midday it was confirmed that the Zenit left-back had been withdrawn from the Azzurri's provisional squad for Euro 2012. By late afternoon, Criscito's international colleague Leonardo Bonucci had been implicated in the affair.
Criscito has vowed to clear his name, while Bonucci's club, Juventus, have rallied around their defender, as well as coach Antonio Conte, who has been accused of being aware of a plot to fix a Serie B game against Novara during his time in charge of Siena.

However, in terms of the Italian game's image, the damage has already been done. And the fear now is that there is more to come. As legendary Italian coach Giovanni Trapattoni told La Gazzetta dello Sport: "If the magistrates are doing something, it is because there is some truth in this."

Sadly, that is a view shared by all and sundry. Indeed, perhaps the only shocking thing about Monday's events is that they are not in the least bit shocking. The early-morning raid at Coverciano has been met with resignation - not surprise. There is nothing new going on here. As Goal.com outlines below, this is all embarrassingly familiar ...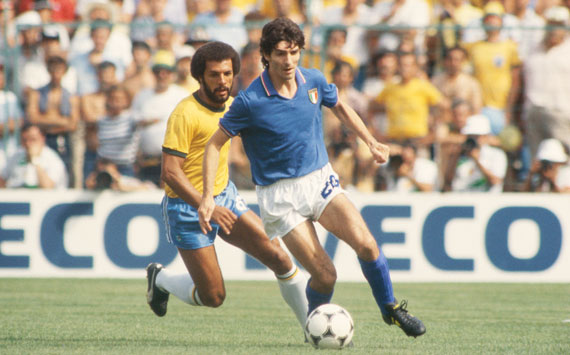 The first major betting scandal in Italian football, which broke in 1980, centred on two Rome-based businessmen, Massimo Cruciani and Alvaro Trinca. At the time, betting on individual games was illegal but tolerated, and the pair, who were close with several members of the Lazio squad, felt that there was money to be made by bribing players to influence the outcome of games. Cruciani and Trinca discovered, though, that fixing matches is far from straightforward because there are so many variables and the duo quickly ran up massive debts to unforgiving bookmakers.
Rather ludicrously, Cruciani and Trinca felt that they had been defrauded by players they had paid to fix a result and even tried to blackmail the Italian Football Federation into paying off their creditors before then going to the courts and the press. After quickly realising they would not be viewed as the innocent victims in this particular case of sporting fraud, both tried to abscond, but Trinca was arrested on March 7 before Cruciani turned himself in five days later.

The pair, who had kept records of all of their illicit dealings, then spilled all and the ample evidence they provided led to the arrest of some prominent club officials, including AC Milan president Felice Colombo, and a total of 33 players - many of whom were taken into police custody as they left the field of play during league games on March 23.
Paolo Rossi's involvement understandably attracted great media attention and the Italy international was suspended for three years as the sporting authorities came down hard on everyone found guilty of wrongdoing, with both Milan and Lazio relegated to Serie B. However, Rossi's suspension was ultimately cut to two years, which rather handily allowed him to represent Italy in the 1982 World Cup, which, of course, he did with some distinction. In addition, everyone indicted was subsequently acquitted of all criminal charges because, at the time, there was no such thing as 'sporting fraud', meaning that, in effect, no crime had been committed.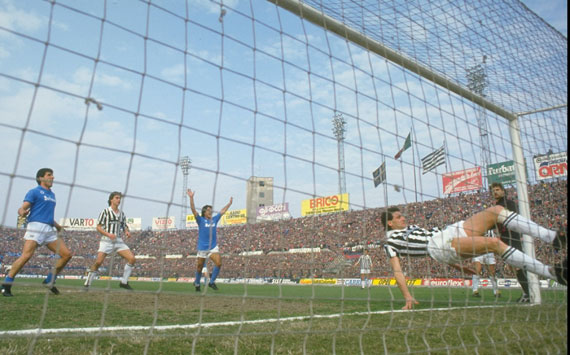 Consequently, it felt like a glorious opportunity to clean up the Italian game had been squandered - and so it proved, as a remarkably similar match-fixing scandal unfolded in 1986; so similar, in fact, that it was christened 'Totonero bis' (Totonero II). The principal difference was that this time around, the controversy would not inspire the Azzurri to World Cup glory, as their defence was ended in the second round by European champions France.

However, Lazio were again heavily involved and they were relegated, and although initially demoted to Serie C1, they were ultimately allowed to remain in Serie B on appeal, albeit with a nine-point penalty. While Serie A duo Bari and Napoli were both implicated, they were cleared of any wrongdoing. Udinese, meanwhile, were relegated from the top flight but they managed to overturn that ruling. However, the Zebrette were still hit with a nine-point deduction and that proved decisive as they would be go down the following summer after finishing eight points from safety.

Perhaps, in hindsight, the most noteworthy ruling concerned that of Napoli, though, as not only were they acquitted, their controversial sporting director Italo Allodi was also cleared of all charges. Allodi was infamous within European footballing circles for allegedly attempting to bribe referees. However, he was also the man responsible for helping a certain Luciano Moggi take his first steps on the way to becoming the most powerful man in Italian football ...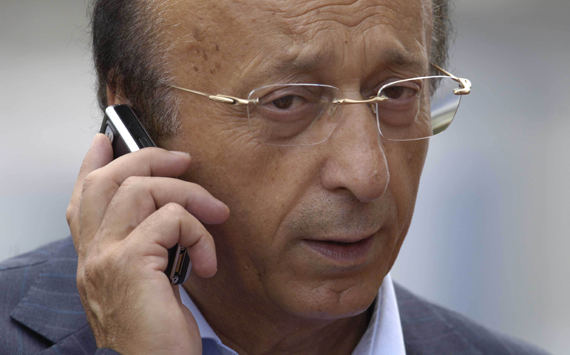 'Lucky Luciano' was the principal protagonist in the biggest football scandal of the modern era. Indeed, while the affair is widely referred to as 'Calciopoli', that the term 'Moggiopoli' is also employed by some only serves to emphasise just how big a part the former Juventus general director was said to have played in the proceedings. However, it is important to remember that while the investigation centred on recorded telephone conversations involving Moggi, officials from four other Serie A clubs - AC Milan, Fiorentina, Lazio and Reggina - were also sanctioned for their respective roles in trying to influence games with the appointment of 'favourable' referees.
Milan, Fiorentina and Lazio were all initially relegated, with Juventus demoted to Serie C1. However, after a series of appeals, only the Bianconeri were forced to drop down a division, to Serie B, and they made light of their nine-point penalty (whittled down from 30 points) to secure a return to the top flight at the first attempt. Meanwhile, Milan, after initially being excluded from the Champions League, went onto win the competition.
The fallout from Calciopoli is still being felt, of course, with Inter having subsequently been implicated in the scandal, and evidence having emerged that made a mockery of the initial sentences. Juventus have also caused a stir by celebrating their '30th' Scudetto success this season, even though they were stripped of two titles because of Calciopoli.
In truth, it has been demoralising to see and hear clubs and supporters partaking in such one-upmanship in recent weeks, just as it was bewildering to immediately hear optimistic talk of the galvanising effect this latest scandal might have on Cesare Prandelli's Italy squad ahead of their Euro 2012 campaign. As evidenced by the World Cup triumphs in 1982 and 2006, tournament victories do nothing to resolve the longstanding and deep-rooted corruption at the heart of the Italian game. In circumstances such as these, where even the fans stand accused of trying to pressure players into fixing games, there really are no winners, only losers.