Much has been said already about Bert van Marwijk's decision to drop Manchester City star Nigel de Jong from the Netherlands squad for the Euro 2012 qualifiers against Moldova and Sweden. Oranje skipper Mark van Bommel isn't done talking just yet though and spoke with
Goal.com
's Wout Stravers to voice his opinion on the situation.
"I didn't give Nigel any advice about how to deal with this situation. He's old enough and wise enough to make his own decisions. I can only talk to him about my own situation when something like this happened to me. A couple of years ago, the press found it necessary to analyse every move I made and to discuss every tackle I made. You have to give your actions some extra thoughts and approach your duels slightly different," said Van Bommel to
Goal.com
.
"However, it's important that Nigel doesn't change his style of play. His physical approach is one of his biggest strengths. He should continue to hassle opponents and make life difficult for them. That's what the two of us do best. He should consider approaching his duels a bit different though. Just a minor change could already be enough. He's one of the best holding midfielders in Europe at the moment though, so he shouldn't change too much."
Van Bommel stated that it won't be easy for De Jong to shake off his image of being a hard man, but the Bayern Munich star is confident that his compatriot will manage to do so. Van Bommel added that he's delighted to be playing alongside the Manchester City man at Oranje and pointed out that the duo have a certain understanding.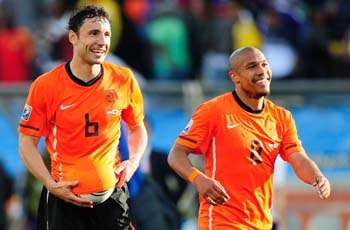 Van Bommel and De Jong ¦ The terrifying twosome

"It's very hard to get rid of a certain image, but I'm confident that Nigel can shake off the image of being 'a mean player'. I saw him play against Chelsea and he was simply outstanding. He's a world class player in my opinion. I've really enjoyed playing alongside a number of players. It was a joy to play with players such as Johann Vogel, Ze Roberto, Philip Cocu and Bastian Schweinsteiger. I have amsimilar understanding with Nigel. I'm very glad to form a midfield duo with him for Oranje.

"We have a different style of play. We both like our duels, but he's making more tackles than I do. It's hard to compare us to each other. I feel we complement each other on the pitch though. What happened with Nigel and Hatem Ben Arfa won't change how I play. This kind of unfortunate accident always gets a lot of attention all around the world. However, this will all be be forgotten again in a couple of weeks. Of course, it's an ugly situation and it's terrible to see, but you forget about it pretty quickly, if you know what I mean."

Van Bommel has been described as a bit of an annoying player as well in the past, even though it's not just his physical approach that has earned him the reputation of being a hard man.

"I can't help but smile every now and then when I see myself. I don't feel bad about what I do on the pitch though. I don't say that my style of play is the right way to play football. However, it can be necessary for a team to have someone in your ranks who could get an opponent to lose his focus without making fouls. Football is so much more than just playing good football. I see it as a compliment when my team-mates tell me that they're glad we're on the same team. That's the biggest compliment I can get."