Ibrahim Dabo has crammed a great deal in to what is still a young life. The former African Editor of Goal.com fled war-torn Sierra Leone in 1997 and is making a successful life in the United States.

Football is very much a part of that life as Ibrahim tells Clyde Tlou of Goal.com Africa.
You left Sierra Leone in 1997 as a result of war. Tell us about this aspect of your life - why did the rebels invade and how was it like living in another country as a refugee?
I really do not know what triggered the start of the war. I left Sierra Leone in 1997 after the rebels invaded the capital city, Freetown. I was very young at the time – 13 years old. In Freetown, they overthrew the democratically elected government.
There was instability and chaos. The risk of being abducted by rebels frightened me a lot. In May of 1997, I fortunately escaped, leaving the country by sea en route to The Gambia, alongside my brother. That was yet another ordeal – spending five horrible days at sea.
The boat in which we travelled, with about 650 people onboard, almost sank in the middle of the Atlantic Ocean as the sea waves went wild during our penultimate day at sea. We ran out of food and water, the captain lost his route, the communication system on the boat broke down, one engine went down and we were running on only one engine. There was also an outbreak of cholera. People joined hands and prayed; it was very scary.
It's a long story. On the other hand, you can imagine what it means going to a country you've never visited before and wondering what to expect – different culture, among other things. Upon arrival, the boat anchored away from the Gambia harbor. The navy boats came in and officials from the Gambia Red Cross brought us food and drinks. What a relief it was. I appreciated that a lot.
Early in the morning, a screening process began as people were transported via the navy boats to land. My brother and I were among the last people to leave the boat that day, late in the evening, and we were taken straight to the hospital. We were later taken to the Red Cross office, were many other refugees were gathered.
We had to undergo a registration process and after a while some family members whom I had never met – The Basiru Jawara family – found out that we were with the Red Cross. They came in looking for us and agreed to provide us shelter. We forever remain very grateful for their generosity.
A few months later I enrolled at the Gambia Senior Secondary School, graduated in 1999. Despite the challenges in Gambia, I had to adapt, and make new friends. I registered with the United Nations High Commission for Refugees (UNHCR), and tried hard to not let the bitter memories of war severely impact my future.
But, it was disheartening to have lost a lot of family members, and to deal with the fact that hundreds of thousands of lives were lost. Thousands of people had their limbs viciously hacked off by rebels. Those memories have greatly inspired me to focus on humanitarian and philanthropic roles. I plan to help victims of civil war, and I've already got a lot of support. Since my days with Goal.com (Ibrahim started way back in 2000), I've always spread the message of peace through many of my writings, as well as through my speaking engagements.
When it was announced that the World Cup is coming to South Africa how did you feel and what did it mean to you as an African?
It was such a great feeling, beyond words. The World Cup coming to Africa this year should be an achievement that Africans should be proud of and we should prove to the rest of the world that we can host a great tournament.
So, I was very excited following that announcement and looking forward to the tournament. Africa's time has finally come, and "Africa is calling." This is also a wonderful opportunity for us to show that Africa is not just about wars or other disturbances but a continent rich with talents, a unique culture, and an ability to host a successful World Cup tournament.
Did you at some stage have doubts about South Africa and the whole continent's ability to host a tournament of that magnitude?
I did not have doubts about the competency of South Africa, and the continent as a whole, to host the World Cup. We have waited for many decades to host this prestigious tournament and I have always remained confident that we would do all it takes to prepare for the finals.
Make no mistake, it takes a lot of planning and excellent administration to ensure the preparation process goes well and according to plan. And that is what we continue to expect from the South African authorities with less than four months to the tournament. Security has been a major concern because of the high crime rate in South Africa but this is a country that has in the past hosted major tournaments such as the Rugby World Cup, Cricket World Cup, and the FIFA Confederations Cup.
And with the passion and excitement the Football World Cup will bring, I'm hopeful that this will be a historic tournament. The South African authorities seem confident that they can handle the security situation come June.
What do you make of Nelson Mandela's achievements in his 27 year imprisonment term as compared to Issa Hayatou's 23 years of African football management?
Nelson Mandela is one of the people I admire and after spending all those years in prison, he finally had an opportunity to become president and make a difference. Issa Hayatou has spent so many years at the helm of African football and has contributed to the development of African football.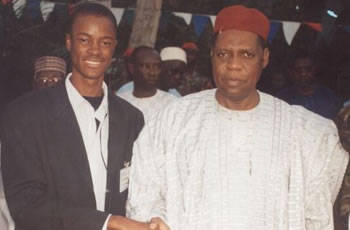 Ibrahim With Issa Hayatou
I am not sure how I can compare 27 years in prison with 22 or 23 years in power other than to say had Mr. Mandela spent the number of years he spent in prison ruling South Africa, he probably could have achieved a whole lot more for his country.
But on the other hand, the question is, why two decades in power anyway? I think it is good to give others a chance to rule. Or are other competent people in Africa not really stepping up for an opportunity to head African football?
Sometimes leaders can decide not to stand for another term like Mr. Mandela did so that others can come in and take the lead (and hopefully come along with fresher ideas and more development).
The recent fine and suspension of Togo for pulling out of the recent African Nations Cup after two members of their delegation were killed following a shooting incident questions how competent Mr. Hayatou's administration is to adequately address issues in African football going forward.
What legacy do you think this World Cup will leave to Africa and your country of birth, Sierra Leone, in particular?
We hope to see success for African teams. My country of birth, Sierra Leone, will join in on the celebrations throughout the tournament and spur the African teams on to glory. This is our moment, and we'll have to make the best of it.
I believe the tournament being held in Africa will also serve as a wake-up call to the football authorities in Sierra Leone that the time has come for us to return to the drawing board and plan well for future tournaments.
We need to focus on development of grassroots football, participate frequently in international friendly matches, and work toward qualifying for the Nations Cup and World Cup. A solid plan needs to be in place; we can qualify if we plan very well and take the necessary steps to get there.
To the players, administrators and all the stakeholders in Sierra Leone football, the time has come for us to work together for the growth of the game.
As a journalist what does this tournament mean to you and most importantly young journalist considering that you joined the profession at a tender age?
The World Cup means so much to me because this is Africa's first chance to host it. Football is not just a sport on the continent, but it is also used as a tool to foster hope and peace— basically, sport for development. The sport brings joy and excitement to Africans regardless of what difficult times we are going through.
As a victim of civil war, I know how much joy and hope the sport brought to me and my fellow countrymen and how it is has helped with the post-war recovery. We are sure to enjoy each and every bit of the World Cup when it kicks off in June.
Entering the profession at 16 years old gave me an opportunity to learn, better understand and appreciate the sport. It was so much fun covering African teams and the World Cup during my seven years with the Goal.com.
Now the leading football website in the world, I am very proud of my achievements in my former role as Africa Editor, part of which was writing the company's plan for Africa.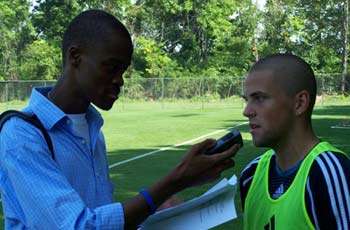 In The Field, On The Job
Today, I see the African channel on Goal.com running so well and I am happy that I was able to play a role in laying a solid foundation which you all enjoy today. I believe other young journalists will be inspired. Most importantly, they also have an opportunity to focus on other positive aspects such as how the sport unites Africans, and how the World Cup in Africa will have a life-long effect on us all.
You moved to the U.S. and in 2009 graduated from university. Tell us about your education and what you are doing now.
While I was in The Gambia I applied to Baltimore City Community College (BCCC) in Maryland thanks to the help of my sister who was living in Baltimore. She played a major role in bringing my brother and me to the U.S. as students. I got accepted into BCCC and came to the U.S. in 2004.
In 2007, I graduated from BCCC with an Associate of Science degree in Business Administration. I then I transferred to the University of Baltimore in the fall of 2007 where I continued to excel both academically and with my extracurricular activities.
I was an honour student and won many awards, including the President's Award. I graduated with a Bachelor of Science degree in Management Information Systems, and was representative of the Senior Class to speak at the May 2009 Commencement Ceremony. That was such an honour. I am trying to pursue my career in the Information Technology sector.
Also, I was recently appointed to the Community Education Advisory Board of Monumental City Medical Society in an effort to promote health education, prevention and awareness.
The organization is the first African American physician association in Baltimore, Maryland. I am also focused on my writings/exclusive interviews for my blog. I am engaged in public speaking — I speak at high schools, colleges and universities in the U.S, and youths in general. I have appeared on radio programs, and involved in many, many other activities. I'm everywhere, with a mission to foster education, development, health and peace - and football!
For more information about Ibrahim Dabo and his work visit his website and blog, www.ibdabo.com and www.ibdabo.com/blog, respectively.