FIFA helps all nations to develop and promote football among their womenwithin the prescribed parameters of their culture and religion. In Pakistan the participation of women in soccer is still limited if not completely restricted. The myths and prejudices surrounding women's football in the country are manifold.
Social obstacles, inadequate infrastructure, improper coaching and lack of support in a male-dominated society are major reasons that don't allow the game of the world to strengthen its roots among the female masses and develop at grass-root level.
As a matter of fact, women's football throughout the conservative nations of South Asia remains in its infancy, with players having to adhere to a strict dress code of trousers and long-sleeved shirts to avoid protests from hardliners. Similarly, male spectators are also banned from watching them play.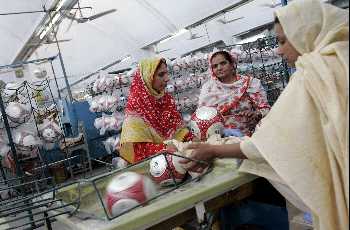 There Is More To Football Than Making The Balls
The Pakistan Football Federation (PFF) claims that women's football is rapidly becoming popular in Pakistan but in reality, the participation of women in the game is purely restricted to the affluent class of the country. The schools and colleges in the underdeveloped areas - which can provide raw talent to, and support for, the game - still lack awareness and infrastructure. At the same time, the girls of these areas shy away from playing, even for fun.
Pakistani society largely discourages females from playing any sport but encouraged by the relatively moderate government of former President Pervez Musharaf, the Pakistan Football Federation staged its first-ever women's football match in September 2004.
The success — and lack of resistance from conservatives — helped the PFF to hold their first-ever women's national championships the following year in which eight teams from all over Pakistan took part.
In the 2005 championships, matches lasted only 60 minutes due to concerns for players' fitness but in later editions, the matches were of the normal 90 minutes. Twelve teams contested in 2006 while fourteen clubs participated in third and fourth edition in 2007 and 2008 respectively.
Although, there seems to be a healthy increase in the number of female football clubs, all of these clubs belong to the affluent areas of bigger cities of Pakistan. Taking note of this fact, the PFF reduced the registration fees for clubs in 2008, but the increase in the number of clubs was slight. In comparison, in men's football, there are more than 125 registered clubs in the Lyari area of Karachi alone.
Thus, football has yet to become popular among Pakistani women, and in this regard the PFF seems lost as how to go about this task. So far four National Women Football Championships have been organized in Pakistan but none of them has been held outside the capital, Islamabad. And, it is not surprising that all four championships have been won by teams that are not Islamabad-based.
Punjab won the inaugural event in 2005 followed by WAPDA in 2006. Then it was the turn of the Sports Sciences Department of the Lahore University in 2007 and Young Rising Star WFC in 2008.
It is generally believed that women football can only flourish in Pakistan at the top level rather than grass-root level, because social obstacles prevent women from taking to soccer freely and effectively. This is a serious misconception. The fact is calculated efforts have never ever been made by the PFF for the promotion of the game to encourage females at the grass-root level.
There is no participation of women teams from the frontier and Baluchistan provinces, where cultural barriers are very strong obstacles. But if a visionary promotional campaign was conducted in these areas, the young girls of these regions would definitely be encouraged.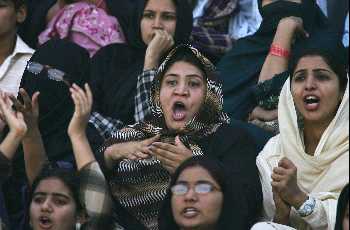 There Is Passion For Sports In Pakistan
We have the example of the Afghanistan women's national football team, which not only toured Islamabad to play against the Pakistan team but also took part in the third National Football Championship.
There is a need to organize international matches for women football teams, which would not only provide exposure and experience but also expand support and persuade women across the country to take an interest in the game. In 2006, the Pakistan Women National Futsal team visited Jordan and was awarded the Fair Play Trophy.
Schools and colleges are the best places to spot and tap talent but until the game flourises at women's academic institutions, football cannot develop at the grass-root level.
Another problem in Pakistan is that women are coached by men and the games are refereed by men which dissuades youngsters from adopting the game. There is a dire need of full-time female staff. A year ago the PFF persuaded Monika Staab from Germany to train women footballers in order to create a national team and play competitive international football. The idea was welcomed across the country but wasn't continued.
After the end of a six-week camp, Staab said: "I would never have thought that there would be so many participants. It was amazing and just great to see so many women that enthusiastic about the sport. This is a country where so many cultural barriers exist that you can't simply ignore them."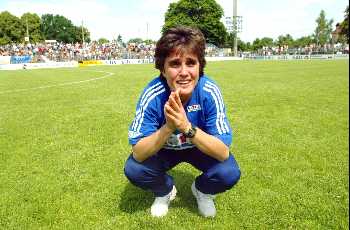 Monika Staab
However, keeping in mind the traditional conservative approach of Pakistani society it would be wrong only to criticize what has been done so far in women soccer.
The former national women's team coach Tariq Lutfi speaking about the technical aspects thinks that "At the moment our players have a very low standard. They have no speed, skills and worse, no body co-ordination and that can only be solved with hard-work."
This problem is not exclusive to women, our men are equally lazy when it comes to football. Local footballers lack technique and other essentials. What is an urgent and utmost need is sincere and well thought out efforts on behalf of the women football authorities to be implemented on regular and permanent basis.
For women, football is a recreational game which has to be turned into professional sport in Pakistan. Employment is the major incentive that can encourage young girls to take up football. Various public corporations and private sectors run sports departments to accommodate footballers and related professionals in their teams, but they are limited to male teams. If these corporations develop teams for female footballers, this will help promote the game in the country.
The adoption of football among women has inspired neighbouring countries. The Afghanistan national women football team came to in Pakistan to contest the 2007 National Women Soccer Championship and went home with the silver medal. This has also encouraged an Iranian football club team to play in Pakistan in the national event this year and the visitors won the Championship by scoring 68 goals in just five matches. That makes countries like Pakistan, a safe zone to promote women's soccer within the limits of their culture and religion.
Tariq Lutfi admits, "I don't know about the future of women football in Pakistan, but I can see some progress which I hadn't seen before."
However, opportunities and maximum conditions still have to be created for women to occupy technical and managerial positions in football, including the domains of refereeing, coaching, medicine, media and administration.
There is still work to be done.
M. Wasim