Welcome to the Goal.com 50! In this special series, Goal.com editors worldwide vote for the top 50 players of 2010-11. We count down to the announcement of the winner on August 22 with profiles of each and every player who made it into the top 50...

On Wednesday night, Lionel Messi produced one of the finest individual performances seen on a football field in recent memory. Two fantastic goals and one quite wonderful assist swung a captivating Clasico against Real Madrid in Barcelona's favour. And yet, after the game, nobody was talking about the Argentine forward.
There were other talking points, of course. There was Marcelo's foul on Cesc Fabregas, Jose Mourinho poking Barca assistant coach Tito Vilanova in the eye, David Villa's slap on Mesut Ozil and a whole host of other ill-tempered incidents, not to mention an epic encounter between two superb sides. Nevertheless, Messi's masterclass had been the difference between a magnificent Madrid and a Barca team struggling to keep the pace with their biggest rivals. Having netted a vital goal in the first leg at the Santiago Bernabeu, Leo won the return almost single-handedly. It was a performance worthy of acclaim and accolades aplenty, of extreme eulogy.
Quite simply, though, there is now little left to say about Messi's magic and marvel. As Pep Guardiola has oft opined: "We are running out of words to describe Leo." Indeed, decisive displays have become the norm when it comes to this exceptional young man; peerless performances are not only hoped for by Barcelona players and their fans, but expected.
"There are no words to describe Messi. You have to see it - it is something you cannot describe because you have to see it to believe it."





- Barcelona boss Pep Guardiola

The Camp Nou crowds have become accustomed to special stars. Diego Maradona, Johan Cruyff, Ronaldo, Rivaldo and Romario have all graced the turf at Barca's famous old stadium. But none have done so quite as brilliantly – or consistently – as Messi.
The new season has barely begun and Leo already has three goals in two games, having only just returned from his holidays – and a disappointing Copa America campaign with Argentina – ahead of the Supercopa's first leg in Madrid. Last term, he hit 53 in just 55 games, racking up an incredible 24 assists along the way.
MOMENT OF THE SEASON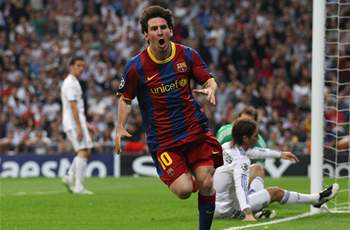 CHAMPIONS LEAGUE SEMI-FINAL L1
REAL MADRID 0-2 BARCELONA

Just as he did in last week's Spanish Supercopa, Messi proved the difference between Barca and Madrid as he decided this tie with a brilliant brace at the Bernabeu, including a stunning second which saw him beat no less than four Real players on a trademark slalom run towards goal and angled finish past Iker Casillas.
Messi missed out as Barca began the 2010-11 campaign with a 3-1 defeat in the first leg of the Supercopa in Seville, having been away on international duty earlier in the week. Back for the Camp Nou clash, however, the Argentine blew away the Andalusians with a brilliant hat-trick to ensure Barca started the season as they have become accostumed of late – by winning trophies.
Leo then took just three minutes to make his mark in La Liga, netting his side's first of the campaign in a 3-0 win at Racing Santander. Be it Supercopa, Liga, Copa del Rey or Champions League, Messi made his mark. A brilliant brace against Panathinaikos was accompanied by two assists and the Argentine came within a whisker of his hat-trick, rattling the woodwork on two occasions. A treble did come in a 5-0 thrashing of Betis in the Copa del Rey, though, while another arrived in the historic 8-0 humiliation of Almeria.
Those were part of the forward's most prolific scoring run as he netted in nine consecutive games. He was unable to make it a perfect 10 in his side's next fixture, but will hardly have cared as the Catalans trounced Real Madrid 5-0. In that match, Messi demonstrated to the watching world just how much of a complete player he has become. There were no goals, nor mazy runs, but two glorious assists for Villa and a breathtaking display of pressure and passing to inflict upon Mourinho his worst ever result as coach.
The goals continued to fly in after that, with two more at Osasuna and another brace against Real Sociedad, capping a sensational 2010 as he beat off team-mates Andres Iniesta and Xavi to the Fifa Ballon d'Or.
But he would be even more decisive in 2011.
When Barca were in need of inspiration, there was Messi to provide it. Two goals, including a sensational strike to open the scoring, saw the Catalan club overcome a 2-1 first-leg deficit in the last 16 of the Champions League against Arsenal, while a hat-trick against Atletico Madrid saw the Catalans achieve a 16th successive victory, breaking a record held by Alfredo Di Stefano's brilliant Real side of the 1960s. He also bagged the only goal of the game in a vital league win at Valencia and surpassed his previous mark of 47 goals – which he had tied with Ronaldo the season before – with another strike in the Champions League quarter-final against Shakhtar Donetsk.
The best, however, was yet to come. After the disappointment of losing the final of the Copa del Rey to Madrid, Messi soon erased the pain with both goals – including a stunning second – as Guardiola's side erased memories of that defeat with a 2-0 win at the Santiago Bernabeu, which sealed their passage - following a 1-1 draw at Camp Nou in the second leg - to the European showpiece against Manchester United at Wembley.
"While Ronaldo remains selfish at times, Leo's decision-making is impeccable; he knows when to shoot, when to pass and even when to return, conserving his energies for quick, intuitive bursts and sprints
. The results are often devastasting."
For the second time in three years, Barca and United squared up in the final. And Messi, who had converted with a superb header in a 2-0 win in 2009, beat Edwin Van der Sar this time with a thunderous left-footed drive which gave the Dutch keeper no time to react on its way in from outside the box. It turned out to be the game-winning goal and was a fitting end to a fairytale season for Barca's talisman.
His 53 strikes saw him tied with Cristiano Ronaldo at the end of the campaign, but while both players were lauded for their sensational scoring form, Messi's were more often decisive. The Argentine's assist total also shows he provided more than the Portuguese. While Ronaldo remains selfish at times, Leo's decision-making is impeccable; he knows when to shoot, when to pass and even when to run, conserving his energies for quick, intuitive bursts and sprints. The results are often devastating: Lionel Andres Messi is the best player in the world's best team, still the finest footballer on the planet and our overwhelming choice as Goal.com's prime performer from the last 12 months.
With few adjectives left to describe his talents, perhaps the title of the Tina Turner track that blasts out of the tannoys before Barca's matches at Camp Nou is all that is required. Goal.com 50's worthy winner, Lionel Messi: Simply The Best.