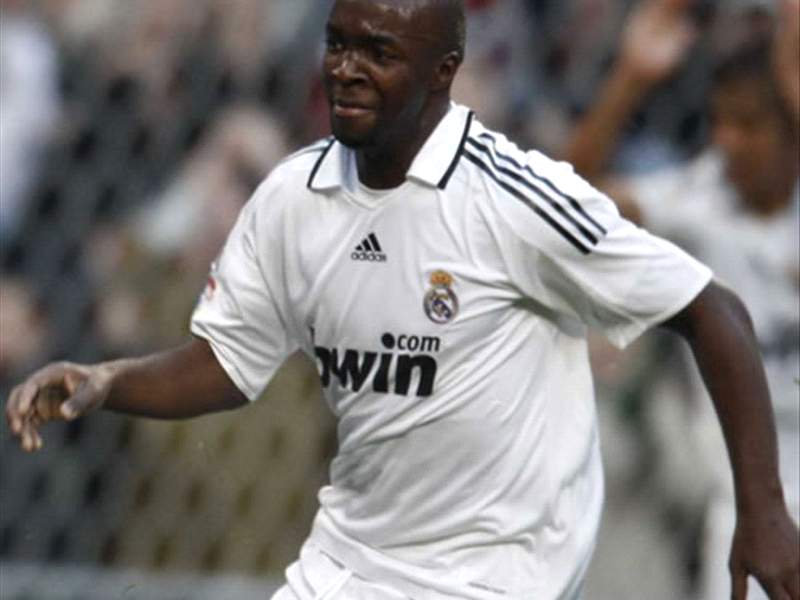 28.
Yoann Gourcuff
(
Bordeaux
&
France
)
27. LASSANA DIARRA (Real Madrid & France)
26.
Mauro Zarate
(
Lazio
)
You can forgive Juande Ramos for his few foibles during his half-season stint at Real Madrid. He may have lost the big games with a degree of humiliation involved, but winning the small ones with the proficiency that he did was what gave them their non-existent shot at retaining their title in the first place.
Similarly, he may have signed Julien Faubert, but it was only on loan, and far more lasting in the memory will be the arrival of
Lassana Diarra
.
Make no mistake, these were Juande Ramos signings. Pedja Mijatovic had barely cast so much as a passing eye on the Premier League throughout his reign as sporting director unless it was at Cristiano Ronaldo or Cesc Fabregas - this was, you would think, all Ramos' doing.
Playing for Portsmouth has a way of working against even the best of players. With Lass, as he is now known in Madrid, having been sold by Chelsea and then by Arsenal, to make his way down to Portsmouth was seen as nothing short of his own personal relegation.
The more astute observers realised that had Chelsea looked ahead, they would have made a greater effort to keep him at the club and rotate him more freely with ageing great, Claude Makelele. Arsenal fans bid good riddance, relishing the form of Mathieu Flamini and condemning Lass, despite his quality, for his refusal to remain patient and wait for his chance.
He was always good enough. It was easy to look good at Fratton Park, they said; dominating every match from the midfield and looking as elegant in possession as you would ever see from a so-called 'water-carrier'.
And when the Madrid move came - for £20 million, no less - the ease with which the French international continued to look the most outstanding player in midfield, game after game, almost made the transfer seem like a bargain.
He added much-needed balance with strength and energy that had been missing from Madrid's midfield since the season-long injury sustained his namesake, Mahamadou Diarra: an outstanding champion in his own right who, up to this point, looks as though he may astonishingly be resigned to a role on the bench, or at another club. That's how good Lass has been.
Indomitable
| Lass taking charge of La Liga
Lass was unquestionably the key to Madrid's turnaround in form, albeit with the likes of Gonzalo Higuain and Arjen Robben continuing their excellent performances from earlier in the season right the way through. Lass, like the others, had one or two indiscretions in the big games, in which Madrid suffered humiliation against first Liverpool then Barcelona, but was otherwise the very definition of flawless.
They are calling him the 'new Makelele' - not just in style of play, but even in appearance - and this is a player with whom the club are eager not to make the same mistakes again. Selling Makelele to Chelsea - where ironically, he was to cross paths with Lass - proved the beginning of Madrid's end; Lass will be hoping that his arrival at the Bernabeu, this time followed by Galacticos, can be the end of Madrid's beginning.
This time, the tables turned, and it was Chelsea who allowed the new Makelele to leave for Madrid. Still just 24 years of age, the battling midfielder will only get better, and when Benzema, Kaka and Cristiano Ronaldo are living free and easy playing their champagne football, it will be Lass who brings it all together. Not bad for a reject.
Sulmaan Ahmad, Goal.com
28.
Yoann Gourcuff
(
Bordeaux
&
France
)
27. LASSANA DIARRA (Real Madrid & France)
26.
Mauro Zarate
(
Lazio
)
var pollId = 'n2147481789';