Please note that only outfield players have been considered. Also, we only chose players who were still playing at a high level at the age of 37 and over…10) Filippo Inzaghi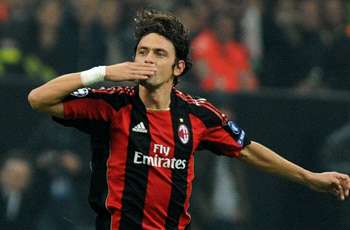 With a second half double off the bench yesterday evening against Real Madrid, Pippo Inzaghi proved for the umpteenth time just what a phenomenon he really is. Before the game, Jose Mourinho declared that the only "player I fear is Inzaghi", while after the 2-2 draw Zlatan Ibrahimovic pleaded with management to make the veteran his regular partner in attack. At 37, Inzaghi still has the fire and passion of a teenager. His acceleration off the mark between one and five yards is still razor sharp, and there has never been a striker in the history of the game with better movement, penalty box brains and instincts than this legend. Great goals, average goals, fluky goals, vital goals, meaningless goals, headers, shin kicks, tap-ins, he celebrates each one in the same euphoric manner. With four goals in just five games this season, Inzaghi is still a vital part of this Milan setup.
9) Arnold Mühren
The Netherlands' magnificent team that roared to glory at the 1988 European Championships is best known for the legendary Milan trio of Marco Van Basten, Ruud Gullit and Frank Rijkaard, as well as the likes of Ronaldo Koeman and Jan Wouters. Less recognised among younger fans is the name of Arnold Mühren who was the midfield dictator of the side and provided the superb 40-yard crossfield pass for THAT goal by Van Basten in the final win over the USSR. Mühren was 37 at the time of Euro 88, and the former Manchester United star continued to play at the highest level with Ajax for another year before retiring.
8) Javier Zanetti
This brilliantly modest Argentine, equally adept in defence or midfield, signed for Inter in 1995 from Banfied and has been consistently world class for almost 15 years. Last season at the age of 36 years and eight months, Zanetti produced arguably the two best performances of his career as he completely shut out the greatest player of his generation Lionel Messi as Inter defeated Barcelona in the Champions League semi final on the way to glory. Now 37, Zanetti has showed no signs of slowing down. Still captain of Inter and still the best full back in Serie A.
7) Lothar Matthäus
Legendary midfielder and later a libero, whose number of years at the very top of European football almost matched that of Milan's Paolo Maldini. Although he was at his very best between the mid-80s and mid-90s where he won trophies galore with Bayern Munich, the Scudetto with Inter and, of course, captained West Germany to the 1990 World Cup success – he was still class personified right up until the end of his career. At the age of 38, Matthäus almost got his hands on the one major title that eluded him as he marshalled the Bayern defence masterfully in the 1999 Champions League final against Manchester United. Leading 1-0 and dominating the game, coach Ottmar Hitzfeld inexplicably substituted him with minutes remaining and United scored two goals from corners in injury time to steal the title.
6) Pietro Vierchowod
It is often said in Italy that Pietro Vierchowod was so fast that he never got outpaced during his entire career. Even when the centre back was still plying his trade in Serie A at the age of 40. The son of a Ukrainian Red Army soldier, 'The Tzar' was still a world class centre back right up until his late thirties. He was man-of-the-match along with fellow defender Moreno Torricelli at the age of 37 in Juventus' 1996 Champions League final win over Louis Van Gaal's star-studded Ajax side, and was playing for Milan the following year at 38. When he finally retired at 41, the 45-cap Italy international was still easily good enough at the very top level.
5) Stanley Matthews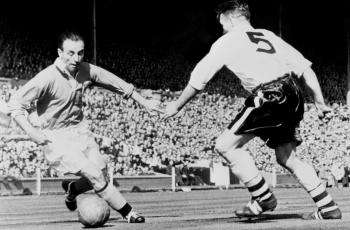 The 'Wizard of Dribble' enjoyed an international career which spanned 23 years, from his debut in September 1934 to his farewell match in May 1957, making him the oldest player ever to represent England. The game ended in ignominious circumstances as the Three Lions went down 4-1 to Denmark in Copenhagen. A true legend of the English game, Matthews is revered by fans of Stoke City and Blackpool, the clubs for which he played between 1932 and 1965 and was renowned for his gentleman's etiquette. Indeed, over 700 league games he was never booked. He won a solitary FA Cup during his playing days and was the recipient of the inaugural Ballon d'Or in 1956 at the age of 41.
4) Roger Milla
An emergency call from Cameroon president Paul Biya convinced Milla to come out of retirement at the age of 38 and lead the Indomitable Lions to the 1990 World Cup. The former African footballer of the year did not disappoint, scoring four goals and setting the trend for extravagant goal celebrations as Cameroon went all the way to the quarter-finals, still the furthest an African team has been at the showpiece event. Amazingly, Milla was back four years later, aged 42, to compete at USA becoming the oldest World Cup player in history. His close-range goal against Russia gave him another record, the oldest scorer at the finals.
3) Alfredo Di Stefano
A year older than Ferenc Puskas, Di Stefano is regarded by some as the greatest footballer of all time – even better than compatriot Diego Maradona and Brazilian Pele. A key reason for this argument is his longevity at the very top of European and world football. The legendary attacking midfielder was still pulling all the strings for Real Madrid a couple of years shy of 40 – the age he hung up his boots – and he was Spanish Player of the Year at 38 when he led the Blancos to his eighth Primera title. Di Stefano and Puskas really were the Golden Oldie couple.
2) Ferenc Puskas
A Real Madrid legend and the greatest Hungarian player of all time who was the leader of Gusztav Sebes' irrepressible Magical Magyars who seemed unbeatable as they travelled to Berne to play West Germany in the ill-fated 1954 World Cup final on the back of an incredible 31-match unbeaten run, which included a 6-3 win over England at Wembley. Puskas was still one of the best forwards in the world in his late thirties. He won the Pichichi Trophy for top-scorer in Spain at the age of 37, and a year later scored 15 goals in 23 games as Real Madrid won another league title. At the age of 39, Puskas won the European Cup for a third time – scoring five goals over two games against Feyenoord along the way.
1) Paolo Maldini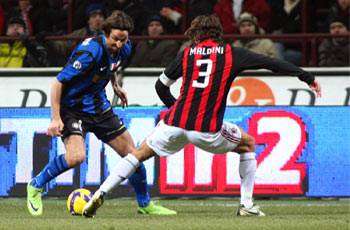 What is there left to say about the extraordinary career of the greatest left-back in the history of the game? Having spent his entire club career in the red and black No.3 shirt of Milan, Maldini spent a record-breaking 25 years in the first team. In that time, he won seven Serie A championships, one Coppa Italia, five Supercoppa Italianas, five Champions Leagues, five European Super Cups, two Intercontinental Cups and one FIFA World Club Cup. Undeniably world class until 38 – an age where former Italy coach Marcello Lippi attempted to coax him out of international retirement for the 2006 World Cup - Maldini captained the Rossoneri to Champions League glory one month short of his 39th birthday in 2007, and when he retired at 40 years and 11 months in May 2009 he had just been Milan's best defender that season.
Honourable mentions
go to
Jose Altafini
(Italian Serie A's greatest ever Brazilian who starred for Juventus until the age of almost 38),
Ricardo Bochini
(one of the best in South America for Independiente until injury forced him to retire at 37),
Dejan Petkovic
(instrumental in Flamengo winning the Brazilian title at 37),
Ryan Giggs
(turns 37 this month and still top class for Manchester United),
Alessandro Costacurta
(flawless at 37 in the 2003 Champions League final win, and retired for Milan at 41),
Toninho Cerezo
(brilliant for Sampdoria in the European Cup final against Barcelona in 1992 at 37, and man of the match at almost 39 in Sao Paulo's Intercontinental Cup win over Milan in 1993),
Donato
(led Deportivo to La Liga title at 37, retired for them at 40, and there were rumours he was actually much older),
Morten Olsen
(world class libero for Danish Dynamite at almost 37 during 1986 World Cup, and played for his country until 39),
Manfred Burgsmüller
(prolific goalscorer who played a key role in Werder Bremen's Bundesliga success of 1988 at the age of 38, was still scoring in the European Cup the following season),
Romario
(top-scorer of the Brasileiro at age 40).
Anyone we have left out? Please leave your comment below...