10) Elton John (Watford, 1976)
"Are you ready, are you ready for promotion?" Sir Elton brought the good times to Watford hiring future England manager Graham Taylor, leading the Hornets from the old Fourth Division to the First in barely five years. Watford finished second behind the mighty Liverpool in their first season back in the big time and the club's charismatic owner even persuaded the players to provide backing vocals on one of his records!
Elton John sold the club in 1987 but returned a decade later and is the club's life-long President. He recently played a charity concert to help fund purchases for new players.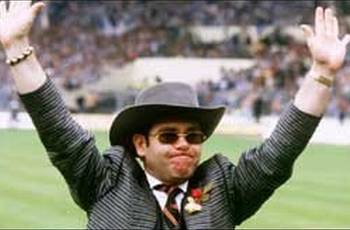 9) Gigi Becali - (Steaua Bucharest, 200
3)
Romania's answer to Silvio Berlusconi of Milan, Becali took over as majority shareholder of Steaua Bucharest in 2003. Since then a total of 13 managers have been hired and fired during his colourful reign including Gheorghe Hagi who accused Becali of interfering with team affairs.
Steaua have won two league titles during his time in charge which has also witnessed some bizarre events including the oft repeated story of Becali commissioning a painting of himself as Jesus Christ surrounded by the Steaua players as his disciples.
New coach Marius Lacatus, back for a third stint, is Steaua's fourth manager this season and has been told to finish in the top two or get sacked again.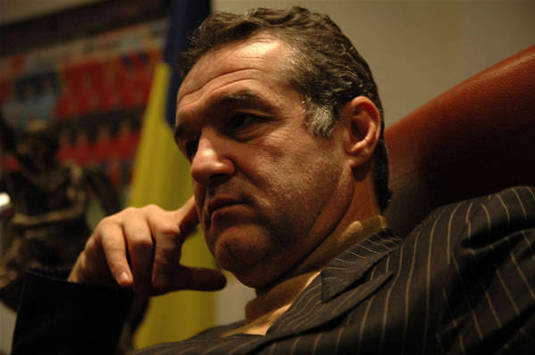 8) Sokratis Kokkalis (Olympiacos, 1993)
He may have gone through managers like confetti but few can dispute the impact Sokratis Kokkalis has had on Olympiacos. When he took over in 1993, the Piraeus club were in the red on and off the pitch. But Kokkalis worked on restructuring their debt and the team's fortunes.
A first league title arrived in 1996-97 and a further 11 were added to the trophy cabinet before Kokkalis sold his majority share to shipping tycoon Vangelis Marinakis in the summer. He still has a 13% share and remains as club chairman.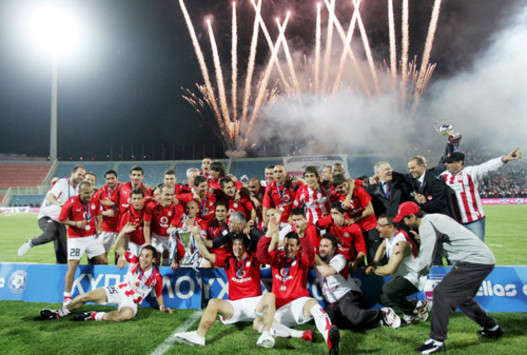 7) Manuel Ruiz de Lopera (Real Betis, 1992)
Lopera stepped in to save his beloved Betis in the early 90s when they were on the verge of relegation to the Spanish third tier. He pumped money into the club to restore their fortunes including a whopping sum for Brazilian Denilson in 1998.
Highlights included qualifying for the Champions League and winning the Copa del Rey during his tenure but the owner remained unpopular with supporters due to their love affair with relegation and his decision to name the stadium after himself. He did a deal to sell the club in the summer for €18 million and stipulated the stadium name must remain. He is currently being investigated for alleged irregular business dealings during his time at the club temporarily halting the sale of his shares.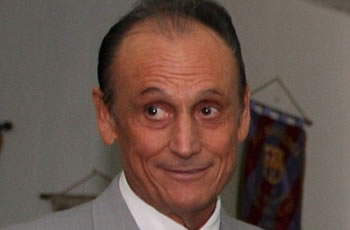 6) Sam Hammam (Wimbledon, 1981)
A Cinderella style fairytale which culminated in the Dons' ultimate upset of Liverpool in the 1988 FA Cup Final. Big-spending Hammam bought the majority stake in Wimbledon as he loved tennis. In the space of seven crazy years he took the club from the lower reaches of English football to FA Cup glory. He then promptly put the entire squad up for sale and was involved in some legendary incidents with the club including burning suits of new signings and destroying opposition dressing rooms. Later he caused havoc when he took over at Cardiff City.
5) Zeljko Raznatovic 'Arkan' - (FK Obilic, 1996)
Perhaps the most controversial of all takeovers was the rise of Serbian club FK Obilic under ruthless criminal and warlord Zeljko Raznatovic aka Arkan who took over in 1996.
Having previously done little in their history the Belgrade side won the 1997-98 league title, earning a spot in the Champions League which was refused by UEFA due to their criminal connections which included an acquaintance of Saddam Hussein. It was alleged that players on opposition teams were the subject of death threats during Arkan' stint in charge of FK Obilic.
He resigned his post in 1998 giving control of the club to his wife Ceca which was a disaster. Since then the one-time Serbian champions have slipped down the divisions. Arkan meanwhile was assassinated in a Belgrade hotel in 2000.
4) Rupert Murdoch (Manchester United, 1998)
A case of what might have been. Media magnate Rupert Murdoch stunned football with his £623 million bid for United back in 1998. Less than a decade earlier the Red Devils were the subject of another bid by Michael Knighton for a bargain £20m only for the deal to fall through.
Manchester United's share price rocketed after news of the potential deal with Murdoch's BSkyB company became public. Large sections of the club's support plus the influential Shareholders United Against Murdoch group lobbied for the deal to be abandoned and their wish was granted when the British government deemed the proposed takeover as 'anti-competitive' although legal experts queried this.
There were fears that the powerful media figure would put all of United's games on 'pay per view'. Murdoch's reaction at the time was one of "disbelief rather than anger."
Across Manchester rivals City have been successfully taken over by former Thai Prime Minister Thaksin Shinawatra and latterly Sheikh Mansour in recent years.
3) Agnelli Family (
Juventus,
1923)
The Bianconeri and the Agnelli are a partnership that go together like salt and pepper in a relationship that stretches over 80 years. Fiat's founders took over the club in 1923 with Edoardo Agnelli the first in the family dynasty to become club President. Huge success swiftly followed as Juve won five consecutive Scudetti between 1930 - 1935 as the club have since gone on to become the most successful in Calcio history.
In the 60s the Agnelli family invested in another Italian legend, Scuderia Ferrari - another relationship which remains intact to the present day. Meanwhile, at Juventus the lineage continues with Andrea Agnelli the current chairman at the Serie A club.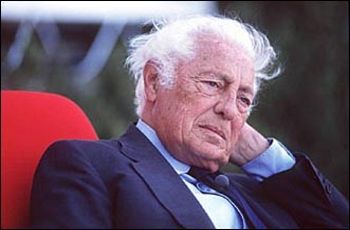 2) Silvio Berlusconi (Milan, 1986)
Love or hate him, there is no escaping powerful media mogul and Italian Prime Minister Silvio Berlusconi. His acquisition of the Rossoneri in 1986 transformed the club's fortunes turning them into the strongest team in the world during their late 80s/early 90s heyday. Rarely out of the limelight Berlusconi recently responded to the jibes from Milan's fans during the summer about the lack of signings by splashing out on Robinho and Zlatan Ibrahimovic. He used Milan's football success to launch his political career and has led his country on three separate occasions during his time in charge of Milan.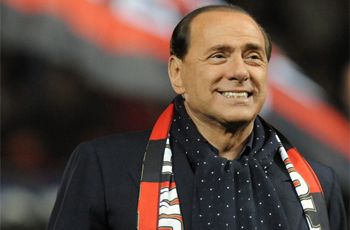 1) Roman Abramovich (Chelsea, 2003)
Liverpool's current plight could have been so very different had the outcome of Chelsea's last league game with Liverpool in 2002-03 gone in the Reds' favour. After making his mind up that he wanted to buy a football club after the epic Manchester United-Real Madrid Champions League clash earlier in the season the Russian oil baron decided to sink his considerable assets into an English club destined for the Champions League. Chelsea beat Liverpool 2-1 and Red Roman ploughed in £140m clearing the club's debt and bankrolling their future success.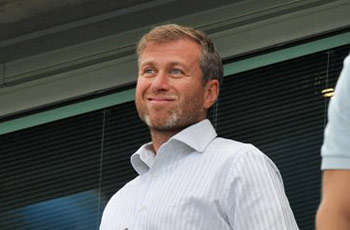 Follow Goal.com on

. Get the latest football news direct... Check out Goal.com's

page; be part of the best football fan community in the world!