10) Yugoslavia 5-5 USSR - (USSR trailing 5-1) (1952)
Helsinki's Olympic football tournament in 1952 threw up some remarkable results. Luxembourg 5-3 England, Brazil 5-1 Netherlands, Italy 8-0 USA.
Chief among them was USSR's incredible fightback against Yugoslavia in the first round. At one stage Yugoslavia were 5-1 up with 15 minutes to go but the Soviets fought back thanks in no small part to Vsevolod Bobrov who grabbed a hat-trick. Sadly it was all for nothing as Yugoslavia won the replay 3-1 when Bobrov again got on the scoresheet for the USSR.
Andy McLean, Goal.com International Russia Expert
"Vsevolod Bobrov is a hero in Russia and a lucky one at that! He went on to captain the USSR Ice Hockey team in the 1956 Olympics becoming the only person to achieve the captaincy of two different sports at the event.
"In 1950 he missed his alarm clock for an internal flight to join up with the national ice hockey side.The team decided not to wait for him as he was well known as a heavy sleeper, and flew without him. All 11 players and coaching staff died when the flight crashed due to heavy snow."

9) Werder Bremen 5-3 Anderlecht - (Bremen trailing 3-0 at half-time) (1993)
Highlights
What is it with Otto Rehhagel and pulling off miracles? A few years before Kaiserslautern won the Bundesliga as a newly promoted club and Greece scooped the European Championships, Rehhagel was at the helm of Werder Bremen for another incredible result.
A routine Champions League group game against Anderlecht was anything but as the Belgians stunned Werder by going three up with barely 30 minutes played. Future Newcastle United star Philippe Albert got the opener and Danny Boffin scored two, including a beauty to make it 3-0.
That's how the game stayed for more than half an hour until New Zealand star Wynton Rufer scored in the 66th minute to make the scoreline looked respectable. Not a bit of it as Bremen added another four in the space of 17 minutes. No wonder King Otto went dancing in the rain as Marco Bode added the decisive fifth.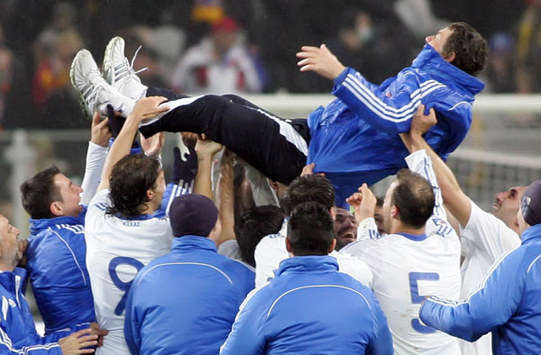 8) North Korea 3-5 Portugal - (Portugal trailing 3-0) (1966)
Highlights
Beating Italy in the group stage secured North Korea's place in the annals of World Cup history which is wonderfully recorded in
The Game Of Their Lives
.
Turning over the Azzurri would have been nothing if DPR had eliminated Portugal in the quarter-finals. Cheered on by the English support, North Korea raced into a two-goal lead with barely 20 minutes played amid calls of 'We want three', which was granted moments later.
Fearing a repeat of Italy's return to rotten tomatoes, the Portuguese woke up. Or to put it more specifically, Eusebio dragged his team into the semi-finals with a virtuoso display, scoring all four in the comeback before the Seleccao added a fifth to seal the victory.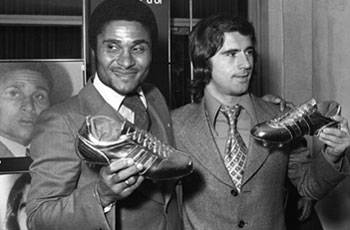 7) West Germany 3-2 England - (West Germany trailing 2-0) (1970)
Highlights
There are plenty of people in England who'll tell you that the Three Lions' 1970 team was better than their 1966 winners. A rematch with West Germany was always going to be tasty in the searing Mexican heat four years later.
England made light of the conditions and were two goals to the good with just under 20 minutes to go. West Germany pulled one back through Franz Beckenbauer and moments later England manager Alf Ramsey substituted Bobby Charlton. Uwe Seeler made it 2-2 with a looping header and the match headed for extra-time where Gerd Muller completed the fightback with a close range volley.
Then English Prime Minister Harold Wilson blamed his election defeat a few days later on the result and England's so called 'World Cup Curse' began. Germany meanwhile have never looked back, winning the tournament twice since in 1974 and 1990 plus reaching the final in 1982, 1986 and 2002.
6) Charlton 7-6 Huddersfield - (Charlton trailing 5-1) (1957)
Surely the greatest comeback in English football history occurred in December 1957 when Bill Shankly's Huddersfield managed to blow a 5-1 lead with 30 minutes to go and all against a team with ten men.
Goal.com's
Graham Lister takes up the story. "At 5-1 down, suddenly Charlton began to play, with Johnny Summers inspired. Aged 30, and wearing a new pair of boots that he hadn't yet broken in, the natural left-footer scored a hat-trick in six minutes and then added two more, all with his weaker right foot.
"He'd already set up centre-forward Johnny Ryan for Charlton's first. So the Addicks were now 6-5 ahead. Huddersfield equalised with two minutes to go, but that was enough time for Summers to race through and play in Ryan once again for the winner with what proved to be the last kick of a remarkable match."
One contemporary report described the game as "Amazing, incredible, fantastic". Say that again!

5) Milan 3-3 Liverpool (Liverpool trailing 3-0 at half-time) (2005)

Highlights
Rafael Benitez may have left Anfield under a cloud but even his fiercest critics would have to concede that Istanbul 2005 was an epic achievement. Milan took the lead inside a minute and were three-up by half-time, prompting some Reds fans to leave the Ataturk Stadium.
At half-time Benitez mapped out Liverpool's strategy for the second 45 minutes. He initially had planned to send out 12 players before Jamie Carragher pointed out his error! In six crazy minutes the match was all square and the Reds eventually ran out winners in a penalty shoot-out. Quite what those Liverpool fans who left at half-time made of it is another story altogether...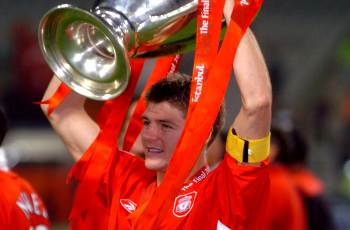 4) France 4-5 Yugoslavia - (Yugoslavia trailing 4-1) (1960)
Highlights
French hopes for a debut win on home soil in the inaugural European Championships were wrecked by a dramatic Yugoslavian comeback in Paris.
Minus Just Fontaine through injury, Les Bleus had a lead of 3-1 and then 4-2 with just 15 minutes to play. The Parc des Princes was all ready to salute the finalists when Yugoslavia got one back through Tomislav Knez and poor French defending allowed Drazen Jerkovic to score a brace in the space of two minutes.
Incredibly, the three Yugoslavian goals all came in the space of four minutes. France were out and would have to wait 24 years to win their first major tournament, which also came at home and included a 3-2 revenge win over Yugoslavia along the way.

3) Bayern Munich 1-2 Manchester United (United trailing 1-0) - (1999)
Highlights
Comebacks and Manchester United belong in the same sentence, particularly in the trophy-laden Alex Ferguson era. United's path to their first European Cup final in 31 years was aided by another spectacular comeback against Juventus in the semi-final, where they won 3-2 after trailing 2-0 early in the game.
Against Bayern Munich in the final the Red Devils were outplayed and enjoyed several slices of luck as the Bavarians twice hit the woodwork in the second half. Then English commentator Clive Tyldesley asked: "Can Manchester United score? They always score."
United provided the answer with injury time strikes from Teddy Sheringham and Ole Gunnar Solskjaer sealing an improbable victory.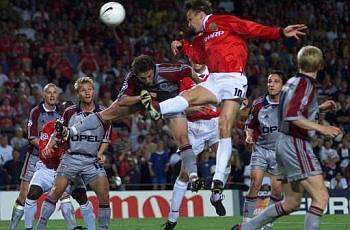 2) Inter 3-2 Sampdoria - (Inter trailing 2-0) (2005)
Highlights
Calcio dominance was a few years away for the Nerazzurri when Sampdoria visited the San Siro in early 2005. With Adriano and Christian Vieri leading the attack Inter pummelled the Blucerchiati rearguard but contrived to somehow not score.
Sampdoria took the lead just before half-time and had to endure another Inter onslaught in the second half. As the game entered its final 10 minutes an equaliser looked likely but the visitors ripped up the script and scored a second. Cue a mass exodus from the home support, but the drama was only getting started.
Inspired by substitute Alvaro Recoba, who moments earlier had smacked the post, Inter pulled one back through Obafemi Martins after an assist from the Uruguayan. In injury time Christian Vieri made it 2-2 before that man Recoba smashed home the winner with a perfect left foot drive.
"Incredibile," roared the match commentator repeatedly after Recoba's late, late winner. The lesson - never leave early.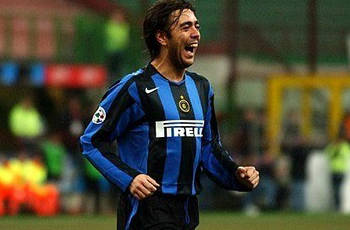 1) Hungary 2-3 West Germany - (West Germany trailing 2-0) (1954)
Highlights
An often forgotten fact of West Germany's first World Cup win is that it occurred nine years BEFORE the Bundesliga was founded. That the German team of amateurs beat the mighty Magyars in the final is an astonishing achievement particularly as they had been hammered 8-3 by Hungary earlier in the tournament.
Unbeaten in 32 games the World Cup seemed destined for Hungary when the teams met again in Berne's final. Despite not being fully fit Ferenc Puskas put Hungary in the lead in the sixth minute and team-mate Zoltan Czibor made it two moments later.
West Germany didn't roll over and got back into the game through Max Morlock. By half-time it was all square thanks to Helmut Rahn as the rain poured down in Switzerland. Thanks to a certain Adi Dassler the German team switched to longer studs which suited the soggy turf and their preparation paid off as Helmut Rahn angled in the winner with six minutes to play. Tor! Tor! Tor! Tor! roared the German commentator in what became known as 'The Miracle Of Berne.'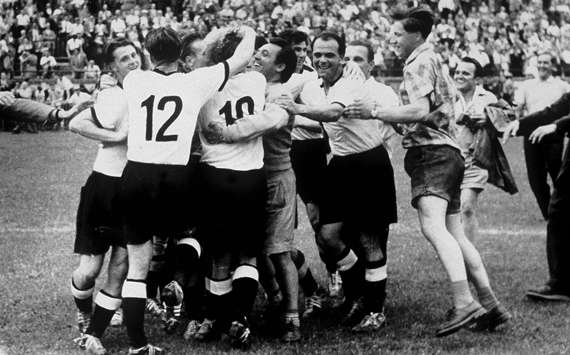 Honourable mentions
Czech Republic's 3-2 win from 2-1 down against Netherlands in Euro 20004...Liverpool coming back from 3-0 to 3-3 against Manchester United in 1994...United beating Spurs 5-3 in 2001 from 3-0 down...Romario's Vasco de Gama storming back from 3-0 to beat Palmeiras 4-3 in the Copa Mercosur in 2000...Bayern's 3-3 fightback against Getafe in 2008...Man City 4-3 against Spurs in the 2004 FA Cup...Deportivo turning around a 4-1 thumping to beat Milan 4-0 in the Champions League quarter-final second leg in 2004...Turkey beating Czech Republic 3-2 in Euro 2008...Kanu's hat-trick for Arsenal to beat Chelsea 3-2 in 1999...Motherwell 6-6 with Hibernian from 6-2 down...Independiente grabbing a 2-2 draw with Talleres with eight players from 2-1 down to seal the 1977 Championship on away goals...Bochum blowing a three goal lead against Bayern Munich in 1976 before eventually losing 6-5.
* Many thanks to all the Goal.com contributors who helped with the creation of this article
Follow Goal.com on

. Get the latest football news direct... Check out Goal.com's

page; be part of the best football fan community in the world!