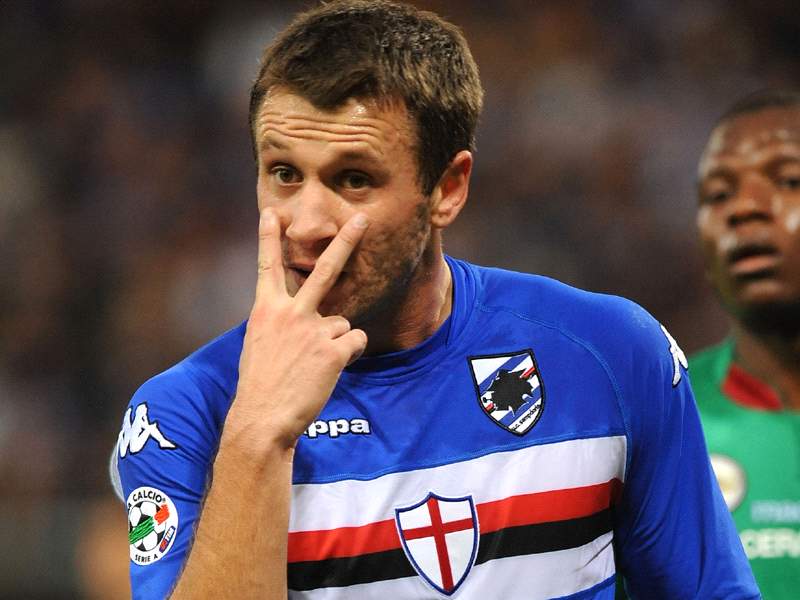 10) Giorgio Chinaglia
Chinaglia was so big in Rome that stories about the Pope would be relegated to page three of the local papers in order to make way for 'Long John'. The striker scored 98 goals at Lazio between 1969 and 1976, and was the main reason for their 1974 Scudetto triumph, firing home a whopping 24 and winning the Capoacannoniere crown.
A beast of a frontman, Chinaglia was also a controversial character, and eventually this cost him his Italy career. During a World Cup clash with Haiti, Chinaglia was substituted and cursed at coach Ferruccio Valcareggi. He then proceeded to trash the changing room, reportedly smashing up eight water bottles. This act of aggression basically ended his international career on just 14 caps and four goals. He later moved to the USA to play for the New York Cosmos, where the problems continued - including a falling out with team-mate Pele.
9) Christian Vieri
A touchy character both on-and-off the pitch. In his prime, at the turn of the new millennium, Vieri was the best striker in the world before a stunning collapse after Euro 2004. The recently retired 6ft 1in hitman endured an unpleasant relationship with the press during his career, rarely giving interviews, and once telling the media that he was "more of a man than all of you put together".
He sulked his way out of Inter, refusing to even celebrate goals, before launching legal proceedings on his former club after they illegally spied on him as part of their Calciopoli investigation. Vieri's love life has been equally chaotic, having worked his way through pretty much every Italian showgirl – including beauties such as Elisabetta Canalis and Melissa Satta.
8) Francesco Flachi
One of many talented forwards on this list who couldn't control off-field vices. In 2006, Flachi was banned for two months for illegal gambling before then receiving a two year suspension the following year for cocaine use.
After returning in 2009, it didn't take long for Flachi to be caught again as in December of the same year he tested positive for cocaine once more. This time he was handed a 12-year ban, thus ending his career…unless he plans to continue professional football at the age of 47!
7) Pasquale Bruno
The most infamous hardman of Italian football after Claudio Gentile retired, Bruno was nicknamed 'The Animal' due to his uncompromising style of defending. The ex-Juventus, Torino and Lecce man was once suspended for eight games after physically attacking a referee and all his team-mates who tried to intervene. Bruno was capable of some X-rated tackles and received many cards during his career. He became a cult hero at Scottish side Hearts, infamously once making a cut-throat sign to the entire Hibernian bench after kicking an opposition player in the kidney.
Bruno has continued his no-nonsense approach after retiring with some contentious press quotes. He recently slammed modern footballers as "fighetti (fairies) who only care about earrings, tattoos, nightclubs and shopping", and said if he was still playing now he would "teach Zlatan Ibrahimovic a 'lesson'"
6) Omar Sivori
Sivori will be remembered as one of Juventus and Serie A's greatest ever players, but also as one of the most hot-headed. The 1961 European Footballer of the Year was sent off 10 times during seven years at Juve and regularly was involved in confrontations with opponents and referees. His favoured move was the nutmeg, which he used to humiliate defenders, and he was the ultimate representation of South American 'furbo' – with a crafty and underhand approach towards the game.
The 'Maradona of the sixties' left the Bianconeri in 1965 after a ferocious falling out with coach Heriberto Herrera, and in his final ever career game for Napoli – for whom he also suffered many suspensions - against the Bianconeri he was banned for six games for a violent kick on Erminio Favalli.
5) Marco Materazzi
One of the most disliked and misunderstood footballers on the planet, Materazzi was considered as an untalented brute for most of his career pre-2006. His histrionics, and pouting facial expressions, not to mention his tough-tackling and elbow-leaning aerial challenges, made him an enemy for purists.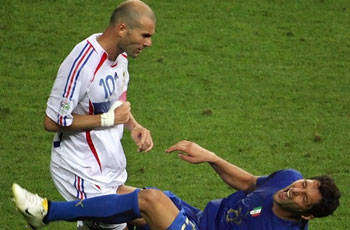 But, in the summer of 2006, Materazzi had the best three weeks of his life, performing brilliantly as a replacement for the injured Alessandro Nesta as Italy won the World Cup. Even then, his heroics – which included scoring the equaliser and a shootout penalty in the final – were overshadowed by his part in the Zinedine Zidane sending off. Zizou, in his final career game, was red carded in extra time for headbutting 'Matrix' after a family insult. Materazzi, perhaps due to his past record, was painted as the villain and banned by FIFA for two games. Most recently, the ex-Everton stopper sported a Silvio Berlusconi mask to celebrate Inter's derby win over Milan.
4) Mario Balotelli
Despite still being a teenager, the Sicilian-born striker of Ghanaian immigrants has managed to fall out with almost every team-mate, opponent, coach, fan and official he has crossed paths with. Balotelli's many controversial quotes include labelling himself a "second class citizen", slamming Cristiano Ronaldo as "someone he can't stand", and openly admitting that he supports Milan, even wearing the Rossoneri shirt on television.
'Super Mario' was repeatedly frozen out of the Inter squad by former coach Jose Mourinho, and the forward was even told to leave San Siro by his own supporters after infamously throwing the Inter shirt onto the ground after the 3-1 Champions League semi final first leg win over Barcelona last season.
3) Paolo Di Canio
One of the greatest ever Italians not to play for Italy, along with the likes of Evaristo Beccalossi and Agostino Di Bartolomei, there is no doubt that Di Canio's red-hot Roman temper cost him a chance to don the prestigious Azzurri jersey.
Di Canio was sold by Juventus after a fight with coach Giovanni Trapattoni, while his time at Sheffield Wednesday was marred by one of the most infamous moments in English football history when he pushed referee Paul Alcock to the ground after being sent off against Arsenal. This earned him an 11-match ban. Before that he had also fought with manager Ron Atkinson, and was once issued two yellow cards, and thus a red, for arguing over the award of a throw-in. Di Canio became a legend at West Ham, but hit the headlines after returning to his beloved Lazio when he made a Roman salute to the Ultras. One hell of a character!
2) Claudio Gentile
One of the meanest and toughest defenders to ever set foot onto the field, strikers used to melt in their boots when up against Gentile. The stopper is notorious for violently man-marking Diego Maradona out of the game during the 1982 World Cup, while he also ripped Brazilian great Zico's shirt in half during the same tournament. Argentina 1978 hero Mario Kempes said of Gentile: "If you went to the toilet, Gentile would follow you there."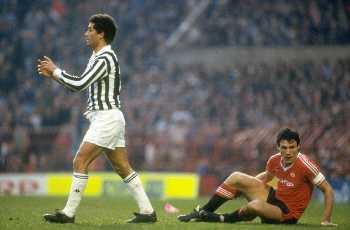 Gentile won six Scudetti for Juventus and is certainly a cult hero. An urban myth tells of a story when English striker Kevin Keegan had been named as European Footballer of the Year. At the ceremony, Keegan got up off his chair to walk towards the stage in order to collect his prize but was tripped up by Gentile as he moved through the aisle. Gentile then reputedly whispered into Keegan's ear: "You wouldn't have won no award if I had been marking you!"
An intimidator of infamous proportions, Gentile often executed the tackle from behind, while another of his tricks was to dig his nails into forward's hands while helping them up off the floor – with this offence thus hidden from the referee. They don't make defenders like Gentile any more!
1) Antonio Cassano
Born the day after Italy won the 1982 World Cup, El Pibe de Bari was hailed as the most talented player of his generation after bursting onto the scene as a 17-year-old with a wondergoal for hometown side Bari against Inter. However, he has never truly reached his God-given potential due to an explosively flawed personality.
Cassano details most of his mischief of the past 10 years in his infamous autobiography titled Vi Dico Tutto (I'll tell you everything). Fantantonio talks of all his falling outs with coaches such as Luciano Spalletti, whom he told: "You're not coaching those useless players you had at Udinese, this isn't your house, it's my house," Fabio Capello, of whom he noted: "In Tarragona he made me and Ronaldo warm up the whole second half without putting us in. In the locker room I told him 'you're a piece of sh*t, you're more fake than Monopoly money," and Luigi Del Neri who Cassano "never understood what the fu*k he was talking about".
Cassano also explained how he had slept with between 600 and 700 women by the age of 25, and that at Real Madrid he would pay off a young waiter to bring him cakes after illegally smuggling a girl into his hotel room before matches. Cassano was handed a five game ban in 2008 after throwing his shirt at a referee, while there are reports that he punched Marcello Lippi's son Davide in a nightclub, thus leading to his exclusion from the 2010 World Cup squad. Yet another urban myth is that Cassano stole a moped in his village, days after signing his multi-million pound contract with Roma. He obviously couldn't afford to buy one!