10) England To Rule The World – The Sun
When England were eliminated on penalties by West Germany in the semi-final of Italia '90,
The Sun
newspaper was so enthusiastic about the country's future that they boldly printed the following:
"Around Gazza [Paul Gascoigne] and his young gang we can build a team to rule the world. Four years on, remember you read it first in the Sun!"
England failed to qualify for USA '94, and not a single one of the 23-man squad from Italia '90 would play in another World Cup.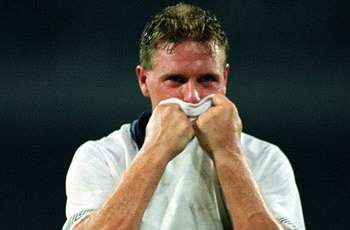 Tears But No Comeback | 1990 Was Gazza's Only World Cup
9) Jack Charlton's Egyptian Slur
Following the goalless draw with Egypt in the group stages of Italia '90, Ireland's manager – the 1966 World Cup-winning former England defender Jack Charlton – was asked which of the Egyptian players had caught his eye.
"I couldn't tell you. I don't know any of their names," Big Jack said.
"There was the guy with the beard, the dark lad in midfield, the little dark lad who played centre midfield, the very coloured boy, and the boy who played up front."
8) Gaucci Sacks Ahn Jung-Hwan
In the aftermath of South Korea's infamous second round win over Italy at the 2002 World Cup, Perugia's loopy president Luciano Gaucci sacked Ahn Jung-Hwan, who had scored the Golden Goal to knock the Azzurri out. Gaucci would later reverse his decision.
"That gentleman will never set foot in Perugia again," boomed Gaucci.
"He was a phenomenon only when he played against Italy.
"I am a nationalist and I regard such behaviour not only as an affront to Italian pride but also an offence to a country which two years ago opened its doors to him.
"I have no intention of paying a salary to someone who has ruined Italian soccer."
Over Ahn Out | The Korean Was Dumped By Perugia

7) Sir Alf Ramsey: Argentine Animals
After England's controversial 1-0 win over 10-man Argentina in the 1966 quarter-final, where the South Americans' skipper Antonio Rattin had been sent off for "violence of the tongue", Three Lions manager Sir Alf Ramsey let rip at the opposition with comments that were viewed as racist in Argentina.
"We have still to produce our best, and this is not possible until we meet the right sort of opponents, and that is a team that comes out to play football and not act as animals," sniped Ramsey.
Post match statistics showed that Argentina had committed only 19 fouls in the game, to England's 33, while the referee spoke no Spanish so could not have understood what Rattin said to him.
6) Ron Atkinson & Cameroon Trees
Former Manchester United and Aston Villa manager Ron Atkinson has been disgraced and ostracised in the United Kingdom following a racist comment directed at ex-Chelsea star Marcel Desailly a few years ago.
In 1990 while commentating on England's quarter final against Cameroon, Big Ron also uttered some controversial comments - only that time he escaped without punishment.
Atkinson first described a Cameroon player as "absolutely brainless", then added off-air: "I'll only get into trouble if his mother's back home watching the game sitting up a tree."
5) Homosexual Braids – Nigeria
In response to Taribo West's extravagant braids at the 1998 World Cup, Nigeria culture minister Otumba Runshewe described the hairstyle as "homosexual".
"Our youths copy our footballers, but the players seem to forget that braids embrace a sense of homosexuality in the developing world. We certainly don't want that," roared Runshewe.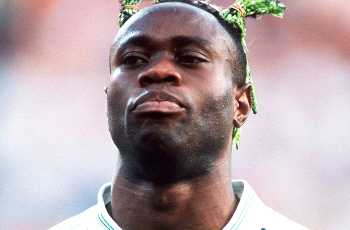 Hair Raising | Taribo Caused Controversy At Home
4) Van Hanegem's German Hatred
Dutch legend Willem van Hanegem epitomised the rivalry between the Netherlands and [West] Germany probably more than any other player over the past 60 years. Van Hanegem had lost his father, two brothers and a sister during World War II, two of them as a direct hit from German bombing raids on the Netherlands.
Prior to the 1974 World Cup final between the two countries, van Hanegem ordered his team-mates to "stuff the Germans" while after the 2-1 defeat he tearfully stated: "I didn't give a damn as long as we humiliated them. They murdered my father, sister and two brothers. I am full of angst. I hate them."
3) Diego Maradona's Falklands Revenge
Argentina's 2-1 quarter-final win over England in 1986 is as renowned for Maradona's 'Goal of the Century' as it is for the 'Hand of God' opener when Diego fisted the ball past goalkeeper Peter Shilton.
After the match, Maradona explained that the victory was revenge for the Falklands War four years earlier that had resulted in the deaths of more than 600 Argentines.
"[The goal was scored] a little with the head of Maradona and a little with the hand of God," said the Napoli hero.
"Although we had said before the game that football had nothing to do with the Malvinas war, we knew they had killed a lot of Argentine boys there, killed them like little birds. And this was revenge."
Revenge For The Falklands | Maradona's Explanation
2) Santiago Full Of Prostitutes
'The Battle of Santiago' between 1962 World Cup hosts Chile and Italy is recognised as the most brutal football game of all time. The Azzurri had two men sent off before half time, forward Humberto Maschio had his nose broken by Leonel Sanchez, Georgio Ferrini had to be dragged off the pitch by policemen, while the game won 2-0 by Chile was filled with misconduct and vicious foul-play.
Tensions had been high going into the game after two Italian journalists, whose work was distorted and edited by the local press, wrote offensive articles about the hosting country.
"Santiago is the sad symbol of one of the world's most underdeveloped places, distressed by all possible ills: malnutrition, prostitution, illiteracy, alcoholism, poverty," read one of the pieces by Corrado Pizzinelli.
"Entire neighbourhoods are dominated by prostitution. Santiago is a poverty-stricken dump full of loose women."
1) Bjorg Lillelien: Maggie Thatcher, Can You Hear Me?
After Norway defeated England 2-1 in a 1982 World Cup qualifier, the Norwegian commentator failed to control his delight and went absolutely berserk with one of the most famous rants of all time.
"We are the best in the world! We are the best in the world! We have beaten England 2-1 in football!! It is completely unbelievable! We have beaten England! England, birthplace of giants. Lord Nelson, Lord Beaverbrook, Sir Winston Churchill, Sir Anthony Eden, Clement Attlee, Henry Cooper, Lady Diana--we have beaten them all. We have beaten them all. Maggie Thatcher can you hear me?"
"Maggie Thatcher, I have a message for you in the middle of the election campaign. I have a message for you: We have knocked England out of the football World Cup. Maggie Thatcher, as they say in your language in the boxing bars around Madison Square Garden in New York: Your boys took a hell of a beating! Your boys took a hell of a beating!"
What are your views on this topic? Can you think of any other controversial World Cup quotes?
*This article first appeared on Goal.com International on 06-10-2009