10.
Charles N'Zogbia, the Wigan Athletic player, is a second cousin of Jo Wilfried Tsonga, the French tennis star and world number 10. Both men have Congolese heritage; Tsonga's father Didier moved from Brazzaville to France in the 1970s in order to persue a career in handball.
9.
The father of British number 1, Elena Baltacha, was a Cup Winners' Cup champion with Dynamo Kyiv in 1986 and made more than 300 appearances for the club. Sergei Baltacha was also the first Soviet international to play in Britain, representing Ipswich Town, St Johnstone and Inverness Caledonian Thistle towards the twilight of his career, hence his Ukraine-born daughter's Scottish allegiance.
8.
The British men's number 1, Andy Murray, also has strong links with the game of football. He is a keen supporter of Hibernian and admitted that his football skills had placed him on the radar of Rangers as a youth. He declined the trial in order to concentrate on his tennis.
Murray attracted negative media attention when he was wrongly accused of declaring that he would support 'anyone but England' at the 2006 World Cup. The Scot also had to fend off rumours that he wore a Paraguay shirt on the day England were playing the South Americans.
Here
, Murray can be seen kicking around with David Beckham at Wembley last year, launching Malaria No More UK.
7.
While Murray's skills on the football field as a youngster could have forced a change of career, the opposite can be said about a number of the world's top footballers. Hugo Lloris excelled at tennis as a teenager and was placed among France's best in his age group.
Kaka was determined to make his name in tennis as a youngster before Sao Paulo scouts spotted his skills with the bigger ball and whisked him away from the courts.
Diego Forlan, the Atletico Madrid forward, gave up tennis as a teenager to concentrate on the 'family trade' of football. He managed to carry over the tennis-derived habit of not hitting the net to his early Manchester United career.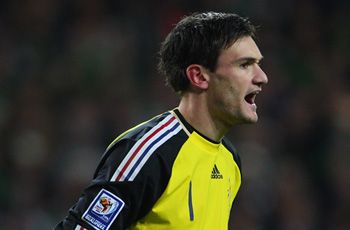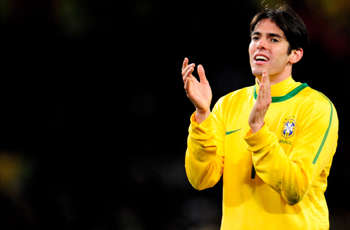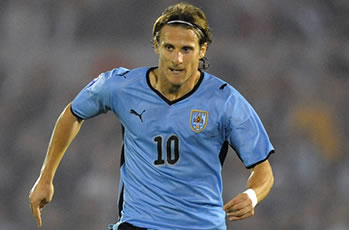 Teenage Promise | Lloris, Kaka and Forlan
6
. Boris Becker imposed himself on the tennis world's consciousness by winning the Wimbledon Championships as a 17-year-old in 1985. The German legend is a massive Bayern Munich fan and has maintained a place on the advisory board of the Bundesliga champions for more than a decade.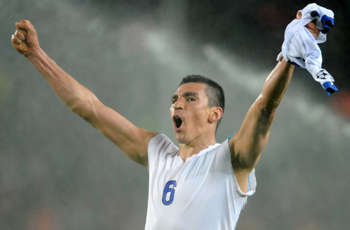 Game, Set And Match | Treble Winner Lucio Is Loved By Becker
And Becker knows his stuff. Asked by
CNN
in November what he would change if he were in charge of team affairs, he responded presciently: "I would be a little worried about the defence. We let, in my opinion, one of the best defensive players we have ever had go, Lucio, who went to Inter Milan. I don't know why or what happened but I don't think we are as strong defensively as we are offensively. We have to score at least three goals to win now!" If only, Boris, if only....
5.
Fernando Torres made the dreams of world number 3, Caroline Wozniacki, come true last Christmas when he sent her an autographed Liverpool shirt. The 19-year-old tweeted enthusiastically: "I just got a Liverpool jersey with Fernando Torres autograph on, specially signed for me!!! I'm so happy. Torres is my favorite player!!!!!!" The image of Wozniacki wearing the Liverpool shirt can be seen
here
.
Like Baltacha, Wozniacki's father was a professional footballer too; the family moved to Denmark when the Polish player Piotr signed for Boldklubben 1909. Her brother, Patrik, plays for BK Frem.
4.
Not every fan at last year's ATP Masters final at the O2 in London managed to actually get a game on the showcourts. But one did. After Juan Martin Del Potro, the Argentinian winner of the US Open, dismantled Roger Federer in straight sets, Manchester City's Carlos Tevez joined his compatriot for a knock-around. It can be seen
here
although 'el Apache's' tennis ability is some way off his football standard.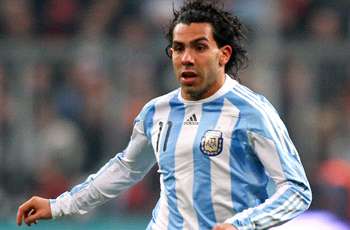 Don't Quit The Day Job | Carlos Tevez
Del Potro, a dedicated Boca Juniors fan, is currently injured and unfortunately cannot defend his crown at Flushing Meadows this year. He has not played since the Australian Open in January and is intending to contact Martin Palermo in an attempt to find solace in his spell on the sidelines.
He told the press earlier this month: "I'm going to talk with Palermo because no one knows better than him how to come back better from an injury."
A picture of Del Potro at la Bombonera can be seen
here
.
3.
The Croatian Goran Ivanisevic made history in 2001 by winning Wimbledon as a 29-year-old wildcard. His success prompted Zvonimir Boban to compare his compatriot to Jesus Christ. The former Milan playmaker, also an adept tennis player, also shaved his head after his friend's monumental win. Ivanisevic celebrated his triumph by partying in Igor Stimac's nightclub.
The strapping left-hander later played in Boban's testimonial in Zagreb in 2002. Amazingly, he also scored. You can watch the moment
here
. He also fulfilled a life-long wish by signing a 'contract' with his beloved Hadjuk Split and was a registered player in 2001.
2.
The world number 1, Roger Federer, is widely considered to be the greatest player of all time but the Swiss admits that he could have made a career in football. R-Fed is also an avid fan of FC Basel, but it was not always so. He told
four-four-two
: "When I was a kid I played for Concordia Basel so I used to play against FC Basel.
"Marco Chiudinelli, who is also on the ATP Tour, used to play libero for FC Basel and I was striker for Concordia so we had some great battles. It was only after I stopped playing football that I started supporting FC Basel, but now they mean a lot to me and I always follow their results when I'm on tour."
The Swiss club clearly think a lot of their number one fan too;
here
, the team can be seen celebrating Federer's success at Wimbledon 2009, his 15th Grand Slam, by sporting 'FEDERER FIFTEEN' shirts.
Federer trained with Basel in 2004 and then-coach, Christian Gross, was impressed with what he saw. He told the press: "I'm sure if he had persisted he could have had a career."
The modest FedExpress clearly agrees. "When I was 12 my tennis schedule was so busy that I just couldn't play multiple sports anymore," he said.
"I'd like to think I could have been a footballer. I was an attacking midfielder or striker. I was a good leader so I think I would have made a good captain."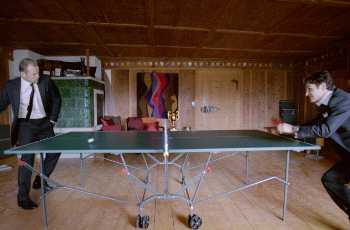 Ping Pong | Rooney And Federer
Federer has recently starred alongside Wayne Rooney in a NIKE viral advertisement campaign. You can see it
here
.
1.
Federer has spent the best part of two years battling with Rafael Nadal for the top berth in men's tennis. And it is the Spaniard who edges out his great rival in our countdown.
The Spaniard clearly has footballing pedigree, which can be seen
here
, as he comes from rich football stock. His uncle, Miguel, is a Barcelona legend and former Spain international. Rafa himself was a dedicated footballer until his father made him choose between that and tennis as a youngster. He told
the Telegraph
in 2006: "I carried on playing football as well as tennis, but slowly played more and more tennis with my uncle. But I still preferred football. That was my real love when I was a young boy."
"My father made me choose between football and tennis so my school work didn't suffer. I chose tennis. Football had to stop straight away," he says. Good choice Rafa.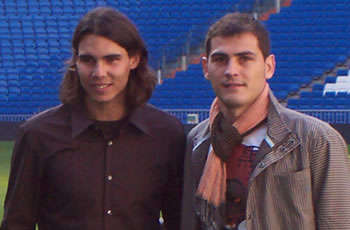 Madridista Rafa | With Iker Casillas
Despite his uncle's Barcelona past, Rafa is a passionate supporter of Real Madrid, as well as hometown club Mallorca.
Widely heralded as the most explosive player on the tour, Rafa knows how to put bums on seats. Even famous ones.
Here
, Zinedine Zidane takes his son to meet his hero at this year's Madrid Masters event, which Nadal won comfortably. Also present are Cristiano Ronaldo and Raul.
Become a fan of Goal.com International on Facebook! Just click onto Facebook.com/Goal to join the beautiful game's leading fan community...