10) Mitsubishi Forklift Stadion (FC Omniworld - Holland)
Holland's FC Omniworld, who play in the equally aptly named Jupiler League, have been the tenants of this gem of a stadium since 2005. Currently residing in the second tier of Dutch football they will need an, ahem, lift to reach their
ultimate goal of the Eredivisie. Ho-ho.
9) Bumthang Stadium (Bhutan)
Football is growing all the time in Bhutan but is lagging in the popularity
stakes behind archery. A few arrows to whoever dreamed up the Bumthang stadium name may just help though.

8) Arnold Schwarzenegger Stadium (Sturm Graz - Austria)
Graz wanted to honour its favourite son and did so by naming Sturm Graz's new venue after the bodybuilder turned movie star in 1997. All was going well until 2005 when Austrian locals were appalled by Arnie's stance on the death penalty when he became the 'Governator' of California. His name was swiftly removed from the venue, terminating what was a crazy idea in the first place.
7) Dick's Sporting Goods Park (Colorado Rapids - USA)

Naming rights truly take the biscuit in America (Home Depot Center anyone) but kudos must go to the Colorado Rapids for putting up with this one. For some reason the earlier proposed name of 'Dick's Stadium' was dropped. Strange that.
6) Hunky Dorys Park (Drogheda United - Ireland)
The Boynesiders were once dubbed the 'Chelsea of the Irish league' due to their big-spending ways which landed them the FAI Cup in 2005 and their first ever league title two years later. Things went downhill rapidly shortly afterwards, with the club enduring financial problems and they now play in a stadium named after a crisp company and their recent form has been anything but hunky dory.
5) Cashpoint Arena (SC Rheindorf Altach - Austria)
You have to love the Austrians for being imaginative with their stadium names,
with this one bearing the name of a sports betting brand. Rumours that you need to use a pin number to get access are believed to be wide of the mark.
4) Bargain Booze Stadium (Witton Albion - England)

Imagine the board meeting. "Hmm, let's come up with something that'll get the
kids and families onboard. Eureka" The English minnows, who play in the Unibond First Division South, enjoyed a brief stint at the Bargain Booze Stadium, named after a discount alcohol brand. Incredibly it didn't last.
3) KitKat Crescent (York City - England)
The picturesque city of York has many things going for it, like the Nestle
factory which bailed out the local football club in 2005. Bootham Crescent
became KitKat Crescent and while hardcore fans were horrified it was, ahem again, a break for the strugglers. Incidentally, there is another team in the same area called Nestle Rowntree Football Club.

2) Middelfart Stadium (Denmark)
The small Danish town of the same name played it safe for this small arena where despite its peculiar title there are no complaints of any bad odours!
1) Wankdorf Stadion (BSC Young Boys - Switzerland)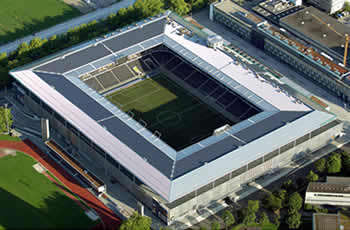 Wankdorf Stadium |
Young Boys' home since 2005.
Arguably the
greatest football headline of all time
was inspired by the move of Young Boys from the old Wankdorf to their new Stade de Suisse Wankdorf in 2005. The old stadium held the 1954 World Cup Final and the 1961 European Cup Final back in its heyday. Never mind that though, it's the name which still cracks us all up.
Can you think of any bizarre stadium names? Goal.com wants to know what YOU think
...

Become a fan of Goal.com International on Facebook! Just click onto
Facebook.com/Goal
to join the beautiful game's leading fan community...