Welcome to Goal.com's regular feature: Goal.com World Player of the Week. Each week our worldwide team of editors will put forward a selected candidate, as chosen by Goal.com International, who deserves recognition for achieving something special that matchday. It won't necessarily be the best player in the world - at least not usually - but whoever we nominate will have done something amazing. It might be for a particularly awesome performance or for something praiseworthy off the pitch - either way, the person in question deserves special attention...
Goal.com World Player of the Week #99: Emmanuel Adebayor (Castrol Ranking: 1159)
Club: Real Madrid (on loan from Manchester City)
Country: Togo
Age: 27
Role: Striker
Achievement: Scored twice against Tottenham in Champions League

Emmanuel Adebayor was not the first name Jose Mourinho had in mind when he asked his bosses at Real Madrid to sign him a striker in January. But failure to recruit Ruud van Nistelrooy from Hamburg forced the Blancos coach to hire Adebayor, a Manchester City player considered surplus to requirement at Eastlands.
In Spain, though, the Togolese attacker is a much-wanted man and showed his importance to the team in their 4-0 demolition of Tottenham in the Champions League last week. It was the first time in seven years that the Bernabeu crowd had the chance to watch their team compete in the quarter-finals of Europe's premier club competition, and an Adebayor-inspired XI did not disappoint.
The 27-year-old gave the nine-time European champions the lead after just five minutes with a typical centre-forward's header from a corner and doubled the advantage again on 57 minutes with another textbook header. Adebayor proved himself to be the target man that Mourinho had been looking for and, interestingly, those two goals in the first-leg were his ninth and tenth goals against Spurs.
Not only was Adebayor graceful on the pitch, but he was elegant off it too. There were allegations that a section of the Spurs fans at the Bernabeu had abused him with racist chants but the former Monaco striker, who spent three-and-a-half years with Arsenal, remained dignified.
"Coming from Africa, I'm just very happy, playing football is like a dream that has come true," said Adebayor. "And I just want to send big support to all Africa, with what is happening in Libya and what is happening in the Ivory Coast. I've got a lot of family, a lot of friends.
"Racists are always there and we can't do anything to stop it. Samuel Eto'o and big players have spoken about it better than I do, but it's not stopped them."
Despite his impressive performances for Madrid since joining them in January, Adebayor's future in the Spanish capital is still uncertain - the Merengues may not make his loan deal a permanent one. Nevertheless, Adebayor has already scored two of the most important goals in Madrid's recent European history.
Congratulations to Emmanuel Adebayor, Goal.com's 99th world player of the week!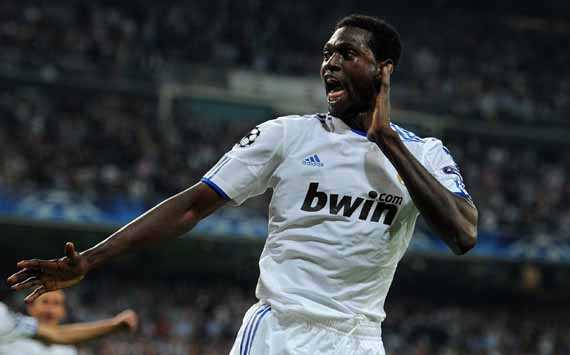 Adebayor on target | The Togolese is impressing in Madrid
Honourable Mentions

Rio Ferdinand – Manchester United (Castrol Ranking: 119)
Rio Ferdinand has struggled for much of this campaign with injury but he was at his imperious best against Chelsea in the Champions League last week. The England international centre-back put in a masterclass performance alongside Nemanja Vidic against the Blues and helped his side earn an important 1-0 away victory in the first-leg of their quarter-final tie.
Edu – Schalke (Castrol Ranking: 1308)
Edu was arguably the best player on the pitch at San Siro against Inter in the first-leg of Schalke's Champions League quarter-final tie. He scored twice and put in one of the best performances of his career in their 5-2 win. Then at the weekend the Brazilian produced yet another good display, this time in the Bundesliga in the Royal Blues' 1-0 victory over Wolfsburg.
Roberto Soldado – Valencia (Castrol Ranking: 41)
Roberto Soldado scored all four goals for Valencia against his former club Getafe in the Primera Division last weekend in their 4-2 victory, and was on target twice in the Che's 5-0 demolition of Villarreal on Sunday evening.
Papiss Cisse – Freiburg (Castrol Ranking: 39)
Papiss Cisse has been in brilliant form for Freiburg this season and he was again on song against Hoffenheim in the Bundesliga on Saturday evening. The Senegal international striker's goal this weekend was his 20th in 27 league appearances and also saw him emulate the feat of Tony Yeboah, who was the first African player to score 20 goals in a Bundesliga season.
Francesco Totti – Roma (Castrol Ranking: 681)
Francesco Totti continued to prove himself one of Roma's most valuable assets as he scored twice in their 2-1 victory over Udinese. The veteran Italian gave the Lupi the lead in the second-half from the penalty spot and popped up in injury time to net the winner after the Bianconeri had equalised late in the match. Roma's chances of Champions League qualification for next season have been resuscitated.
Leave your notes of congratulations for Emmanuel Adebayor below, or discuss who else deserves a place in the spotlight this week...