Welcome to Goal.com's regular feature: Goal.com World Player of the Week. Each week our worldwide team of editors will put forward a selected candidate, as chosen by Goal.com International, who deserves recognition for achieving something special that matchday. It won't necessarily be the best player in the world - at least not usually - but whoever we nominate will have done something amazing. It might be for a particularly awesome performance or for something praiseworthy off the pitch - either way, the person in question deserves special attention...
Goal.com World Player of the Week #96: Samuel Eto'o (Castrol Ranking: 47)
Club: Inter
Country: Cameroon
Age: 30
Role: Striker
Achievement: Inspired Inter to a victory over Bayern Munich in Germany in Champions League
In 2008-09 Samuel Eto'o played a key role in Barcelona's march to the Spanish Primera Division title, the Copa del Rey and the Champions League. In 2009-10 the Cameroon international striker won Serie A, the Coppa Italia and the Champions League with Inter. And this season he could well repeat his feat with the Nerazzurri.
Last week Inter travelled to Munich to confront Bayern in the second leg of their Champions League last 16 tie. Having lost the first leg 1-0 in Milan and with a coach in Leonardo who has (or maybe, had) yet to prove himself in Europe, the Beneamata looked as good as out.
But then along came Eto'o. He scored as early as the fourth minute and that levelled the tie at 1-1. In what eventually proved to be a topsy-turvy epic encounter, the Cameroonian was the one who gave his all from start to finish, maintained consistency and was the difference between the two teams.
Eto'o provided the assists for Inter's two other goals at the Allianz Arena and despite having won virtually everything in club football, the former Real Madrid and Real Mallorca striker still has hunger for more.
On Sunday afternoon Eto'o lost the limelight to his strike partner Giampaolo Pazzini as the Italy international netted the only goal in their 1-0 victory over Lecce at San Siro. Yet he was also once more an important player as he gave another good performance and almost set up two goals.

Congratulations to Samuel Eto'o, Goal.com's 96th World Player of the Week!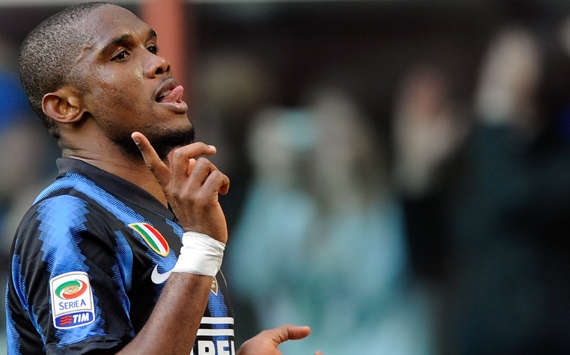 Honourable Mentions
Karim Benzema – Real Madrid (Castrol Ranking: 312)
Karim Benzema has been at full throttle in the second half of the 2010-11 season and carried on with his great run of form last week. The France international midfielder was on target against his old club Olympique Lyonnais in the second leg of their round of 16 tie in the Champions League to help Real Madrid to their first quarter-final of the competition in seven years. Then on Saturday evening Benzema opened the scoring for the Blancos against Atletico Madrid in the derby to put his team on course to a 2-1 win.
Francesco Totti – Roma (Castrol Ranking: 681)
Francesco Totti scored twice for Roma against Lazio in the Rome derby last weekend and he was on target twice this weekend too. The veteran Italian attacker netted both goals in the Lupi's 2-2 draw with Fiorentina in Florence on Sunday afternoon, with his first goal also marking his 200th goal in Serie A.

Javier Hernandez – Manchester United (Castrol Ranking: 1254)
Javier Hernandez has been a revelation this season and scored twice against Olympique de Marseille in the Champions League last week to lead the Red Devils to the quarter-finals. Both of the goals 'Chicharito' scored against the French giants were typical striker's finishes.
David Luiz – Chelsea (Castrol Ranking: 2057)
David Luiz is proving why he was so widely hunted before Chelsea snapped him up as the Brazil international centre-back displayed yet another brilliant and reliable performance for the reigning Premier League champions. Luiz played a sensible game in defence against Manchester City in the Premier League on Sunday and also scored in their 2-0 victory.

Andre Ayew – Olympique De Marseille (Castrol Ranking: 58)
Andre Ayew was one of the few notable players for Olympique de Marseille against Manchester United at Old Trafford last week, and then on Sunday evening produced an encouraging performance against Paris Saint-Germain, scoring what eventually proved to be the winning goal in their 2-1 triumph.
Alessandro Del Piero – Juventus (Castrol Ranking: 604)

Juventus returned to winning ways on Sunday afternoon after four matches and Alessandro Del Piero was at the heart of the victory. The veteran Italian forward scored a wonderful solo goal on 68 minutes against Brescia in Serie A after he got past two players. It was the second Bianconeri goal and that helped them win 2-1, reviving hopes of a top-six finish in the league.
Balazs Dzsudzsak – PSV (Castrol Ranking: N/A)
Balazs Dzsudzsak created the only goal in PSV's tie with Rangers in the round of 16 in the Europa League. It came in Glasgow in the second leg last week and saw the Dutch giants progress to the quarter-finals of the competition. Not only that, Dzsudzsak also had a free-kick come off the post.

Leave your notes of congratulations for Samuel Eto'o below, or discuss who else deserves a place in the sun this week...