Welcome to Goal.com's regular feature: Goal.com World Player of the Week. Each week our worldwide team of editors will put forward a selected candidate, as chosen by Goal.com International, who deserves recognition for achieving something special that matchday. It won't necessarily be the best player in the world - at least not usually - but whoever we nominate will have done something amazing. It might be for a particularly awesome performance or for something praiseworthy off the pitch - either way, the person in question deserves special attention...


Goal.com World Player of the Week #60: Andres Iniesta
Club: Barcelona
Country: Spain
Age: 26
Role: Midfielder
Castrol Ranking: 113
Achievement: World Cup-winning goal and performance


Andres Iniesta started the World Cup as a shadow of his usual effervescent self. Injuries had hampered his preparations for the South Africa tournament and he, along with his Spain team-mates, laboured early on.
However, the Barcelona playmaker came into his own once he got minutes under his belt and began to influence and dictate the play in his own inimitable manner.
His mazy dribbling, accurate passing and subtle presence in the final third helped propel la Furia Roja towards the World Cup final, where they tangled with The Netherlands. Iniesta was man of the match at Soccer City and was at the heart of Vicente Del Bosque's crucial attacking play.
It was his solitary goal, deep into extra-time, that permitted the Iberians to lay their hands on the trophy for the very first time.
He won it all at club level; he's now won it all with Spain too.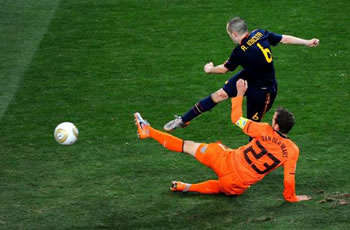 Congratulations to Don Andres, Goal.com's 60th World Player of the Week!

Honourable Mentions

Diego Forlan - Uruguay

Earned the Golden Ball to go alongside his share of the Golden Boot.

Iker Casillas - Spain

The World Cup-winning captain kept two vital clean sheets and pulled out some remarkable stops.

Wesley Sneijder - The Netherlands

The Inter man was the difference in the semi-final and looked to have the weaponary to disturb the Spaniards on Sunday. Alas it was not to be. A fine tournament nonetheless.

Leave your notes of congratulations for Andres below, or discuss who else deserves a place in the sun this week...