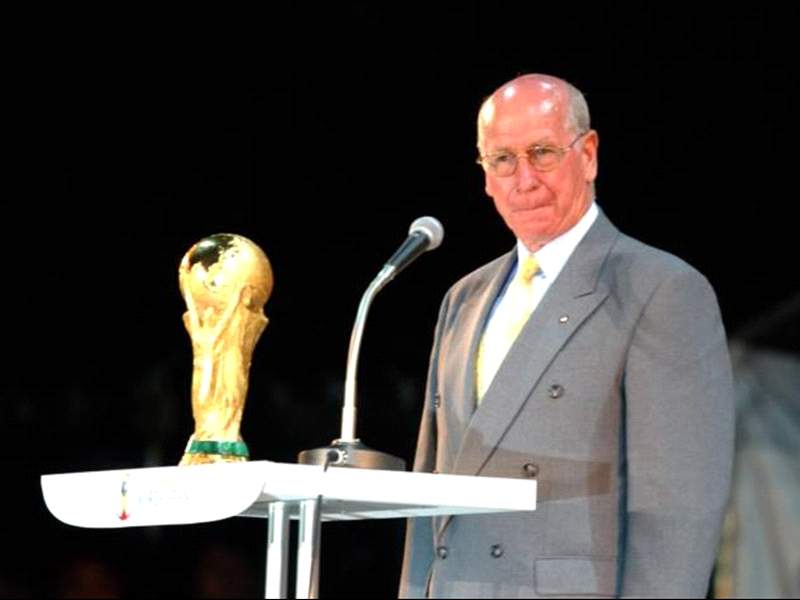 No.50 - John Terry
No.49 - Tony Currie
No.48 - Terry Butcher
No.47 - Gerry Hitchens
No.46 - Paul Ince
No.45 - George Camsell
No.44 - Wayne Rooney
No.43 - Jackie Milburn
No.42 - Roger Hunt
No.41 - Rio Ferdinand
No.40 - Wilf Mannion
No.39 - Frank Lampard
No.38 - John Barnes
No.37 - Nat Lofthouse
No.36 - Eddie Hapgood
No.35 - Chris Waddle
No.34 - David Platt
No.33 - Phil Neal
No.32 - Johnny Haynes
No.31 - Peter Beardsley
No.30 - Ray Clemence
No.29 - Ted Drake
No.28 - Michael Owen
No.27 - Raich Carter
No.26 - Colin Bell
No.25 – Frank Swift
No.24 - Paul Scholes
No.23 - Tony Adams
No.22 - Martin Peters
No.21 - Billy Wright
No.20 - Geoff Hurst
No.19 - Cliff Bastin
No.16 - Bryan Robson
No.15 - Alan Shearer
No.14 - Paul Gascoigne
No.13 - David Beckham
No.12 - Dixie Dean
No.11 - Alan Ball
No.10 - Peter Shilton
No. 9 - Gary Lineker
No. 8 - Duncan Edwards
No. 7 - Kevin Keegan
No. 6 - Jimmy Greaves
No. 5 - Tom Finney
No. 4 - Gordon Banks
No. 3 - Stanley Matthews
No. 2 - Bobby Moore

Robert "Bobby" CHARLTON
Born: 11 October 1937, Ashington, Northumberland
England: 106 caps, 49 goals
Clubs: Manchester United, Preston North End, Waterford United
No-one symbolises English football - or a nation's sporting aspirations and achievements - more than Bobby Charlton. During the 1960s he was the most famous - and popular - Englishman in the world, a byword for sportsmanship and fair play, whose fame and universal esteem were based upon the twin virtues of phenomenal footballing ability and a quintessentially Corinthian spirit.
He was, and remains, English football's ultimate ambassador, with an unsurpassed record of achievement in the game.
That record is impressive enough: Charlton won three Football League championships, the FA Cup, European Cup and World Cup; was Footballer of the Year in both England and Europe; and scored more goals for Manchester United and England than any other player. But it is also the context of his career that made it so unique, poignant and globally admired.
For Charlton was shaped and forever affected by the Munich disaster that decimated an outstandingly vibrant team in which he was a rising star of huge promise. Surviving that horror, he was thereafter burdened with the awful question, 'why me?' - while at the same time becoming the focus of his mentor Matt Busby's determination to rebuild a team that would honour the memory of those who had perished. That he met the challenge with such style and success is why Bobby Charlton is number one among
Goal.com
's greatest English players of all time.
Busby said of Charlton, "There has never been a more popular footballer. He was as near perfection as man and player as it is possible to be." Sir Alf Ramsey, England's manager when they became world champions, put it more prosaically, "He was one of the greatest players I have seen, very much the linchpin of the 1966 team. Early in my management I knew I had to find a role suitable to Bobby's unique talents. He wasn't just a great goalscorer, with a blistering shot using either foot. Bobby was a player who could also do his share of hard work."
Charlton was born to play football. It was, quite literally, in his blood. His mother Cissie was one of the Milburns, a footballing clan from the Northumberland mining community. Charlton's grandfather and four of his uncles were professional players, one of them 'Wor' Jackie Milburn, the legendary Newcastle United centre-forward who is deified on Tyneside. Cissie herself was passionate about the game and coached it to children. So it was inevitable that her own sons Bobby and Jack - who forged an illustrious playing career with Leeds United and England - would be footballers.
Bobby grew up supporting Newcastle but was mesmerised by the wizardry of Stanley Matthews, from whom he noted the importance of balance, the timing of runs, and speed over the first 10 yards. He represented England Schools and his potential soon attracted a host of scouts from leading clubs to the Charlton's Ashington home.
He opted to join Manchester United, becoming a 'Busby Babe' as the former Scotland wing-half implemented his vision of a successful club built upon a productive youth system and European competition.
United had won the League in 1955-56, and the following season defied the FA by entering the fledgling European Cup, progressing to the semi-final where they lost to Real Madrid. Charlton was drafted into the team in autumn 1956, appropriately enough against Charlton Athletic, scoring twice on his debut. He won a League championship medal as United retained the title, and also played in his first FA Cup final, though Aston Villa controversially denied United the double.
In 1957-58, their second crack at the European Cup was progressing thrillingly, Charlton scoring twice in a 3-3 draw against Red Star in Belgrade that put them through to another semi-final. Then disaster struck on February 6, 1958, when the plane in which they were flying home crashed in the slush on the runway at Munich, where it had stopped to refuel. As the aircraft broke in two, Charlton was flung from the wreckage, still strapped in his seat. Harry Gregg and Bill Foulkes, heroically pulling survivors to safety, at first thought Charlton was dead. In fact Bobby was suffering from head cuts and shock, and was the first to be discharged from hospital. Seven team-mates died on the runway, and an eighth - Charlton's great friend and hero, Duncan Edwards - died in hospital.
When the seriously injured Busby eventually returned to Manchester, 20-year-old Bobby Charlton became the key figure in his rebuilding plans.
Charlton earned his first senior England cap two months after the disaster, scoring a sensational goal against Scotland. In May he was in the FA Cup final again, as a makeshift United side lost to Bolton. Then he was off to Sweden with the England squad for the 1958 World Cup.
At this stage of his career he was playing on the left-wing, though later he would move to inside-forward and ultimately into the deep-lying centre forward role - essentially an attacking central midfielder - for which he is best remembered.
Busby had said it would take five years to rebuild a winning team, and in 1963 Charlton collected an FA Cup winner's medal as United beat Leicester. The following season, with the dazzling trinity of Charlton, Denis Law and George Best now firmly in place, they finished runners-up to Liverpool in the League; and in 1964-65 were crowned champions again. They repeated the achievement in 1966-67; but in between was the little matter of the World Cup, hosted on English soil.
Charlton hadn't played in 1958, but was a regular by 1962 in Chile, when England lost to eventual winners Brazil in the quarter-finals. In 1966 he and his team were destined to go all the way. They began inauspiciously against Uruguay, but in the second group game, against Mexico, Charlton lit the fuse of English expectations, firing home a stunner after collecting the ball from deep and running 30 yards with it before letting fly with a thunderbolt.
It was vintage Charlton, a scorer of great goals. Further wins against France and Argentina took England to the semi-final, where Bobby produced possibly his best performance in an England shirt, unsettling Portugal's defence with his runs, spraying passes with precision and hitting both goals in a 2-1 win. In the final against West Germany, Franz Beckenbauer was deployed to try and shackle Charlton's effectiveness; the Englishman edged the contest, and his team - which included brother Jack - lifted the World Cup. Bobby, already England's Footballer of the Year and European Footballer of the Year in 1966, was also voted Best Player of the World Cup.
But if it was a case of job done on the international stage, there was still unfinished business in the European Cup. United's League title in 1965 was their passport back into the competition. They stormed into the last four, thrashing Benfica 5-1 away in the process, with Best and Charlton lighting up Lisbon; but the semi-final took them to Belgrade for the first time since Munich, and they were beaten 2-1 on aggregate by Partizan. The dream was put on hold.
Recapturing the League in 1967 meant the wait would not be long. The quest for the holy grail began with aggregate victory over Hibernian Valletta. Then FC Sarajevo and Gornik Zabrze were overcome, setting up a semi-final with Real Madrid, as Busby told journalists, "I feel this is our year."
United took a precarious 1-0 lead to Madrid for the decisive second leg, and without the injured Law trailed 3-1 at the break. Yet goals from David Sadler and Foulkes rescued the dream in the second-half, prompting Charlton to hail the match as the greatest he ever played in.
May 29 1968 at Wembley was thus United's day of destiny, with Eusebio's Benfica the dangerous and experienced opposition. The Eagles of Lisbon had appeared in four previous European Cup finals, winning two of them. In contrast, this was the first time United - or any English team - had reached the final.
CAREER HIGHLIGHT

Finally conquering Europe
A week before the match, Charlton had broken Jimmy Greaves's record of 44 goals for England when he scored against Sweden; but he hadn't yet scored in United's European Cup campaign. Captaining his team, he rectified that just after half-time with a rare but perfectly executed header from a Sadler cross to put United ahead. But Graca equalised in the 81st minute, forcing extra-time. Mercurial Irishman Best scored a marvellous individual goal, Brian Kidd headed a third, and Charlton hit the fourth to complete Busby's mission ten years after his Babes had been destroyed.
Busby received a knighthood, Charlton was honoured with the OBE, and United reached the semi-finals of the European Cup the next season; but with Busby retiring, the team was heading into decline.
Internationally, Charlton still had the challenge of defending the World Cup to look forward to in 1970. But that Mexican quest foundered against West Germany in the heat of Leon, despite England having led 2-0. Charlton was substituted by Sir Alf, who wanted to save him for a semi-final which the Germans snatched from England with a 3-2 win after extra-time.
Charlton decided to retire from playing at the end of the 1972-73 season. The following year United were relegated. He had scored a record 247 goals for the club in 758 games – an appearance record that Ryan Giggs broke in the 2008 Champions League final. For England, Bobby had made a record 106 appearances (subsequently overtaken by Bobby Moore, Peter Shilton and David Beckham) and scored 49 goals, which remains unequalled.
He took the reins at Preston North End, and played for them in 1974, but realised he was not cut out for management, though he did briefly caretaker-manage Wigan Athletic while on the board there. In 1974 he was awarded the CBE, and in 1975-76 scored 18 goals in 31 appearances for Waterford United in Ireland.
Charlton ran several businesses and established successful soccer schools in the UK and around the world. In 1984, he was invited onto the board at Manchester United, and is still a director. He was instrumental in the appointment of Alex Ferguson as manager in 1986, recognising in the Scot the same skills, drive and vision with which Busby had led United.
Knighted in 1994, in April 2009 he was further honoured when UEFA president Michel Platini presented him with a special award recognising his outstanding contribution to European football. Platini said it was a privilege to present the UEFA President's Award to an outstanding ambassador and role model who "represents everything that is good about the game of football; fair play, respect, and true loyalty, and is a good example for future generations, both on and off the pitch".
As for the football, current England coach Fabio Capello recently said Charlton was the one past player he would love to have in his current England squad. "He was a midfielder, a bit like Alfredo di Stefano. He had the same style. He ran a lot. He could defend and attack. Overall, he was a really fantastic player."
The late George Best - a team-mate with whom Sir Bobby had an occasionally fractious relationship - summed up Charlton's ability succinctly, "I've never seen anyone go past players as easily as he did."

HONOURS
World Cup winner - 1966
Football League First Division champion - 1956–57, 1964–65, 1966–67
FA Cup winner - 1963
European Cup winner - 1967–68
Charity Shield winner - 1956, 1957, 1965, 1967
European Player of the Year - 1966 (runner-up - 1967, 1968)
FWA Footballer of the Year - 1966
PFA Merit Award (1974)
BBC Sports Personality of the Year Lifetime Achievement Award - 2008
UEFA President's Award - 2009
DID YOU KNOW
...That Bobby Charlton helped promote Manchester's bids for the 1996 and 2000 Olympic Games and the 2002 Commonwealth Games, England's bid for the 2006 FIFA World Cup and London's successful bid for the 2012 Olympic Games... that he is honorary president of the National Football Museum... and that he is involved in a number of charitable activities including fund raising for cancer hospitals, and the land mine clearance charity Mines Advisory Group?
Graham Lister, Goal.com