Intercontinental Cup
2018 Intercontinental Cup: Sebastien Migne - We have a difficult game against India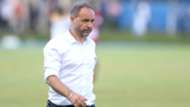 Kenya successfully came from behind to defeat New Zealand 2-1 in their first game of the 2018 Intercontinental Cup at the Mumbai Football Arena on Saturday evening.
Sarpreet Singh scored a 42nd minute opener for the team from the Oceania Football Confederation (OFC) but the African side drew parity through Miheso Cliffton's (45+1') inch-perfect free-kick before Ovella Ochieng bagged a 68th-minute winner.
Disappointed with the manner of loss, New Zealand coach Fritz Schmid said, "What Kenya did to deserve the win was that they took our offer to score in certain crucial moments of the game. We took the early lead, and had good grip and possession along with scoring opportunities to even close the game in the first half." 
"Looking at the age of the team, we need these lessons. Even if you haven't scored, you can get your shape get back with the lead in the second half. We struggled in the latter half in physicality and that's another point we have to look at. Big amount of the team plays in the off-season, some of them are inactive and that's where we lagged," he reasoned.
Sebastien Migne, the Kenya coach, on the other hand, was content with the display from his side despite the absence of several first-team players.
"We're happy to win; it was a fantastic opportunity for my players to discover a new continent and opposition. It was difficult for us to find a good balance in the team because of the unavailability of players," he mentioned.
The Frenchman conceded that his boys will have it tough against India on June 4, a day before New Zealand's game against Chinese Taipei who were beaten 5-0 by the host nation on Friday.
"We have a difficult game against India. We have only two days to recover but we will try to put on a good attitude. When you have only two days to recover but we don't have a choice, hence the challenge against India will be good. We know it will be difficult, but with a good attitude, everything is possible. 
"I know India has quality and have qualified for [the 2019 AFC (Asian Football Confederation)] Asian Cup, I follow them closely. Sunil Chhetri can be interesting for the future and has good quality. He has something interesting. Kenya will try to be a good opponent," the former Republic of Congo coach signed off.