WC Qualification Asia
2018 AFC World Cup Qualifiers: UAE coach Edgardo Bauza puts emphasis on capitalising on home advantage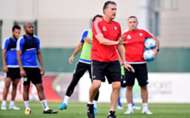 UAE have two games left in their 2018 World Cup qualifying campaign against Saudi Arabia and Iraq. Despite having virtually no chance of qualifying for the World Cup, head coach Edgardo Bauza has urged his team to secure wins.
Bauza's first competitive game in charge saw UAE draw 1-1 away to Thailand and left them six points off qualification.
The Whites host Saudi Arabia in Al Ain on August 29 before they face Iraq in Jordan on September 5.
While two wins will probably make no difference to their chances of qualification, Bauza wants his team to start building a good home record, starting with Saudi's visit.
"We want to use home advantage to restore a winning streak," he told reporters at a training session this week.
"This is very necessary to build upon for the next stage, regardless of our chances of qualifying.
"The next period requires more effort and continuous work to prepare a competitive team for all tournaments especially the 2019 Asian Cup, which will be held in the UAE.
"I do not fear anyone, be it Saudi Arabia or Iraq. Our focus will be on beating Saudi before we turn our attentions to Iraq. We won't think about qualifying but winning and nothing else."