UEFA Champions League
2018-19 UEFA Champions League: Best goals of the season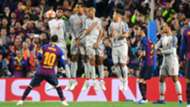 The 2018-19 UEFA Champions League produced some breath-taking goals.
Barcelona had already scored twice past Liverpool in the first leg of the semi-finals at Camp Nou when Lionel Messi, from 30 yards out, curled his free-kick that he went past Alisson Beckers's outstretched dive to his right and into the top corner.
In the other semifinal, Tottenham Hotspur had Lucas Moura's nerves of steel to thank for. In the sixth minute of injury time in the second leg, having already scored a second-half brace at the Johan Cruyff ArenA, the Brazilian got in between two defenders and scored to send Ajax packing.
That was before Ajax had hammered the final nail in the coffin for Real Madrid's campaign came in the form of Lasse Schone's perfectly dipping free-kick from the left, beyond the reach of Thibaut Courtois at his far post to send the Dutch outfit through to the quarter-finals with a 4-1 win at the Bernabeu.
Next we feature a gem from Leroy Sane. Certain of their progress to the knockout stage, Manchester City were nearly going into the break a goal down against Hoffenheim in their final group game. Until Sane got behind the ball a few yards outside the box and sent his powerful left-footed free-kick with enough curl on it to enter the top right corner.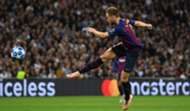 Ivan Rakitic scored a stunner in Barcelona's 4-2 win over Tottenham. The Croat displayed pure technique to unleash a first time volley after Philippe Coutinho pulled back a pass from the near post. Hugo Lloris was back on his feet after denying Coutinho from close range but his the goalkeeper's full length dive to the right couldn't stop the ball from smashing off the inside of the post before hitting the back of the net.
There were also brilliant strikes from Raheem Sterling and Philippe Coutinho, David Neres and more.
However, the set of best goals from the 2018-19 UEFA Champions League cannot be complete without Ronaldo's first time shot from Leonardo Bonucci's long ball in the box that left David de Gea motionless at his near post.