Spain's number one and captain was a vital member of his nation's first ever World Cup success. He overcame the disappointment of the Switzerland defeat to keep five clean sheets and was never beaten in the crucial knock out phase. After picking up the Adidas Golden Glove award the Real Madrid shot-stopper spoke to Goal.com's Spanish chief editor Sergio Aguilera.
Goal.com: What does it mean to you to win this prize?

Iker Casillas: Winning this award means that on a personal level I have achieved something important, on a personal level it's nice that they give you awards and it's an honour. To be the best in a tournament like the World Cup is a success for me personally.

Goal.com: What do you think are the reasons that made it possible for you to win this award?

Casillas: More than anything, it's because the team has come so far during the tournament. The team has been very good defensively and often when rivals arrive at our goal, I have always tried to remain as firm as possible. I think the team has been the best defensive.

Goal.com: What do you think are your qualities to win this time? What difference do you think the rest from other goalkeepers?

Casillas: I think I'm very calm in adversity, always remaining calm and I don't panic. I think that's the main thing.

Goal.com: What do you think of the other two winners, Diego Forlan and Thomas Müller?

Casillas: Forlan is a fantastic player, a formidable player, a player who won the Best Player [Golden Ball] award at the World Cup. Mueller is a young player; Sami [Khedira and [Mesut] Oezil say that he is a great player and he will surely be a regular goalscorer for Germany soon.

Goal.com: Tell us a confession, how many times have you seen the World Cup matches?
Casillas: Well, three or four times already. We all like to see things that have gone well. The least I've seen is the match against Switzerland, but the others I've seen and I like to see them, to remember the details, moments in the game that you might not remember ... I do not want to forget them.

Goal.com: Now you can watch the World Cup with perspective, what do you think was the turning point?

Casillas: The key moment was the loss against Switzerland, the bad luck we had and the way they caught us out. I sincerely believe that it's a game that we would lose once in a hundred, and we lost on that day. Another key moment was the semi-final against Germany. We played a very mature game, very organised. I think it was THE game. Any rival who wants to analyse Spain as a team only has to watch that game.

Goal.com: What are your favorite memories of the World Cup?

Casillas:The match against Paraguay because there was a lot of talk about me, about the goalkeepers, and I know I have to thank both Victor [Valdes] and Pepe [Reina] for the way in which they carried themselves, the good atmosphere we had, and it was great to experience it.

Goal.com: What do you think was the aspect that made the difference, the defining element that made it possible to win the World Cup?

Casillas: What made the difference was the quality we had. Holland tried to get us out of the game by kicking us. They were not the Holland that we had seen in other games, the Holland that did not make so many fouls and tackles. But the truth is in the final, Spain controlled the ball really well and that was the only way to stop us.

Goal.com: What do you think has to happen for this success to be repeated? Do you think Spain can win the World Cup again?

Casillas: Spain always go into a tournament with the idea of performing the best we can. And it is clear that there is a law of life, which is that everyone gets older, but there is always something that lasts. And it is also true that there are young players who are getting into the team and they are implementing the ideas of the veterans.

Goal.com: How do you see the generational change in the team? Do you think the young players will be able to maintain the same level?

Casillas: Of course. Cesc [Fabregas] is young but he is very prepared and very experienced. I believe he has to take over from Xavi. In any case, we are talking about at least another least two years minimum before this will happen, or can happen.

Goal.com: With so many awards you've won, so many titles that you got, do you've still have any goals left to accomplish?

Casillas: Goals? Many. If I have no goals, I would retire now. I still have many: to win another league title, to win the Champions League, to win the Copa del Rey. To win the European Championships again. The Confederations Cup, on the other hand, we will approach it differently. We will go to Brazil to have fun. Whoever wins the Confederations Cup doesn't mean they are guaranteed to win the World Cup, so let's go there to see what it's like there in Brazil for the following year.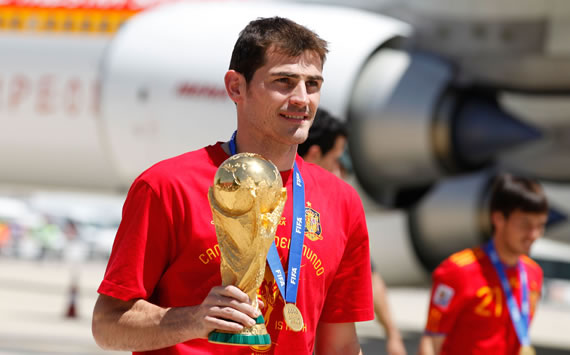 Goal.com: Despite many successes, you are a person who always has his feet on the ground. How do you keep a cool head, to remain so humble?

Casillas: Well, I'm from Madrid, I have my people here, I have my environment, I have my friends ... my friends, the environment, my people and my family is what makes this possible.

Goal.com: Why do you think people have so much affection?

Casillas: I am as I am, I have no masks. Since I was young, people have known me and I have grown almost all over the world, people have seen me grow and know who I am.

Goal.com: What are your predictions for Real Madrid this season?

Casillas: I do not like to talk about predictions, I like to talk about going slowly. I think in this 'Tour' we have to go step by step. It is not a 'sprint' we are not going to think about winning the red jersey.
Goal.com: Our brand is Goal.com, so we always like to close with this question: What is the most memorable goal for you?

Casillas: The goal by Maradona, which is what I remember most vividly. But if I have to choose one, I'll take the goal scored by Juan Antonio Senor in the 12-1 win against Malta. The commentary from Jose Angel de la Casa was spectacular.
Fancy winning a signed pair of gloves by Iker Casillas? Enter our great competition to be in with a chance of winning this prize plus a signed ball from Diego Forlan and a signed boot from Thomas Mueller all courtesy of Adidas.

Just answer this simple question; Which country won the 2010 World Cup? Email your answers to adidascompetition@goal.com with your name and location. Deadline for entries is Friday at 9am UK time.