Former Uruguay striker Ruben Sosa has been discussing his career in an exclusive interview with
Goal.com
, and reflected on his exploits in European football with the likes of
Lazio
and
Inter
in
Serie A
.
The 44-year-old also enjoyed spells with Real Zaragoza in Spain as well as a season in the Bundesliga with Borussia Dortmund, and represented his country on 46 occasions across an 11-year period.
Goal.com's Latin
site discussed with Sosa his memories from his time as a player, the style of football in each country, and how Serie A matches up to the standard of his day.
He explained: "I liked Spanish soccer the best. The Spanish game was more open than the Italian game. I think that European football is more physical, whereas [South America] has more technique. However, I believe that Spanish football is one of the prettiest there is.
"I was very young when I moved to Spain at 18 years old. I believe that when a player is fast and quick he has more options to play. A faster forward can look for the ball from all sides, and if they have technique, all the better.
"I still have many friends in Zaragoza because my daughter was born there, and I enjoyed my years there."
Sosa then commented on his brief spell in German football.
"It is fast football, I believe it was more of a physical shock to me rather than being technical. But I see that there are many fans. The fans are passionate about soccer. It was a beautiful year for me, because we won the German championship."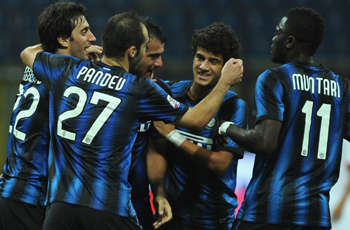 Ruben Sosa compared the Inter of 1994 to the current team
Sosa's most successful period was during his seven-year spell in Serie A, where four seasons at capital club Lazio led to UEFA Cup glory with Inter in 1994. He reminisced about his time in Italy.
"I have great memories of my time at Inter, of playing on a stage like the San Siro. The fans used to chant my name when I scored goals, and that was one of the most important teams for me.

"I still have many friends, and whenever I go there they treat me well. It is always pleasant."

The explosive striker added however that the Nerazzurri team of his era is incomparable to the modern-day European champions.
"At the time I was playing, there was the three foreigners rule, and Inter had had players like [Lothar] Matthaus and [Jurgen] Klinsmann, whereas Milan has [Frank] Rijkaard, [Ruud] Gullit and Marco van Basten.

"It was difficult to play. The football level may be similar, perhaps slightly faster, but I cannot say if this is superior or not."

Finally, Sosa discussed the dominant Milan side he faced up to during his time in Serie A, and added that it is always tough for a team of quality to maintain their high standards over an extended period of time, when referring to the current form of the Rossoneri.

He concluded: "That Milan team gained five championships and they were very difficult to beat. The foreign players they had, plus the Italians, they were almost unbeatable, but it was necessary to give them a challenge.

"It was always going to be difficult to preserve a great team. It would be impossible to form another Milan team like that, because those players no longer exist in the game now."