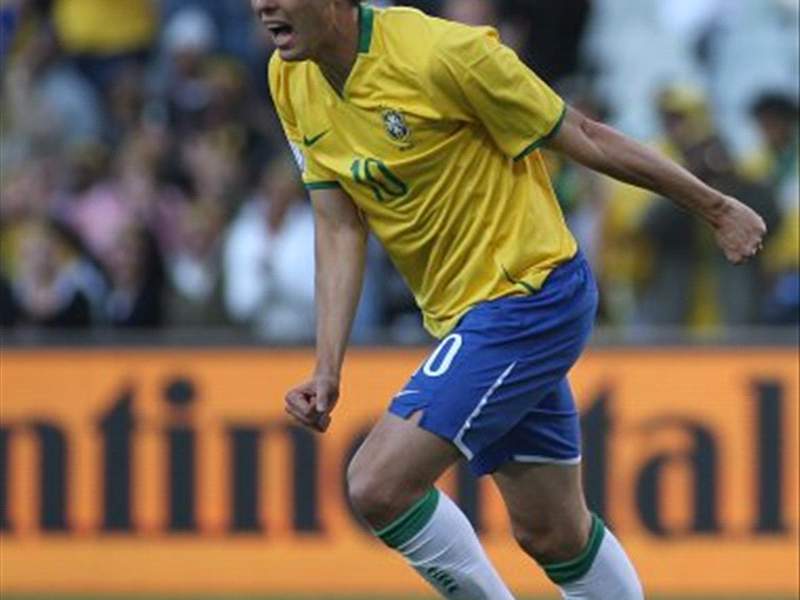 BRAZILJulio Cesar -
6.5
- Another solid showing from one of the world's top goalkeepers. Was rarely called into action but kept guard without any trouble and quite frankly, could do very little about the efforts that beat him.
Dani Alves - 8 -
Lost Zidan for Egypt's opener, but he was only covering for absentee centre-backs. Hit a good free-kick that forced a save that led to Brazil's third goal from the resulting corner. Occasionally lost his bearings defensively, but more solid than not, and essentially won the game when chasing a bad ball, running inside, winning a free-kick and then taking it very well, with a penalty being won as a result.
Lucio -
5
-
Was caught cold when Egypt cut straight through Brazil to fire home a third goal just seconds after they'd netted their second.
Juan - 7 -
Could be held partially responsible for failing to track Zidan's run for Egypt's first goal. Missed a free header at the other end soon after, but got another chance and nodded it home impressively.
Kleber - 6 -
Needed to follow the run of Abou Treika as he set up the first goal, and though he did get forward well and put in some good crosses, he was too often overwhelmed defensively and looked a little short of peak fitness.
Felipe Melo - 6
- A bit of a vacant showing from a player that still looked a little drained of energy from his season-long exploits and the travelling he did with his national side last week.
Gilberto Silva - 5 -
A laboured showing in which he struggled to keep pace with the opposition or impose himself on the game at all.
Elano - 7 -
Provided the corner that produced Juan's goal and the free-kick for Luis Fabiano's, as well as various other top-class deliveries, but was otherwise unable to affect the game as he would have liked in open play and as a result, Brazil barely got going. Subbed on the hour.

Kaka - 8 -
Showed great perseverance and a striker's composure to score the opening goal early on but otherwise found his contributions limited due to the poor performance from Brazil's midfield. Made some good runs, had a couple of efforts and generally did look like Brazil's most threatening player. Won the game when keeping his head from the spot in the last minute.
Robinho - 7 -
Provided the assist for the opening goal but was otherwise fairly muted, unable to get a run on the defenders and with no real chances at goal. Subbed as Brazil chased the win.
Luis Fabiano - 7.5 -
Scored a great header to put Brazil 2-1 up from an Elano free-kick, but was otherwise quite limited in ways he could affect the game and was quiet for large periods.
Substitutes
Ramires -
6
- Full of energy as always, but didn't see enough of the ball to test the Egyptians.
Alexandre Pato -
5
- A tight Egyptian defence saw to it that Pato didn't get much involvement in his cameo and indeed, the one chance he had, with his head, was way off target.
Andre Santos -
n/a
.
EGYPTEssam El Hadari - 7 -
Made some good saves and was by and large powerless to stop the four goals that went past him.
Hany Said - 5 -
Was one of two defenders who swung and missed as Kaka strolled through to score the opening goal and looked shaky whenever pressed by Brazil's forwards.
Wael Gomaa - 4 -
Was the other defender who air-kicked for the first goal and also allowed Luis Fabiano in front of him to head home the second. Two hugely costly errors that put his team right up against it.
Ahmed Said - 7 -
A more reassuring presence at the back, particularly in the second half, as he did well to help shackle the threat of Luis Fabiano.
Sayed Moawad - 7.5 -
Put in a great all-round footballing performance, defending well and getting forward to great effect, particularly as he cut back for Egypt's second. Committed a professional foul on Dani Alves that resulted in the free-kick that resulted in the penalty, but it barely takes the gloss off what was otherwise a good performance of a player with great ability.
Mohamed Shawky - 7.5 -
Put in a solid, hard-working shift in midfield and did his utmost to help ensure his side didn't get overrun by the Brazilians and popped up on the edge of the area with a delightful finish to put his side back in the game.

Ahmed Fathi - 6.5
- Had some good and bad moments without ever being able to nail down a consistent period during the game when he could really get going. Can be pleased enough with his tenacity in midfield and being one of the players who kept Egypt in the fight for as long as they were.

Ahmed Hassan - 5 -
The skipper didn't have the energy or invention to have any significant impact on the game.

Mohamed Abou Treika - 8.5 -
A brilliantly gifted player who provided an amazing cross for Egypt's opener and went on a run worthy of Kaka before slotting through Zidan for their third. Was at the centre of all of their best football from beginning to end.
Hosni Abd Rabou - 5 -
His marking was all off in allowing Juan to jump free and score Brazil's third and also missed a free header himself, but his link-up play was neat and tidy.
Mohamed Zidan -
8
.5 -
Showed great touch and skill all game and put away both of his chances with superb aplomb. Certainly does have his moments when he's worthy of the name, just needing a better mentality and consistency to become a truly world class forward.
Substitutes
Ahmed Eid -
7.5
- Showed good pace, skill and enthusiasm off the bench and caused Kleber no end of problems.
Ahmed Al Muhamadi -
3
- Was an energetic introduction off the bench but was the man on the line who did what many players would do in such a situation and blocked the ball with his hand and tried to con the referee into believing it had hit him on the head. Controversially, after a corner was initially given, it appears as though video evidence eventually culminated in his dismissal.
Sulmaan Ahmad, Goal.com