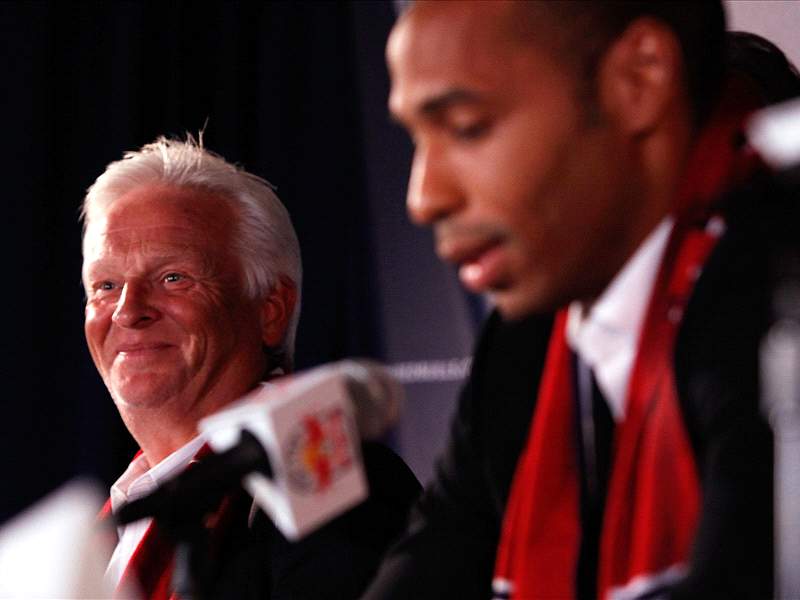 New York enters the 2011 campaign in a rather novel role: the undisputed front runner in the Eastern Conference.
It is a richly deserved tag after Red Bulls coach Hans Backe engineered a worst-to-first run last season and supplemented his squad during the winter. With Thierry Henry and Rafa Marquez likely to improve with a full pre-season under their belts, this group rightfully harbours expectations of challenging for MLS Cup glory.
No other Eastern Conference team can rightfully enter the season with similar hopes. The chasing pack appears muddled at first glance as each team attempts to patch over weaknesses in order to emerge from it. Some teams look more likely to emerge than others, but the relative parity between the remaining eight clubs indicates that any one of them could challenge for one of the two remaining guaranteed play-off spots by the end of the campaign.
Projected order of finish:
1. New York*
2. Houston*
3. Kansas City*
4. Columbus*
5. Philadelphia
6. New England
7. D.C. United
8. Chicago
9. Toronto FC
*- denotes play-off qualifier

1. New York
Last season in a sentence:
Thierry Henry and Rafa Marquez arrived to lend considerable star power in the first season at the gleaming Red Bull Arena, but Hans Backe and Joel Lindpere stole the show as the Red Bulls finished first in the East before crashing out to San Jose in the conference semi-finals.
Off-season moves:
Backe and general manager Erik Soler went back to the Scandinavian well to sign Jan Gunnar Solli and Teemu Tainio, while former Notts County forward Luke Rodgers is another familiar face to the striking crop. All of those additions came at the expense of beloved forward Juan Pablo Angel as he departed for Los Angeles.
Key figure:
Marquez. Henry may earn more of the headlines, but Marquez will bear more of the burden as he slides into central defence. Despite playing slightly deeper this season, the Mexican international will be expected to marshal the Red Bulls' work in possession and lead the defensive efforts.
The skinny:
No team in the Eastern Conference can compete with the quality throughout Red Bulls' starting XI. Backe would probably like to add a holding midfielder and a striker to increase his options in those areas, but there should be enough strength in depth to fulfil the pre-season hype and march to regular season glory. It will take considerable efforts from Henry and Marquez – plus Lindpere and Dane Richards – to mount the expected MLS Cup charge, but the lessons of 2010 should serve New York well along the way.
2. Houston
Last season in a sentence:
In the competitive Western Conference race, the Dynamo leaked far too many goals to keep pace and secure its usual spot in the post-season.
Off-season moves:
There were few headline grabbers among the incoming crop, but Dominic Kinnear increased his options at the back and up front. Jermaine Taylor should partner Bobby Boswell in central defence, Hunter Freeman and Kofi Sarkodie may start straight away at fullback and Will Bruin and Jason Garey should vie for playing time alongside Brian Ching. Longtime goalkeeper Pat Onstad departed for a coaching (and, now, playing) role in D.C. in the most prominent outgoing move.
Key figure:
Geoff Cameron. The former Best XI defender will once again provide much of the attacking thrust from midfield. With Lovel Palmer's side still in question after an inconsistent 2010 campaign, Cameron must offer a box-to-box presence with significant emphasis on propelling through midfield with late runs.
The skinny:
The switch to the Eastern Conference did wonders for the Dynamo's viability as a play-off team. With the additions at the back and up front, Kinnear possesses a deeper squad than most Eastern Conference sides. Houston could use an imposing defensive midfielder to partner with Cameron and, if Brian Ching continues to struggle to stay fit, another striker, but the expected defensive improvement and the end of last year's string of rotten luck should see the Dynamo return to the post-season.

3. Sporting Kansas City
Last season in a sentence:
The switch to a 4-3-3 ensured plenty of attacking endeavour, but a lack of sharpness in front of goal and the occasional dose of defensive frailty condemned the former Wizards to another season outside the play-offs.
Off-season moves:
Sporting manager Peter Vermes instituted sweeping changes to his veteran core during the close season with familiar faces like Jimmy Conrad, Jack Jewsbury and Josh Wolff finding new homes elsewhere. Clearing the decks allowed Vermes to go out and spend a bit of money to add quality to his squad. Mexican international striker Omar Bravo will make his Kansas City debut after spending time on loan with Chivas Guadalajara last fall. Júlio César signed a permanent deal on Sunday to serve as Conrad's replacement at the back, while Milos Stojcev is expected to officially join the club shortly.
Key figure:
Bravo. Sporting will generate plenty of chances with Kei Kamara and Ryan Smith flying down the wings. Bravo must provide the additional touch of class in the penalty area when he plays centrally in place of Teal Bunbury and supply a bit of ingenuity when he operates in wider areas.
The skinny:
The current constitution of this group indicates Sporting may have to thrive by outscoring the opposition on a regular basis. The attacking pieces in place suggest Vermes' side may accomplish that goal, but additional strengthening in central defence – in addition to Júlio César's arrival – is required to establish a firmer foundation. Vermes would also like an attacking midfielder to bolster his creative options, but the current group looks strong enough to capitalize on the energy created by the move to LIVESTRONG Sporting Park and snatch a play-off spot.

4. Columbus
Last season in a sentence:
The old guard made one last charge during the regular season, but an early post-season exit to eventual MLS Cup champions Colorado sparked post-season upheaval.
Off-season moves:
Crew coach Robert Warzycha caused an almighty furore in Columbus by discarding Guillermo Barros Schelotto, Brian Carroll and Frankie Hejduk during the winter. Eric Brunner, Jason Garey, Steven Lenhart, Adam Moffat and Gino Padula also departed as part of Warzycha's alterations. Jeff Cunningham returned to Columbus in perhaps the most high-profile addition, though foreign signings Sebastian Miranda and Dejan Rusmir are more likely to feature as starters.
Key figure:
Andres Mendoza. The Peruvian international striker flattered to deceive after joining the Crew last August, but his new Designated Player tag ensures he will not have the luxury of indifferent performances again this season. Mendoza must convert on a regular basis if he receives the proper supply from Eddie Gaven and Robbie Rogers in the wide areas.
The skinny:
All of the pressure falls squarely on Warzycha's shoulders entering this season. For the first time during his tenure, Warzycha will field a team in his own mould. Expect this Crew side to rely on several different players to contribute offensively and hope Chad Marshall can stay healthy to add stability to the revamped back four. Expectations are low for the Crew after the changes, but this group is a bit more talented than many suspect and shouldn't fall too far from grace despite the controversial moves.

5. Philadelphia
Last season in a sentence:
A prolific and promising expansion season might have yielded a play-off spot with sturdier defensive work.
Off-season moves:
The two key additions – Faryd Mondragon and Carlos Valdes – are Colombian imports designed to rectify those defensive concerns. Carlos Ruiz also returns to MLS as the replacement for the industrious Alejandro Moreno. Brian Carroll offers a tested option in central midfield with Eduardo Coudet deemed surplus to requirements. Michael Orozco Fiscal returned to Mexico after one so-so season at the back, while Fred ended up in D.C. (via New England) after the Union exposed him in the re-entry process.
Key figure:
Sebastien Le Toux. The former USL standout shook off an ineffective first MLS season in Seattle to emerge as one of the league's most potent attackers last season. Union manager Peter Nowak will use him in a variety of spots and Le Toux uses that dexterity to float around and create havoc from just about anywhere within the attacking third.
The skinny:
Nowak's off-season work deserves plaudits with Carroll, Mondragon and Valdes likely to improve the Union's rickety defensive shape in 2011. The entire group, however, does not inspire quite as much confidence. A lack of creativity in midfield could impair the proceedings going forward if Le Toux stumbles a bit this season, while Ruiz may or may not be up to the burden of regularly leading the line. There are enough questions to suggest Philadelphia may have to settle for mounting a concerted play-off charge rather than sealing a first post-season berth.

6. New England

Last season in a sentence:
A chronic inability to maintain possession caused the Revs to concede too often and score too rarely.
Off-season moves:
Seasoned European performers Didier Domi and Ousmane Dabo joined the Revs to lend their experience to a rather callow group, while Ryan Cochrane, Franco Coria and AJ Soares arrive to revamp the choices in central defence. It wasn't all incoming traffic as Cory Gibbs departed for Chicago during the re-entry process and Taylor Twellman interrupted his career due to post-concussion symptoms.
Key figure:
Shalrie Joseph. The veteran defensive midfielder hit the headlines again for all the wrong reasons with his training camp arrest, but his off-the-field exploits do not diminish his importance to the Revs in midfield. He must avoid similar distractions and exert his imperial presence all over the park in order for New England to push for a play-off spot. If he can do so, he will improve his chances of landing a new deal considerably.
The skinny:
The hopes for this campaign rest almost entirely on the Revs' ability to increase their share of possession and strip away the reliance on direct play. Pre-season friendlies have yielded mixed results in that regard, though the eventual return of Dabo from a quadriceps injury will bolster those efforts. With influential signings in place at the back and in midfield, New England must likely make a similarly promising move up front to fuel their pursuit of a play-off spot.

7. D.C. United
Last season in a sentence:
Not a soul in the District ever wants to speak of it again.
Off-season moves:
A flurry of moves inevitably occurred in the wake of last season's disastrous campaign. U.S. international striker Charlie Davies headlines the incoming class with Dax McCarty also set to exert a hefty influence on the side. Veteran performers Joseph Ngwenya and Josh Wolff will increase the options up front in the wake of Jaime Moreno's departure, while Perry Kitchen and Rodrigo Brasesco will compete for time in central defence. Fred and Pat Onstad have also signed for United, though assistant coach Onstad will likely return to the sidelines full-time once his short-term contract expires and Bill Hamid returns to full fitness.
Key figure:
McCarty. Opponents enjoyed playing straight through United's midfield last season, but McCarty should put a halt to those concerns. Both FC Dallas and Portland passed on keeping McCarty when they had the chance to do so, but the box-to-box midfielder possesses the quality to influence matches on a regular basis this season. If McCarty can serve as the lynchpin of a deep and varied midfield group, United should improve substantially in the middle of the field.
The skinny:
United possesses several reasons for optimism after a radical squad overhaul during the off-season. Cult hero and new coach Ben Olsen should enjoy plenty of choices in midfield and up front during his first campaign, which is a nice change after managing a threadbare group during his interim stint last season. Much of the focus will rest on Davies, but there are still questions about what sort of impact he will have as he continues to work his way back to full match fitness. Even if Davies can get off the mark regularly and lift a forward corps not expected to provide much at the sharp end, the defensive group looms as a potential liability with Dejan Jakovic and Kitchen set to miss substantial time this year due to international commitments. Improvement beckons, but the gap between last year's debacle and this year's quest for a play-off berth may prove too far to bridge.

8. Chicago
Last season in a sentence:
Plenty of big names occupied spots in the squad, but the performances did not match their pedigree.
Off-season moves:
Many of the Fire's notable performers have either retired or sought employment elsewhere. Brian McBride and C.J. Brown called time on their careers, while Nery Castillo and Freddie Ljungberg departed for Europe. Wilman Conde also moved to Mexico after his contract expired. The replacements lack the cachet of the outgoing group, but the Fire hopes Uruguayan strikers Diego Cháves and Gaston Puerari will provide the goals and new defenders Jalil Anibaba and Cory Gibbs will erase a few of the concerns at the back.
Key figure:
Gibbs. The former U.S. international defender struggled at times during his one season in New England, but he will be expected to play a significant role in Chicago's defensive efforts. With a lack of experience and proven quality around him, Gibbs will have to serve as the experienced anchor – potentially in a three-man back line – for the Fire this season.
The skinny:
Fire coach Carlos de los Cobos escaped the sack at the end of last season and used the reprieve to remodel his squad. De los Cobos' willingness to tinker with a 3-5-2 shows the importance of possession to a group strongest through midfield. Talented wide players Patrick Nyarko and Marco Pappa look like the class of the current group, but their inability to stay on the field could ally with all of those defensive questions and a lack of depth up front to undermine the Fire's post-season hopes.

9. Toronto FCLast season in a sentence:
Dwayne De Rosario wrote a check his teammates and his two coaches simply couldn't cash.
Off-season moves:
TFC essentially cleaned house during the off-season to allow new coach Aron Winter to acquire the required pieces for his expected switch to an attack-minded 4-3-3 setup. Chad Barrett and Mista headline the departures, though the bulk of the movement involved dispatching with signings from the brief and tumultuous Preki era. Adding players from abroad has proven more difficult than expected, but veteran Dutch midfielder Elbekay Bouchiba should provide some creativity as part of a trio of arrivals from the Netherlands. Alan Gordon and Nathan Sturgis offer a pair of familiar MLS reinforcements as well.
Key figure:
De Rosario. No player is more vital to his side at the moment than De Rosario is to these Reds. Although the former MLS Cup hero has squabbled with the club over his contract during the past year or so, he must push those feelings of ill will to the side and spark his team offensively. With few other options going forward, TFC will rely on De Rosario to somehow improve over his one-man-band performances from last season.
The skinny:
Chaos has reigned within the Reds' camp for most of the close season with Winter and director of player development Paul Mariner only joining shortly before the SuperDraft. The duo has had to cope with public contract complaints from De Rosario and defender Adrian Cann. The Canada defender even held out for a short spell before puzzlingly rejecting the club's generous offer of $160,000 and returning to camp. Those business qualms pale in comparison to the issues presented by the dearth of quality and the lack of sheer numbers within the squad at the moment. Throw in the adjustment period required to install Winter's more positive approach and TFC will likely have to approach this campaign as a means of laying the foundation for a more successful future.
Kyle McCarthy writes the Monday MLS Breakdown and frequently writes opinion pieces during the week for Goal.com. He also covers the New England Revolution for the Boston Herald and MLSsoccer.com. Contact him with your questions or comments at
kyle.mccarthy@goal.com
and follow him on Twitter by clicking
here
.
Our

provides the best breaking news online and our

football fan community is unmatched worldwide. Never miss a thing again!