Rick Parry's interest in MLS is not a new hobby.
Ever since Major League Soccer's inception, former Liverpool CEO Rick Parry has held a vested interest in the growing league. Parry revealed exclusively to Goal.com that there were constant debates in Liverpool boardroom in regards to the franchise either purchasing an MLS club or being an affiliate to a team.
"In the early days of MLS, we considered investing in a franchise at Liverpool, although we decided against it," Parry said exclusively to Goal.com via email. "We frequently debated establishing partnerships with teams."
Now, Parry is finally involved directly in soccer in America. The 55-year-old has joined the New York Cosmos board as a non-executive board member. The franchise is banking on Parry's nine years as a high ranking member at Anfield to serve it well as it aims to become MLS's 20th franchise.
Parry had offers to stay in the UK but having the opportunity to be part of the reboot of the Cosmos franchise was hard to pass up.
"I have received many interesting offers but I have been very selective," said Parry. "I will only get involved in projects that excite me and where I believe I can make a real difference."
He added, "Who would have thought it [the New York Cosmos] would happen twice in a lifetime? This was too good of an opportunity to miss. I'm much happier joining a team at the very beginning stages like this."
The franchise owner, Paul Kemsley, was influential in Parry's decision to join the team. Both Kemsley and Parry have experience running Premier League franchises with Kemsley's previous experience coming at Tottenham. However, Parry affirms that his ultimate reason for joining is his strong belief in the potential of soccer in America. It is the reason why even as a board member at Liverpool, he's always been a strong supporter of MLS.
"I've always believed professional soccer would succeed in the U.S.," said Parry. "There are so many young people playing and the management of the sport is professional. Don Garber does a great job and the potential is enormous."
Still, Parry cautions that he isn't there to emulate what has worked for him in Europe. Unlike many who have argued that MLS needs to mimic the top leagues in continent, Parry believes that MLS will gain success by sticking to what has worked for it so far.
"It will be a long time before MLS ranks alongside the English, Spanish and Italian leagues, but it can be extremely successful without going that far," said Parry. "The key is to do what is right for the U.S. rather than to imitate others."
If the New York Cosmos are approved as the league's 20th franchise, Parry believes that youth development will be crucial to its success. One of the things that Parry missed from his days as a board member is the day-to-day interaction and involvement with the youth talent. The Cosmos have already started two youth academy teams and the former Liverpool man wants to see solid local talent come up by the time the team hopes to launch in 2012-13.
"The development of young players is dear to my heart," he said. "The strong commitment that The New York Cosmos have made to invest in youth development played a big factor in my decision."
For a team hoping to gain entry to MLS, having a solid nucleus can only boost its chances.
Free Kicks: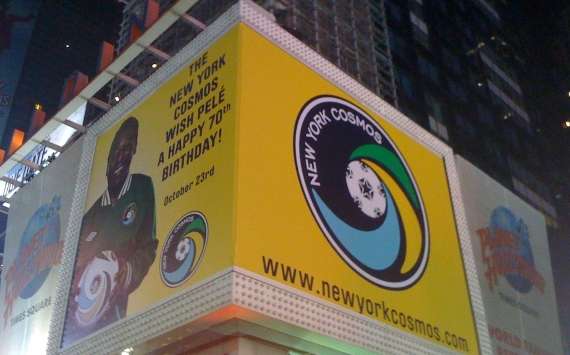 Hoping to kick off the celebration of the 70th birthday of their honorary president, Pele, the New York Cosmos will be unveiling a huge birthday card billboard in NYC's Times Square Saturday at 12pm. The billboard will be seen above Planet Hollywood. In addition, the team will give away its official team soccer ball to fans for free between 12 and 5 pm. Lastly, there will be several contests including a penalty kick shootout where the winner will meet Pele on Nov. 7.